MOSCOW -- Marine biologist Andrei Sazhin's office in Moscow's Institute of Oceanology may be well-decorated, but matters aren't as rosy as they seem.
Sazhin earns 18,000 rubles ($600) a month, far less than the average Muscovite. He gets by thanks to the decision by his wife, a former scientist, to leave the profession for a better-paid job.
He says he also supplements his income with foreign grants and work abroad. "You travel abroad a couple times, then you can return and work as a scientist, as if it were a hobby," he says. "I repaired this office with my own money."
It's a typical story. The Soviet Union may have sent the first man into space, but Russian science today is in a dismal state, and it's been generating a lot of talk in recent weeks. Earlier this month, a group of emigre scientists raised the issue in an open letter to President Dmitry Medvedev and Prime Minister Vladimir Putin.
"We consider it our duty," they wrote, "to draw attention to the catastrophic conditions of fundamental science in the country. Matters are deteriorating and the size and seriousness of the danger is underestimated. The level of financing for Russian science is far lower than other developed countries."
One of the biggest effects, the scientists said, is a "massive outflow" of scientists abroad.
More than 170 scientists signed the letter, which called for a greater government role in science, more financial transparency, higher wages, and better strategic planning.
Medvedev responded by initiating work on a plan for developing Russian science, according to the president's press office.
The Nobel Gap
But Ivan Sterligov, director of research at the Open Economy fund, tells RFE/RL's Russian Service that Russian science will probably continue to lag further.
Sterligov says a "key indicator" is scientific publications: "how many are published and how they're quoted. Other countries are steadily overtaking us. If we were in third or fourth place at the collapse of the Soviet Union, Russia is now 15th."
Russia's failure to win any Nobel Prizes for science this year hit a nerve in Moscow. The issue featured on a popular prime-time chat show, which called its discussion "The Nobel Myth."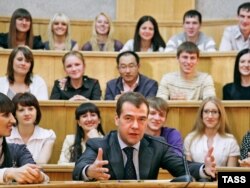 President Dmitry Medvedev has promised help. Will it be enough?
Some participants put the paucity of Russian Nobel Prize winners down to politics and a liberal Western bias among members of the Swedish committee.
One panelist pointed to the case of Nikolai Bogolyubov, awarded the Nobel Prize in physics in 1973. The prize was later withdrawn at the last minute after he published a letter attacking dissident Andrei Sakharov.
But Yelena Lozovskaya, editor of "Science and Life" magazine, says it's up to Russian scientists to follow international practice by publicizing their own work.
"If scientists fail to report the results of their work at conferences or publish them in journals read by all scientists," she asks, "how can anyone know about their work? Our scientists have to be more active."
Post-Soviet Brain Drain
International companies such as Intel and Boeing have set up offices in Russia to exploit the vast technical skills Russian scientists still possess 20 years after the Soviet collapse.
But according to one estimate, 200,000 scientists have left Russia since the end of communism for better-funded jobs abroad. Sazhin says scientists in physics and other fields that require the use of expensive equipment are the most likely to leave.
"I asked a colleague who had moved to the United States whether she had any language problems," he recalls. "'Problems?' she said. 'Of the 15 people in our department, there are eight Russians, two Poles, and three Ukrainians. That's what's called an American university.'"
Sazhin's Institute of Oceanology is better off than many other institutions because it's able to rent research ships to tourists. Director James Cameron used the institute's "Mir" submersible to film the wreck of the Titanic for his blockbuster movie.
The government has significantly increased funding for science in recent years. But massive corruption in government bureaucracy makes it unclear how much of the money is actually getting to scientists.
Sazhin says a grant he's applying for would provide less than $1,600 per person for months of work. He says a previous project he completed for a state-owned natural resources company paid him virtually nothing.
"I spent a week on it and received a symbolic amount," Sazhin says. "At each step of the process, there are so many middlemen and each takes some of the money. The person who does the real work gets only a tiny percentage."
Despite the difficulties, Sazhin says he's not considering leaving Russia. But as long as others continue to look abroad for work, few expect Russia will be winning many Nobel Prizes soon.

RFE/RL's Russian Service contributed to this report