Lela Avidzba reads the poem "The Knight In The Panther's Skin" by Shota Rustaveli (in the original Georgian, Russian, and Abkhaz).
TBILISI -- Lela Avidzba is a rarity -- an Abkhaz who is fluent in the Abkhaz language.
According to most estimates, up to one-third of Abkhaz cannot speak their language, even on a basic level. Even fewer can read or write it. The dominant language in Abkhazia -- which broke from Georgian rule after a bitter war in the early 1990s, and saw its de facto independence recognized by Moscow last August -- is Russian.
Avidzba's mastery of her intricate native tongue -- with its bewildering, 64-letter alphabet and complex phonetics, is remarkable. Making it all the more remarkable is the fact that she is actually half-Georgian, and lives not in Abkhazia, but the Georgian capital, Tbilisi.
Hers was one of the thousands of families torn apart by the 1992-93 war between Georgian forces and Abkhaz nationalists looking to break free from Tbilisi's control. About 15,000 people were killed, and hundreds of thousands of ethnic Georgians were expelled from Abkhaz territory.
Avidzba, an effusive 32-year-old with light brown hair, was born to a Georgian mother and an Abkhaz father, was a teenager living in the Abkhaz capital Sukhumi when the war broke out. Her parents sent her to Tbilisi for safety, but remained in Abkhazia themselves.
Avidzba's father, Sergei, died in 2006. Her mother, Luisa, still lives in Sukhumi, but Avidzba, who is no longer welcome in her homeland, is unable to see her.
Avidzba was detained and interrogated for several days while visiting her ailing father in Sukhumi. Since her father's death, Abkhaz authorities have denied Avidzba permission to visit her relatives in the territory altogether.
Torn Between Nations
Avidzba says that the walls that have been erected between the Abkhaz and Georgian peoples are as artificial as those separating her family.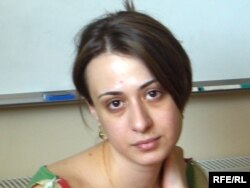 Lela Avidzba doesn't know when she'll see her mother again.
"We lived together our whole lives. Abkhaz and Georgian cultures are indivisible," Avidzba says.
"There are common traditions and mixed families. My mother is Georgian and my father was Abkhaz. This is the worst possible situation for a family to be in. Both sides are a part of me."
Easily conversant in Georgian and Abkhaz -- as well as in Russian -- Avidzba has worked tirelessly to bridge the gaps between her two nations.
She is raising her son Nikolas to speak both Georgian and Abkhaz. As a spokeswoman for the Georgian government, she is one of the most prominent Abkhaz in Tbilisi, and even hosts a talk show in the Abkhaz language on Georgian television.

Inching Toward Reconciliation
In 2004, together with her mother, Avidzba helped organize a visit to Georgia for Abkhaz children who lost parents in the 1992-93 war. She said the children relaxed at a spa, toured Tbilisi, and met Georgian President Mikheil Saakashvili.
"When the children left -- and they were little children -- they wrote letters saying, 'Georgia, we love you and want to come back,'" Avidzba says. "But unfortunately, [in Abkhazia] they hear something completely different [about Georgians]."
Avidzba says she harbors no illusions that such gestures of reconciliation can overcome the deep animosity Abkhaz feel for Georgians, but she is nevertheless determined to persevere.
"I don't know whether it was due to a lack of strength, or euphoria [over independence], but nobody was able to stand up and prevent what has happened," Avidzba says.
"Time is not on our side. A new generation is growing up [in Abkhazia] that has never seen a Georgian and doesn't know what they're really like. For them, a Georgian is simply an enemy."