TEHRAN (Reuters) -- Iranian hard-liners have hit back at former President Ali Akbar Hashemi Rafsanjani for criticizing the conduct of last month's election and its aftermath, highlighting deepening establishment divisions.
An editor seen as close to Iran's top authority said Rafsanjani was backing "law-breakers," a reference to opposition protesters, and a senior cleric accused him of creating rifts in the Islamic republic and hinted he should face legal action.
In apparent defiance of Supreme Leader Ayatollah Ali Khamenei, Rafsanjani said in a sermon on July 17 that many Iranians had doubts about the official result of the June 12 vote, which showed President Mahmud Ahmadinejad had won.
Leading Friday Prayers in Tehran for the first time since the election, the powerful cleric also declared that Iran was in crisis after the poll, which opposition leader Mir Hossein Musavi says was rigged in the hard-line incumbent's favor.
Ayatollah Mohammad Yazdi, an Ahmadinejad ally and a member of Iran's top legislative body, rejected Rafsanjani's remarks.
"Who planted the seeds of doubt in the election in the minds of people? ... Isn't this sowing discord?" Yazdi told a news conference, according to the official IRNA news agency.
He added, according to Fars News Agency: "Those who planted doubt in society and those who irrigated it to make it sprout out of the soil and pour into the streets to violate people's lives and property ... should be dealt with legally."
The election stirred the most striking display of internal unrest in Iran, the world's fifth-biggest oil exporter, since the 1979 Revolution and exposed deep rifts in its ruling elite.

Hard-Liners Hit Back
At least 20 people died in postelection violence. Musavi and the authorities blame each other for the bloodshed. Riot police and religious Basij militia eventually suppressed the street demonstrations, but Musavi has remained defiant.
Postelection events have also further strained ties between Iran and the West, already at odds over Tehran's nuclear program. Western powers criticized the crackdown. Iran accused them of meddling.
Rafsanjani's robust stance appeared to set him on collision course with Khamenei, who has openly backed Ahmadinejad in a departure from the supreme leader's accepted role as a lofty clerical arbiter above the political fray.
Tens of thousands of opposition supporters used the Friday Prayers led by Rafsanjani, a moderate who backed Musavi in the election, to stage the biggest show of dissent in weeks.
Clashes erupted near the university between police and followers of Musavi, who came second and still contests the official election results.
The government has portrayed postelection mass protests as the work of local subversives, or "rioters," and Western powers seeking to topple the Islamic establishment.
Hossein Shariatmadari, editor in chief of the "Kayhan" daily, said Rafsanjani had done nothing to prevent the gathering of Musavi supporters inside and outside Tehran University, where prayers are held each Friday and broadcast live on state radio.
"At the same time he used every opportunity available to challenge the outcome of the election," wrote Shariatmadari, who earlier this month called for Musavi and another leading reformist to be put on trial for "terrible crimes."
Noting Rafsanjani had urged everybody to abide by the law, his editorial added in a reference to those who defied a protest ban: "Mr. Rafsanjani...not only disregarded what he had said but openly supported the law-breakers."
Shariatmadari is seen as a close ally of Khamenei, Iran's most powerful figure with the final say on all matters of state.
Rafsanjani, who heads the Assembly of Experts -- a powerful body that can in theory dismiss the supreme leader -- in his sermon demanded the immediate release of people detained in the unrest and called for press curbs to be relaxed.
Rights groups say hundreds of people, including senior pro-reform politicians, journalists, activisits and lawyers, have been detained by the authorities since the election.
The Battle For Iran's Future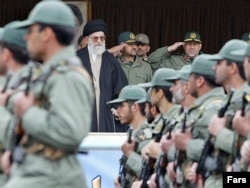 The Battle For Iran's Future
With much more than a disputed presidency at stake for Iranians, RFE/RL's Charles Recknagel and Mazyar Mokfi explore the power plays that could reshape Iran's political establishment.
Click here
for news, blogs, and analysis of the presidential election and aftermath.
Iran Election Special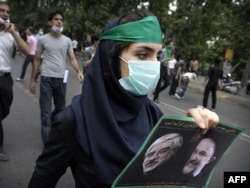 RFE/RL's Full Coverage
Following the disputed reelection of Iranian President Mahmud Ahmadinejad, supporters of Mir Hossein Musavi have taken to the streets to protest.
Click here
for news, blogs, and analysis of the presidential election and aftermath.
Iran Election Diary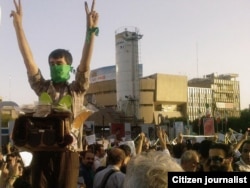 Disputed Presidential Vote
There have been protests and clashes with police on the streets of Tehran following the disputed reelection of Mahmud Ahmadinejad. RFE/RL collects videos, photos, and messages on social-networking sites coming out of Iran to attempt to get a picture of what is happening inside the country.
Click here