Speaking at Tehran's Friday Prayers, influential former President Ali Akbar Hashemi Rafsanjani used the opportunity to call for calm and unity to save the Islamic establishment from danger.
Rafsanjani, speaking at Tehran University, expressed hope that his sermon might mark a change in the future of the country, which has seen widespread protests and a violent government crackdown following a controversial presidential election.
As Rafsanjani spoke, tens of thousands of protesters gathered outside, chanting slogans such as ""Political prisoners must be freed," "Iranians might die, but won't accept oppression."
Clashes erupted between police and protesters, with tear gas and batons being used to disperse the crowds.
A video posted online shows protesters outside Tehran University.
In his sermon, Rafsanjani said Iran has been in crisis since the June 12 presidential election that resulted in mass protests by supporters of reformist candidate Mir Hossein Musavi, who has disputed the official results that handed incumbent President Mahmud Ahmadinejad a landslide victory.
Rafsanjani, who heads the powerful Assembly of Experts, said the turmoil following the election was a "bitter period" that had no winners.
"There are two currents. One has no doubt [about the election results], they are victorious, and they are doing their work," he said. "And the other one, a large portion of our people, they say they have doubts [about the election results], and we have to work to remove their doubts. The election has created a bitter period."
He added that continued distrust among the Iranian people could diminish the country's strength in nuclear negotiations.
He also criticized the Guardians Council, which validated the election results, saying that "unfortunately" the time it was given by the supreme leader "was not properly used. He gave them five additional days to study [and recount the ballots] but -- I don't want to talk about it now -- but the [opportunity] wasn't used."
He emphasized that the people's choice should be above everything else, saying that when people's votes aren't taken into account, "there is no Islamic republic."
Room For Opposition

Rafsanjani offered several solutions to resolve the crisis, adding that he has discussed them with a number of clerics and members of the Assembly of Experts, which is in charge of electing and supervising the work of the country's supreme leader.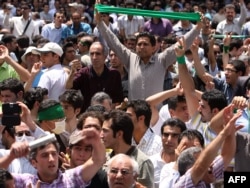 Iranian opposition supporters protest in Tehran after Rafsanjani's sermon.
Among his suggestions, Rafsanjani said that room should be created for everyone to express themselves freely and for different groups to discuss issues without fighting each other. He said the media shouldn't face "limitations," and called for a "free atmosphere" in which critics can express themselves.
He also called for the release of all of those jailed during the postelection crackdown. Following his sermon, there were reports of several clashes in front of Tehran University. Up to 10 people were reportedly arrested, and security forces used tear gas to disperse the crowd.
Rights groups believe more than 2,000 reformist figures, right activists, lawyers, and critics have been arrested in recent weeks. Reports on July 17 said that a prominent women's rights advocate, Shadi Sadr, was violently taken away by plainclothes agents as she was heading to Friday Prayers with other activists.
More than 20 people were killed in the course of the government's brutal repression of the protests.
Rafsanjani said in his sermon that there should be sympathy with those mourning the dead, and for those who suffered from the events, and that the ruling system should "reconcile" with them.
'Green Friday Prayers'
Thousands of Musavi supporters attended Rafsanjani's sermon, with some chanting: "Hashemi, Hashemi, we support you."
Much tension and anticipation accompanied Rafsanjani's first public appearance since the election. Rafsanjani backed Musavi in the presidential race.
Members of the pro-government Basij militia and riot police clash with protestors during the Friday Prayers on July 17.
Musavi and fellow reformist presidential candidate Mehdi Karrubi had said that they would both attend the prayers today. ISNA news agency posted a picture of Musavi attending the Friday Prayers, and Karrubi was seen arriving at the location.
Karrubi's son, Hossein Karrubi, was quoted as saying that plainclothes agents today attacked and insulted his father in front of Tehran University.
Tehran-based political activist Saeed Razavi Faghih, who was active in Karrubi's campaign, told RFE/RL's Radio Farda that Rafsanjani's speech did not disappoint those who protested against the election results, and were looking for his support.
Faghih said he expects a sharp reaction from hard-liners.
"Hard-line conservatives are very angry over today's comments by Rafsanjani," he said. "Tomorrow, we have to expect their media reaction. Some hard-line legislators are likely to use their platform at the parliament to attack Hashemi Rafsanjani."
Witnesses told RFE/RL that a very large number of Musavi supporters went to Tehran University to attend the prayers, but only thousands managed to enter the site. Many exhibited their loyalty to the "Green" opposition movement by wearing green wrist bands and green masks.
In an unusual move, Iran's state television did not air a live broadcast of the Friday Prayers. However, some in attendance managed to place pictures and video clips of the event on the Internet.
Thousands of Musavi supporters demonstrated after the prayer service, chanting "Ya Hossein, Mir Hossein!" "Allah Akbar," and "Political prisoners should be released."
The opposition had described this week's Friday Prayers as "the promised day," and called on members to turn out en masse.
Witnesses say the supporters of Musavi managed to show today that the Green movement is not dead, and that it will continue to use every opportunity to show its discontent with the political situation.
The Battle For Iran's Future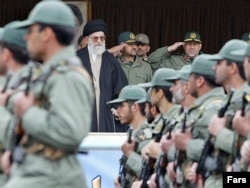 The Battle For Iran's Future
With much more than a disputed presidency at stake for Iranians, RFE/RL's Charles Recknagel and Mazyar Mokfi explore the power plays that could reshape Iran's political establishment.
Click here
for news, blogs, and analysis of the presidential election and aftermath.
Iran Election Special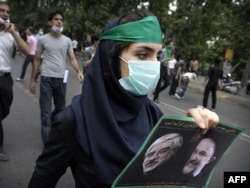 RFE/RL's Full Coverage
Following the disputed reelection of Iranian President Mahmud Ahmadinejad, supporters of Mir Hossein Musavi have taken to the streets to protest.
Click here
for news, blogs, and analysis of the presidential election and aftermath.