Has the Kremlin finally had enough of Belarusian President Alyaksandr Lukashenka? The past two months have featured a gas war between Moscow and Minsk and a televised mudslinging match between Lukashenka and the Kremlin.

Lukashenka had long been one of Moscow's most reliable partners in the former Soviet space. But in recent years he has increasingly become an irritant, cozying up to the West, refusing to recognize the independence of Georgia's pro-Moscow separatist regions of Abkhazia and South Ossetia, and demanding cut-rate prices for Russian natural gas.
And now there are increasing signs that the Kremlin has had enough.

'The Godfather'
On July 4, the Gazprom-owned television station NTV broadcast the first installment of an unflattering documentary about Lukashenka titled "The Belarusian Godfather."
Russian President Dmitry Medvedev (right) and his Belarusian counterpart are perhaps not so friendly behind closed doors.
"Until recently, the Western press referred to Lukashenka as 'Europe's last dictator,'" the narrator says as the documentary begins. "He has compared himself both with Hitler and Stalin, and considers himself the godfather of all Belarusians."
The program covered the suspicious deaths and disappearances of Belarusian opposition figures in the late 1990s, suggesting that they were victims of a government-run death squad. It delved into Lukashenka's private life. It reminded viewers of the billions of dollars in support Russia has given to Belarus:
On July 15, Lukashenka hit back, airing an interview on state-controlled television with Georgian President Mikheil Saakashvili, a bitter foe of the Kremlin.
Saakashvili thanked Lukashenka for not recognizing Abkhazia and South Ossetia and accused the Russian authorities of waging a "propaganda war" against Belarus.
Citing the still-unsolved killings of journalist Anna Politkovskaya and human rights activist Natalya Estemirova, the Georgian leader said Russia was in no position to criticize any country's human rights record.
The tit-for-tat continued on July 16, when NTV aired the second installment of "The Belarusian Godfather," which linked Lukashenka to self-exiled Russian oligarch Boris Berezovsky and ousted former Kyrgyz President Kurmanbek Bakiev.
Backing The Opposition
The mudslinging follows a nasty dispute over gas prices in June. It also comes as Lukashenka prepares to seek a fourth term as president in elections slated for early next year.
Alyaksey Yanukevich, leader of the opposition Belarusian Popular Front, says the documentaries are a clear sign that Moscow is considering forcing Lukashenka from power.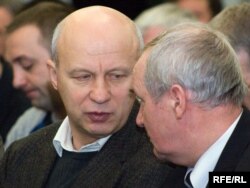 Alyaksandr Kazulin may have Kremlin backing for 2011.
And he believe that "in any case it benefits Russia for Lukashenka to be weak. This policy the Kremlin is carrying out is to weaken and personally humiliate Lukashenka." Yanukevich says the "Godfather" is only the first "of what will be regular information attacks."
Some analysts note how opposition leader Alyaksandr Kazulin -- a former political prisoner who ran against Lukashenka for president in 2006 -- was quoted heavily in the documentary. Andrey Dynko, editor in chief of the Minsk-based Belarusian-language weekly "Nasha Niva," says this may be a sign that Moscow may look kindly on a fresh bid by Kazulin to oust Lukashenka in the 2011 election.
"In general, I think these two films have strongly cheered the opposition political forces up, because they have seen a new field for activity," Dynko says. "They have been given new hope."
Or Just A Warning?
Leonid Zaika, director of the Minsk-based think tank Strategia, says it appears that the Kremlin has prepared a "fine-tuned operation" to oust Lukashenka by depriving him of the economic aid and cheap energy that keeps the Belarusian economy afloat and by stealthily backing an alternative candidate for president.
The coup de grace, Zaika predicts, will come if Lukashenka fixes the vote and Moscow joins the West in refusing to recognize Lukashenka's reelection as legitimate.
"If Washington, Brussels, and Moscow all don't recognize the election results, then the situation changes completely," Zaika says. "They don't need to do anything else. They don't need any conspiracies. The Kremlin can act legitimately and lawfully."
Analysts caution, however, that Moscow would not make a serious move to oust Lukashenka unless they were certain they could control the transition and install a pliant president in his place.
Pavel Sheremet, a political analyst for the Russian daily "Kommersant," says a more plausible scenario is that Russia is attempting to frighten Lukashenka into being more obedient and deferential to the Kremlin.
"I would be wary to make the far-reaching conclusions that Moscow has a plan for a regime change in Belarus. It is quite possible, and we have already seen it many times, that it may be a pressure campaign not to oust Lukashenka but to make him take some actions in his presidential post," Sheremet says.
"He will keep his post, he will not be prevented from winning triumphant victories, but he will have to pay for this by making concessions in the customs union or the political union with Russia."
written by Brian Whitmore in Prague, with contributions from RFE/RL's Belarus and Russian services