(RFE/RL) -- Health officials around the world are racing to control a new strain of swine flu after Mexico announced that the probable death toll from an epidemic there is more than 100 people.
The World Health Organization describes the disease as a unique version of the H1N1 flu virus (designated A/H1N1) -- a combination of bird, pig, and human viruses that can be transmitted human-to-human through coughing and sneezing or through direct contact with an infected person.
The illness is characterized by a sudden fever, muscle aches, sore throat, and a dry cough. Victims of the new strain also have suffered more vomiting and diarrhea than is typical with flu.
The World Health Organization says the virus is very young and could still evolve. It's unknown whether it would become less dangerous or even more deadly.
For now, no vaccine specifically protects against swine flu. And it is unclear how much protection current human flu vaccines might offer against the new strain.
But two antiviral drugs have been shown to be effective for treating those already infected -- the drugs Tamiflu and Relenza. The World Health Organization, meanwhile, is racing to develop a vaccine.

From Mexico To U.S.
The epicenter of the epidemic appears to be Mexico City -- a city of 20 million people and the largest urban area in a country where there already are more than 1,300 confirmed cases of infection.
Some health experts say they disease reached epidemic proportions in Mexico because doctors there initially didn't know that they were dealing with a new strain of swine flu.
On April 26, Mexico's President Felipe Calderon sought to calm fears about the disease and ensure that health information campaigns do not generate hysteria.
"We are talking about a serious illness, but a curable disease -- especially if it is caught in time," Calderon said. "In Mexico, we have the medication to handle all the cases that may occur. This is very important. The illness is curable. And we have the medicine for it."
Indeed, scientists have warned for years about the possibility that some form of swine-flu virus or bird-flu virus might mutate into a deadly new airborne virus that can spread from human to human.
As a result, many governments have stockpiled antiviral drugs as a precaution against an epidemic.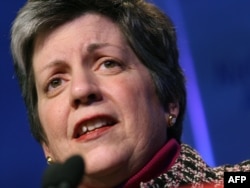 Homeland Security Secretary Janet Napolitano has declared a public-health emergency.
In the United States, Homeland Security Secretary Janet Napolitano on April 26 announced a public-health emergency across the country. That move allows the U.S. government to release 25 percent of its emergency stockpiles of Tamiflu and Relenza to different states -- some 12 million doses -- in case they are eventually needed.
Attempting to ease public fears, Napolitano said the emergency "sounds more severe than it really is. This is standard operating procedure and allows us to free up federal, state, and local agencies and their resources for prevention and mitigation."
Speaking at the National Academy of Sciences in Washington, President Barack Obama also played down the government's reaction.
This is obviously a cause for concern and requires a heightened state of alert. But it is not a cause for alarm," Obama said. "The Department of Health and Human Services has declared a public health emergency as a precautionary tool to ensure that we have the resources we need at our disposal to respond quickly and effectively."
Despite their efforts to prevent the health warnings from generating hysteria, some health officials have been bracing the U.S. public for the worst.
Anne Schuchat, interim deputy director of the Science and Public Health Program at the U.S. Center for Disease Control and Prevention, says she fears there will be deaths in the United States as the new strain of flu spreads.
Already, eight high-school students in New York have tested positive. Twelve additional cases have been confirmed in four other states: California, Texas, Kansas, and Ohio.
International Precautions
Six cases have also been confirmed in Canada. In the first recorded case in Europe, Spain's government on April 27 confirmed one case of swine flu in a man who had just returned from Mexico. Possible infections have also been reported elsewhere in Europe, and as far apart as Israel and New Zealand.
Several Asian countries already are screening airline passengers returning from Mexico or the United States and placing them in quarantine if they display any influenza-like symptoms.
Dr. John McCauley, an influenza specialist in Britain, suggests that screening airline passengers is a good idea for now. "That's how a pandemic will start: a new virus emerging in humans, spreading easily from humans to humans -- and with modern travel being able to spread around the world very quickly," he notes.
However, British Health Minister Alan Johnson has sought to downplay fears about the disease -- saying that his government is prepared for the epidemic. "Indeed, the World Health Organization says that we're one of the two best-prepared countries in the world," he added.
"We've got half a billion pounds worth of antiviral drugs," Johnson added. "And the good news from Mexico is that these drugs, such as Tamiflu, actually worked on the people who got them early enough and ensured that they recovered."
The European Commission has called for an urgent meeting of EU health ministers on April 30 to discuss the possible threat posed by the swine-flu outbreak.
compiled from wire reports