Helsinki Commission Challenges Moldovan PM On Confronting Anti-Semitism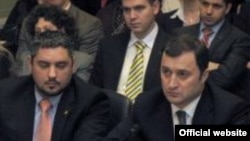 Moldovan Prime Minister Vlad Filat has appeared before the Helsinki Commission, a U.S. agency that monitors human rights worldwide, during his first visit to Washington as premier.
In his speech, Filat discussed the challenge of establishing what he called "a state of law" in his country after a decade of Communist Party rule.
Comments from the chairman of the commission, Senator Benjamin Cardin (Democrat-Maryland) and its co-chairman, Representative Alcee Hastings (Democrat-Florida), made it clear that they believe Filat and his government have a long way to go to establish a strong legal system.
Read the full story by RFE/RL's Andrew F. Tully
here
.
About This Blog
"Watchdog" is a blog with a singular mission -- to monitor the latest developments concerning human rights, civil society, and press freedom. We'll pay particular attention to reports concerning countries in RFE/RL's broadcast region.
Journalists In Trouble
RFE/RL journalists take risks, face threats, and make sacrifices every day in an effort to gather the news. Our "Journalists In Trouble" page recognizes their courage and conviction, and documents the high price that many have paid simply for doing their jobs. More