The highest United Nations court has begun to deliver its opinion on whether Kosovo's unilateral declaration of independence from Serbia in 2008 was legal. The decision is being broadcast live on television and was expected to continue for several hours.
Today's ruling by the International Court of Justice (ICJ) on the legality of Kosovo's 2008 unilateral declaration of independence is a nonbinding, advisory opinion. Nevertheless, the case sets the stage for how the ongoing dispute over control of Kosovo is played out between Belgrade and Pristina.
Legal experts say the ruling also could have powerful implications in other regions with separatist movements.
Serbs consider Kosovo to be the birthplace of their national identity. But Belgrade lost control over the administration of the territory in 1999 when a NATO bombing campaign brought an end to a war between Serbian forces and ethnic Albanian separatists in Kosovo.
Nevertheless, when UN Security Council Resolution 1244 established an interim UN administration in Kosovo it stressed the sovereignty and territorial integrity of the Federal Republic of Yugoslavia while calling for eventual autonomy and self-administration for Kosovo.
Today's ruling determines the merits of Serbia's claim, filed with the ICJ in 2009, that a declaration by Kosovo's provisional ethnic Albanian leadership the previous year was a "flagrant violation" of Serbia's territorial integrity.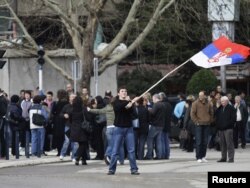 A Serb waves a Serbian flag during a protest to mark the 11th anniversary of NATO bombings in the ethnically divided town of Mitrovica in March.
Mark Weller, a lecturer on International Law at Cambridge University, says the UN court has three options.
"First, it can decline to give the opinion, arguing that it is not appropriate to offer an answer. But I think that's unlikely," Weller says.
"Secondly, the court can define the question in a very narrow sense, in which it strictly looks at the lawfulness otherwise of the unilateral declaration of independence. There I think it would be unlikely that the court finds that these [acts] were overwhelmingly unlawful.
"Thirdly, the court could make broader pronouncements on the rights to independence and self-determination more generally. That would be the opportunity for the court to respond and clarify international law on that issue.
"However, the court as a whole is, perhaps, unlikely to make such broad statements -- although some individual judges might."
Recognizing A Quandary
Kosovo's independence already has been recognized by about 70 countries -- including the United States and many European Union member states.
But a diplomatic campaign by Serbia -- supported by Russia and China -- has led other countries to hold off recognition. Some EU members are waiting for the ICJ's ruling for guidance.
The UN court already has heard arguments from nearly 30 countries. China, Russia, and Spain -- which face separatist movements within their own territory -- argued against Kosovo's independence. The United States led those in support of independence.
James Ker-Lindsay, a professor at the London School of Economics, says that a ruling in favor of Serbia would create a difficult situation for EU countries that have already recognized Kosovo's independence.
"Although everyone says it is an advisory opinion, you can't just say that it doesn't matter. It has tremendous significance. This is a principle organ of the United Nations," Ker-Lindsay says.
"Countries such as Britain, France, Germany, and the members of the European Union have based the European Union's whole ethos on respect for international law.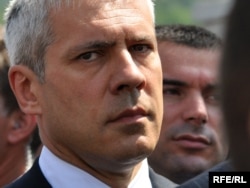 Serbia's Boris Tadic: "Serbia, will never back down."
"If the international court says this [declaration of independence] was illegal, and they don't find a way out of it, their credibility on the international stage will be completely ruined. They cannot go to countries like North Korea or Iran or any country and say, 'You must respect international law.'"
Waiting To Ignore Ruling
Serbian President Boris Tadic said on July 21 that he expected the ICJ to "respect international law" and uphold the territorial integrity of Serbia. But he also indicated that a ruling against Serbia would not change Belgrade's position.
"It, first of all, implies that Albanian institutions in Kosovo wouldn't have a right to the ethnically motivated secession from Serbia. We will, of course, talk to the EU as a partner and as a country that seeks to become a an EU member," Tadic said.
"However, in conversation with our Europeans friends in last few days, I've emphasized that Serbia has its own interests that it's not going to give up, Serbia has its 'red lines.' They are very well-known: it's the territorial integrity of Serbia over Kosovo. From those principles Serbia, will never back down -- whatever the price."
Meanwhile, in Washington this week, Kosovar Prime Minister Hashim Thaci indicated that a ruling against Kosovo's declaration of independence by the UN court would not alter Pristina's position.
"I am very optimistic that the ICJ opinion will be in compliance with the reality in Kosovo and it will not be directed against anyone," Thaci said. "But regardless of the opinion of the ICJ, the independence of Kosovo remains irreversible and the freedom of my people remains eternal."
Speaking on July 20 at the Washington-based U.S. Institute for Peace, Thaci also said there was no ruling by the UN court that would bring his administration to the negotiating table with Belgrade over the status of Kosovo.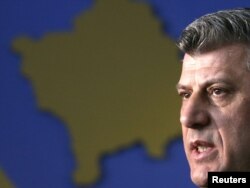 Kosovo's Hashim Thaci: "Independence is irreversible and our integrity is inalienable."
"I would like to clarify that the institutions of the Republic of Kosovo will never sit down in negotiations with anyone regarding the independence or the territorial integrity of Kosovo because independence is irreversible and our integrity is inalienable," Thaci said.
Still, Thaci maintained that Belgrade's reaction to the ICJ ruling could have destabilizing effects on the Balkans.
"I know that interesting but also dangerous ideas will come from Belgrade, not only for Kosovo but for the region in general," Thaci said. "And also for the policies of the European Union and of the United States for peace and stability in the region."
But Serbian Foreign Minister Vuk Jeremic said hours before the decision was announced that a ruling in favor of Kosovo's independence would put all borders at risk because it would encourage other secessionist movements in region and around the world.
Jeremic said Belgrade remained ready for negotiations on Kosovo's final status -- insisting that Belgrade's policy is "set on a peaceful, diplomatic and political struggle to maintain the sovereignty and territorial integrity" of Serbia.
written by Ron Synovitz in Prague, with contributions from RFE/RL's Balkan Service