After a long, cold winter for the Nabucco pipeline project, March has brought a fresh wave of energy to the long-stalled Western plan to diversify Europe's natural gas supplies.
Nabucco, which aims to bring some 31 billion cubic meters (bcm) of Caspian and Middle Eastern natural gas to Southern and Central Europe, has long been seen as an opportunity for the EU to break a dangerous dependence on Russian gas and pipelines.
The project has stumbled so frequently on funding and supply issues that some have dismissed it as unfeasible. But it now appears on track to meet its target date for first deliveries in 2014.
The new momentum began on March 4, when the Turkish parliament ratified an intergovernmental agreement on Nabucco transit. Turkey was the last of the five transit countries -- Austria, Bulgaria, Hungary, and Romania being the other four -- to approve the agreement for the 3,300-kilometer pipeline.
"This intergovernmental agreement is indeed a significant document," Reinhard Mitschek, Nabucco's managing director tells RFE/RL, "because it provides a legally unified transport regime across five countries. And that's very, very important for a transnational pipeline like Nabucco."
Mitschek pointed out that the intergovernmental agreement "was signed in the form of a treaty, which means it goes beyond the national laws of the five countries. It has a duration of 50 years." That's important, Mitschek says, because it "provides comfort, security, and reliability for investors, for banks, and also for shippers."
Turkey's hesitation before ratifying the deal could have been due to negotiations with Azerbaijan. The Nabucco pipeline starts at the Georgian-Turkish border, from where it connects to a pipeline originating in Azerbaijan. Ankara and Baku are regional allies but talks to settle on a price for incoming gas from Azerbaijan have been slow.
'Clear Contract'
Federico Bordonaro, an authority on energy affairs and a lecturer on geopolitics at the University of Rome, says a recent deal between Turkey and Azerbaijan helped end Ankara's reluctance to ratify the intergovernmental agreement.
Bordonaro says the "really new and interesting thing" about the agreement "is that the Turks and the Azeris now have a written agreement with clear-cut decisions about taxes, fees, prices, etc. So now there is a solid legal basis [for Nabucco] and the [EU's] southern [gas] corridor can really function on a legal basis."
Another big breakthrough for Nabucco came on March 10 when one of the project's six shareholders, Germany's RWE Supply & Trading, signed a memorandum of understanding with Azerbaijan to develop the Nakhichevan field in the Caspian Sea, some 50 kilometers off the coast of Azerbaijan. The gas from that field will almost certainly be destined for Nabucco and may soothe long-standing anxieties that the project is short on suppliers.
RWE last year signed a contract with Turkmenistan to develop one of that country's offshore Caspian fields. Azerbaijan and Turkmenistan have frequently been named as the two key potential suppliers for the project, and RWE CEO Stefan Judisch has noted that Turkey's ratification of the transit deal means Baku and Ashgabat now have no legal impediment to concluding gas contracts with Nabucco.
Asked if he is feeling more confident about Nabucco's ability to fill the pipeline following the latest RWE deal with Azerbaijan, Mitschek says it has never been a serious concern. But he credits the initiative of Nabucco's partners in finding suppliers, noting, "Luckily, the project has very active shareholders such as RWE for Azerbaijan and Turkmenistan, [Austria's] OMV for Azerbaijan and Iraq, and [Hungary's] MOL, also in Iraq.
We have a very exciting year...to prepare everything -- open season, financing, technical elements, etc. In 2011, we will start construction as foreseen, and as scheduled, at the end of 2014, the first gas will flow to Europe.
"I'm convinced that we cannot only manage to fill it with 8 to 10 billion cubic meters at the beginning of the startup of the project," Mitschek adds, "but we will build up to 31 billion cubic meters relatively soon." (The remaining three shareholders are Turkey's BOTAS, Romania's Transgaz, and Bulgarian Energy Holding.)
More Money From EC?
Another piece of potentially good news came from the European Commission on March 4, the same day the Turkish parliament ratified the intergovernmental agreement. Last year, following the wintertime shutoff of Russian gas to the EU amid a Russia-Ukraine pricing dispute, the commission allocated 1.5 billion euros ($2.1 billion) for projects aimed at improving the EU's energy infrastructure. Nabucco received 200 million euros of that money.
This month, the European Commission added 2.3 billion euros to help fund energy projects for Europe. Mitschek indicates Nabucco would welcome an extra infusion of cash but says that "we are now concentrating on this 200 million [euros] funding topic." He says Nabucco shareholders are "in permanent contact with the commission," but he stresses that "financing for the project is not the real obstacle, in principle."
Mitschek says that "especially prior to FID [final investment decision] -- we're now in the development phase and preconstruction phase -- it's very important and quite significant support from official sides to receive this funding." As concerns possible additional funding, Mitschek says, "The more the better. We will check if we can increase the 200 million euros, but so far we're concentrating on that amount."
In a further sign Nabucco is forging ahead, Mitschek says: "We are preparing prequalification and tender procedures for suppliers of long-lead items, materials, and construction works. On the other hand, we are also preparing the open season for offering transport capacity to market participants.
"Both will happen this summer," he adds. "The open season maybe will start in August-September."
Mitschek's confidence in financing makes more remote a suggestion from Paolo Scaroni, chief executive officer of the Italian major Eni, a partner in the Russian-backed South Stream gas pipeline that is seen as a rival to Nabucco. Scaroni last week suggested that Nabucco and South Stream be merged for the last section of their routes into Europe, as a cost-saving measure.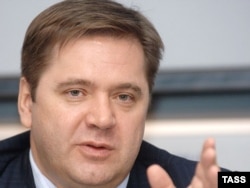 Sergei Shmatko
The managing director of Nabucco does not entirely dismiss such a possibility, although he says he does not want to comment on such speculation. Mitschek acknowledges that "it's highly competitive, commercially and technically, to realize the project." But he says, "We know the markets, we are confident of realizing the project on time and on budget, and any kind of change of the project's scope is up to the discussion and decision of the shareholders."
'We Are On Schedule'
Russian Energy Minister Sergei Shmatko ruled out such a merger on March 15, saying South Stream -- which will have a capacity of 63 bcm -- is "more competitive" than Nabucco.
In response to the ultimate question -- Will Nabucco be ready on schedule? -- Mitschek responds, "I can say, yes, we are on schedule. We have a very exciting year, 2010, to prepare everything -- open season, financing, technical elements, etc.," he says. "In 2011, we will start construction as foreseen, and as scheduled, at the end of 2014, the first gas will flow to Europe."
Bordonaro says a new sense of urgency on the part of the European Union should also help give Nabucco a boost. "The European Union has witnessed the increasing competition for Central Asian reserves. We have witnessed the Chinese and the Iranians become more and more assertive in the Turkmen and Kazakh energy markets," Bordonaro says. "And I think that the European Union perceives that the increased competition forces it to be quicker."
Bordonaro says he expects Nabucco to grace the front pages of the specialist press soon, especially since "the next six to eight months will be really decisive for this project."