WATCH: Kyrgyz authorities tightened security in the capital Bishkek overnight after deadly ethnic clashes in the south of the country. Checkpoints and roadblocks were set up on major streets, and armed police and troops randomly checked cars for weapons.
By RFE/RL
International humanitarian aid is reaching people affected by ethnic violence that has driven an estimated 400,000 people out of their homes in southern Kyrgyzstan.
Ethnic Uzbek men dig graves during a funeral in Osh on June 16.
Planes carrying humanitarian cargo provided by the UN refugee agency (UNHCR) and the International Committee of the Red Cross (ICRC) landed today in Uzbekistan. According to the UN, Uzbekistan is now host to some 100,000 ethnic Uzbek refugees from neighboring Kyrgyzstan.
Both the UNHCR and ICRC say more flights with humanitarian aid are due to arrive in Uzbekistan soon.
The UN announced today another 300,000 people have been internally displaced since the unrest broke out in Kyrgyzstan's Osh and Jalal-Abad provinces on June 11 and 12.
Uzbek President Islam Karimov has urged UN Secretary-General Ban Ki-moon to get aid quickly to the displaced Uzbeks.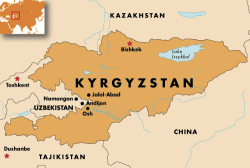 ICRC relief supplies have also arrived for internally displaced people in southern Kyrgyzstan.
RFE/RL correspondents in the area say a convoy of humanitarian aid came under sniper attack after it left Osh city airport.
More than half of Osh's residents
are said to have left the city.
The official death toll from the Kyrgyz violence now stands at nearly 190. Kyrgyzstan's Heath Ministry puts the number of injured at nearly 2,000. Victims include both ethnic Uzbeks and Kyrgyz, as well as other nationalities living in the ethnically diverse region in the southern fringes of the volatile Ferghana Valley.
Most of the attacks targeted ethnic Uzbeks and their property and businesses.
There are widespread allegations of rape, torture, and severe beatings of ethnic Uzbeks at the hands of armed Kyrgyz mobs.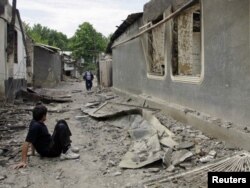 Ethnic Uzbeks on a street in a village near Osh, destroyed during recent clashes
Ethnic Uzbeks say their houses were set alight with people, including children, still inside. Several video recordings posted on the Internet show Uzbeks collecting and burying burned bodies of what the videos say are ethnic Uzbeks in southern Kyrgyzstan.
ICRC staff who reportedly spoke with several women near Osh said their accounts of rapes were "credible." At least one of the women was examined by a gynecologist.
International media have quoted ethnic Uzbeks in southern Kyrgyzstan accusing Kyrgyz Army soldiers – or at least armed men in Kyrgyz Army uniforms – of shooting and attacking ethnic Uzbeks in Osh and Jalal-Abad on the first days of the conflict. At least one Kyrgyz Army soldier, an ethnic Uzbek himself, said his troops indeed targeted ethnic Uzbeks, although there were orders by their commanders not to do so.
Reporters for "The New York Times" and Britain's "Guardian" in Osh quote a number of ethnic Uzbeks as saying they were assaulted by gunmen in military uniforms who arrived in Uzbek neighborhoods on Kyrgyz Army tanks shortly after the violence started.
Kyrgyz officials have said several gunmen in Kyrgyz Army uniforms have been arrested in connection with the violence.
Nearly a week after the conflict initially broke out, the situation remains tense in the southern areas, particularly in the city of Jalal-Abad and the nearby Suzak, Bazar-Korgon, and Karasuu districts.
RFE/RL correspondent Bruce Pannier, who is in Osh, describes conditions within the city:

Anna Neistat of Human Rights Watch, also speaking from Osh today, said some ethnic Uzbeks are still being targeted. Two ethnic Uzbeks "were beaten up, and another one who tried to leave his home was shot and injured. And a woman was beaten up and raped today," Neistat reports.
Osh, a city of some 220,000 and dubbed Kyrgyzstan's southern capital – was the scene of ethnic clashes between Kyrgyz and the city's sizable Uzbek minority in 1990, which left hundreds dead.
Kyrgyzstan's interim government, which came to power in April, has been struggling to assert power in the south, where support for the ousted President Kurmanbek Bakiev has been strongest.
Bakiev's government was toppled in the aftermath of a popular uprising. Interim leaders accuse his supporters of fueling and financing the violence in the south, a claim Bakiev has repeatedly denied.
In Moscow today, the Russian-led Collective Security Treaty Organization (CSTO) said it will not deploy peacekeepers to Kyrgyzstan but it may send security "specialists" to track down those behind the clashes.
Kyrgyzstan's interim leader, Roza Otunbaeva, appealed last week to Russia for military assistance to bring the ethnic fighting in the south of the country under control.
written by Farangis Najibullah, with material from RFE/RL's Kyrgyz Service and agency reports