ST PETERSBURG, Russia (Reuters) -- Hundreds of workers have blocked a highway in northern Russia as anger at job cuts and unpaid wages boiled over.
Trade unions say about half the inhabitants of Pikalyovo are living in poverty after the town's three main employers stopped production. Residents say they cannot feed their families.
"We want the factories to work and for people to get their wages, which we have not received since March," said Oleg, a worker at a local alumina factory that is controlled by tycoon Oleg Deripaska's Basic Element holding group.
Russia is entering the worst recession in at least a decade and unemployment has soared to 7.7 million in the wake of the global financial crisis, but public expressions of discontent are still rare.
About 600 people from Pikalyovo, a town of 23,000 people in the pine forests of northern Russia, blocked the motorway between St Petersburg and Vologda, Oleg, who asked for his surname not to be used, told Reuters by telephone.
Residents are demanding Russia's leaders intervene after local factories cut wages and sacked workers.
"The police tried to stop us but we said we can no longer wait. We have blocked the road," said the worker. A police source told Reuters about 300 people had blocked the road.
Russia's leaders are worried wage cuts and job losses could undermine the stability that Vladimir Putin, who now serves as prime minister, prided himself on achieving while Kremlin chief.
Pikalyovo is about 270 kilometers from St Petersburg and the financial crisis has hammered prices for cement and alumina, the town's main products.
No Meat
Workers at Basel-Cement, the plant controlled by Deripaska, told Reuters they have been receiving only a small part of their wages since output was stopped.
"In January 2009, production was halted," a spokesman for the plant said. "Basel-Cement intends to honor all its social obligations to the workers.... The company is doing everything possible to pay off the wage arrears for April and May."
Two other factories in the town have laid off about 1,300 workers and also halted production.
Residents say pensioners, who get a basic state pension of about 4,000 rubles ($130) a month, are now considered well-off in the town where meat is a rarity.
"I agreed to get food on credit at the factory canteen so that I can feed my child as I have nothing to give him," said Tatyana, a 46-year-old who has worked at the alumina plant more than half her life.
"We have not eaten meat at home for months." She said she could afford only bread and milk, and occasionally fish, to make soup.
Hot water has been turned off in the town, which is run by Putin's United Russia party, over unpaid bills.
"We used to joke that if we lived until the summer we could at least eat the grass, but now we simply do not know what to do," said Svetlana.
"We have to come together...go on hunger strike," she said. "We have no faith in the owners or officials, no faith in Putin, no faith in [President Dmitry] Medvedev.
"We are small fry -- no one needs us."
World Economic Crisis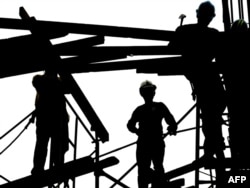 Multimedia coverage on the impact of the global financial crisis on markets and individuals across RFE/RL's broadcast region. More