One is a Russian grandmaster who spent more than two decades at the pinnacle of the world chess elite. The other is a multimillionaire Buddhist politician who claims to have commingled with space aliens.
It hardly seems a close contest as members of the World Chess Federation (FIDE) meet next week in the Siberian city of Khanty-Mansiisk to elect their new leader.
But expectations are high that it's incumbent Kirsan Ilyumzhinov -- the eccentric, UFO-traveling president of Russia's tiny Kalmyk Republic -- who will ultimately claim victory over Soviet-era chess giant Anatoly Karpov.
That would hand Ilyumzhinov, who has led FIDE since 1995, another four years at the top of the world's preeminent chess body. Such an outcome, says his rival Karpov, would be the final death knell for a sport that's already suffered enough.
"In four years, chess will be dead. So there's no point in talking about four years from now," Karpov told RFE/RL's Russian Service. "In 20 years we've already lost so much it's hard to imagine. At one time, chess was competing with soccer as the most popular sport. Now you can't see chess anywhere. Even poker has surpassed chess in popularity. It's a disgrace."

Spreading The Word
To be fair, Ilyumzhinov has shown considerable zeal in promoting the sport.
At home, the Kalmyk leader has used his presidential influence to make his the only region in the world where chess is a compulsory elementary-school subject. He has also built a gleaming, multimillion-dollar complex, Chess City, outside the Kalmyk capital, Elista, meant to serve as a mecca for chess fans fancying a trip to Russia's deep south.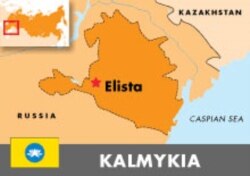 And throughout the world, he has spent millions from a personal fortune amassed during Russia's unregulated post-Soviet privatization to promote the game internationally, particularly in underdeveloped countries where chess has yet to gain a foothold.
Ilyumzhinov's avid expansion efforts have seen chess being played in ever-greater numbers in new parts of the globe, like Africa and South America.
But William Kelleher, a FIDE vice president, says they have also cemented his reputation as a chess-world kingpin ready to capitalize on the loyalty of the roughly 170 national federations that make up FIDE's membership.
"I would say there's a lot of dissatisfaction, especially in Europe, with Kirsan," says Kelleher, who will be in Khanty-Mansiisk for the September 29 vote. "However, there are 160 federations in other parts of the world who aren't that interested in the intricacies of what happens at FIDE, and he cultivates these smaller federations very well. He visits them, he pays attention to them, and it's widely suspected that he gives them financial support out of his own pocket during election years."
Ilyumzhinov raised eyebrows this summer when he pledged to personally provide a staggering $1 million in prizes for a series of tournaments in Asia, as well as $500,000 for two tournaments in the Caribbean and Latin America. Critics say such largesse in the months before the FIDE election is tantamount to vote-buying.
According to FIDE voting rules, each member country is given one vote, regardless of the size of its national chess federation. Federations in developing countries may have as few as 50 members, but their vote counts as much as a vote from Germany, which has some 300,000 members.
This, Kelleher says, has made it easy for the Kalmyk leader to accumulate numerous votes from small countries. A
website
dedicated to Ilyumzhinov's FIDE election bid currently claims to enjoy a clear majority with the backing of 94 national federations, ranging from tiny Fiji to post-Soviet neighbors like Azerbaijan and major world players like China.
Odd Man Out
Karpov, by contrast, appears to have far fewer supporters, although many of FIDE's long-standing Western members are among them, including the United States, Holland, France, Germany, and Switzerland.
Grandmaster Anatoly Karpov may be the odd man out.
Kelleher says that in some ways, Karpov has suffered in comparison to both the glad-handing Ilyumzhinov as well as his own key ally, Garry Kasparov, a former rival whose star power burns even brighter than his own.
"I don't think Karpov is the most effective candidate," Kelleher says. "Actually, his main supporter would have been a far more effective candidate -- Garry Kasparov. He's a much more dynamic personality and a much better speaker, and he's also fluent in English, which is a big help. Anatoly is not a charismatic person, whereas Garry is."
Kasparov and Karpov, who put aside a decades-long enmity for the sake of the FIDE bid, have spent the past year actively lobbying for support in FIDE member states -- often literally bumping into Ilyumzhinov as he made the same rounds. (Kasparov, contacted by RFE/RL, declined to comment until after the elections.)
But the combined wattage of the two chess greats has not been nearly enough to outspend Ilyumzhinov or even secure the complete support of the Russian Chess Federation, which, fraught with internal squabbling, has offered a bizarre dual endorsement of both candidates.
Ilyumzhinov's reelection drive has also taken on a new significance since he announced earlier this month that he will step down as Kalmykia's president, a post he has held for the past 17 years, when his term expires in October.
The surprise move was seen as part of the Kremlin's drive to purge the Russian regions of independent-minded leaders, and theoretically leaves Ilyumzhinov free to focus almost exclusively on his reign as FIDE chief.
Alien Landing
Ilyumzhinov's political comedown is not expected to dramatically affect either his wealth or his current status in the chess-playing world. But that's cold comfort for FIDE officials like Kelleher, who say the incumbent's unabashedly odd behavior and murky financial dealings have made him a liability when it comes to fundraising and preserving the sport's prestige.
"Anyone who's done their research who wants to be a sponsor will find that Kirsan had political issues in Kalmykia, he's given interviews where he's talking about having been visited by aliens," he says. "It doesn't really present FIDE as a serious organization."
Ilyumzhinov has discussed,
publicly and with relish
, an experience in 1997 in which he says aliens landed on the balcony of his apartment while he was on a business trip in Moscow. The visitors, which he described as human-like and dressed in yellow jumpsuits, invited him for a tour of their spaceship before safely releasing him the following morning. (His account later prompted a Russian lawmaker to express concern that Ilyumzhinov might have revealed state secrets during his visit.)
In his latest curious move, Ilyumzhinov made headlines last week when he offered to buy the plot near New York's World Trade Center site currently slated to house a controversial Islamic community center, saying he would build a world chess center instead.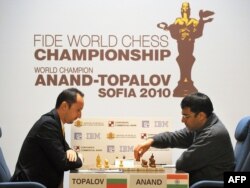 Current world champion Viswanathan Anand of India (right) plays against his Bulgarian challenger Veselin Topalov in the final in April.
Ilyumzhinov, claiming he was acting with the support of the FIDE presidential board, offered $10 million for the site -- $2.5 million more than another colorful bidder, real-estate magnate Donald Trump -- saying he proposed not to "divide" people over religion, but to "unite" them around chess.
Kelleher said the Western chess world was "incredulous" that the Kalmyk leader would make such a move on FIDE's behalf. Many have also questioned whether the federation, which has an annual operating budget of $3 million, has the financial wherewithal to back up Ilyumzhinov's bid.
A Dying Sport?
Chess aficionados who have observed with dismay the sport's dwindling popularity are eager to add this decline to the list of Ilyumzhinov's perceived sins as well. Next week's elections take place on the sidelines of the 2010 Chess Olympiad, which Ilyumzhinov opened with a flourish this week in Khanty-Mansiisk. Nearly 1,300 competitors and 143 countries have gathered for the biannual event.
But the Olympiad, which is meant to be the crowning achievement in FIDE's organizational calendar, has this year been plagued by logistical snafus and procedural irregularities. Even Russian television, which in the Soviet era would devote entire hours to live-action chess, has given the event only minimal coverage.
Russia's Yury Averbakh, who at 88 is currently the world's oldest living chess grandmaster, bemoans the situation, remembering a time when Soviet dominance of the sport was a matter of intense national pride.
"It's a little surprising to me that television pays almost no attention to chess," Averbakh says. "Even the Olympiad has gotten only one mention, and this in itself seems like a big deal."

Karen Agamirov of RFE/RL's Russian Service contributed to this report