It has been just over a month since the European Union attempted to draw six post-Soviet neighbors -- Belarus, Ukraine, Moldova, Georgia, Azerbaijan, and Armenia -- closer to its orbit with its Eastern Partnership program. But a
new report
by the European Council on Foreign Relations blasts the EU for what it calls its "complacent" and "long-term" strategy in the region, and warns that without fast action to engage the eastern neighbors, Europe could risk another "August surprise" with Russia -- in Moldova, Ukraine, or once again in Georgia. Andrew Wilson, a coauthor of the report, spoke to RFE/RL correspondent Ahto Lobjakas from London.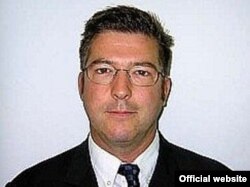 Andrew Wilson

RFE/RL: In your report, you suggest that the EU appoint a political troubleshooter for Ukraine. Is it possible that there is such a figure who could make a difference in Ukraine's ongoing political crisis?

Andrew Wilson:
Nobody can help the Ukrainians if they don't want to help themselves. There have been previous attempts to broker a political settlement by outsiders, including by representatives of the European People's Party. So ultimately, if the Ukrainians don't cooperate with or listen to a mission, then so be it. But the evidence is, I think, that they would. It certainly worked in 2004.
But of course it has to be a mission with a high enough profile, led by a current or former politician with sufficient prestige, and they have to arrive with sticks and carrots. But Ukraine still needs a package of economic assistance, most vitally. It needn't necessarily be on the table, but Ukraine also has problems with hosting the 2012 soccer tournament, and of course it wants to build on the March agreement on upgrading its pipeline system.
RFE/RL: Your report says efforts to resolve the tensions between Moscow and Tbilisi have to be stepped up, and that monitoring efforts should be a part of that. But the EU's monitoring mission, as it stands, is confined to the Georgian side. Is it possible that a restricted EU presence will only end up enforcing the status quo?

Wilson:
Even though the mission isn't particularly active, and its geographical reach is extremely limited, it is a deterrent to renewed military action by both sides, or either side. It's not a perfect deterrent, but the mere fact of the mission's presence would be a factor in anybody's calculation.
Moreover, if Russia has effectively vetoed the UNOMIG mission in Abkhazia -- because of a long-standing argument about the words "in Georgia" in the name of the mission -- and will soon have to withdraw from Abkhazia, then the international presence in Georgia is getting smaller when it needs to be at least stable or getting bigger.
Now, the report didn't argue that the mission is a success in terms of activism or crisis management. It's not that type of mission. But its simple presence is an advantage of sorts.
RFE/RL: What kind of realistic leverage does the EU still have in terms of dealing with Russia's stance on Abkhazia and South Ossetia?

Wilson:
The EU has some general leverage, not that it necessarily uses it well. And there are some particular factors specific to the region.
The first and most important general point is that I think there are signs that Russia -- although it has no intention whatsoever of rescinding its recognition of Abkhazia and South Ossetia -- is somewhat nervous of the precedent that that recognition set for the rest of the region. So it may be prepared to row back -- not necessarily in Abkhazia or South Ossetia, but in other places.
Russia wants to get its proposals on a new European security architecture off the ground. That requires EU cooperation.
Abkhazia and South Ossetia themselves are, of course, very different in terms of patterns of local incentives. Abkhaz nationalism was traditionally anti-Georgian, but there are some signs that the locals are becoming uneasy with the prospect of becoming a Russian oblast or republic in the longer term, whereas of course that factor isn't really present in South Ossetia.
And the Abkhaz obviously wish to develop their relations with Turkey and with the diaspora in Turkey, some of whom are wealthy and could play a positive role in building investment. And the fate of the nearby Sochi Olympics could be decided in and around Abkhazia. First in terms of the general politics of the Olympics, and the potential for a boycott. And secondly in terms of practicalities of preparation, that the Sochi Olympic organizers are taking a lot of stone from Abkhaz beaches and riverbeds, and there's kind of local unease and even opposition to that.
So there are both general and particular factors that the EU can use. But of course that isn't the same thing as saying it has a strong position on the ground. Russia's position is strong to the extent of de facto control.
RFE/RL: Do you think the declaration adopted [June 15] by EU foreign ministers that promises Moldova talks on an association agreement in return for a series of reforms is enough to ensure that Moldova's future will be with Europe, not with Russia?

Wilson:
Hmm. Well, here you have quite a difficult process to manage over the next couple of months. Elections are declared for July 29. Voronin, it seems, wants quite a specific bargain -- in terms of some of the political changes suggested by the EU, he would probably want movement toward visa-free. Whereas the EU is offering general progress on the association agreement, with much less specific wording on visa-free travel.
The question of an economic package, though, may be key, with the Moldovan economy both suffering badly and likely to be much more of an issue in these upcoming elections than it was in the spring, given that so much of the economic pain was postponed until after the elections. Plus Voronin may rock the boat by if he carries on depicting the opposition as a threat to stability and national identity.
Russia, of course, was extremely intimate with Voronin, and offered him a lot of political resources in the last election and can be expected to do so again. The aim should be to get Moldova to row back from the kind of extreme crackdown that it had been imposing in the month or so after the election.
We have to be realistic. Moldova isn't sort of going to move West overnight. I mean the danger really is forestalling a more decisive tilt toward Russia. But again, the EU has cards to play if it plays them well.
RFE/RL: The report puts a lot of emphasis on the danger of the failed economies in the neighborhood. Are the roots of these problems really economic, or are they more fundamentally political?

Wilson:
The neighborhood's problem is the confluence of the two. Moldova is a classic example. The original crisis after the original elections this year was, of course, entirely political -- about the conduct of the elections themselves. But the crisis has since developed an economic aspect.
In Ukraine, it's chicken and egg. The economic crisis makes the political crisis worse; the political crisis makes it very difficult to summon the will to implement the necessary measures demanded by the IMF to deal with the crisis on their terms.
Belarus arguably is the opposite of Moldova -- the economic problems came first. It's been Belarus's increasingly desperate need for resources and hard cash that has prompted its foreign policy overtures to the EU.
So each state is different, but what is common to the whole region is a crisis of multiple crises -- I mean, you have ongoing crises of weak statehood, the global financial crisis, crises caused by Russian pressure. So what's unique to the neighborhood is the way that those problems very often interact.
RFE/RL: You say the EU should work with Russia and support its security architecture proposals. But do you not worry that such statements may spark worries in Tbilisi and Chisinau that the EU is selling out and may ultimately abandon its support for the principle of territorial integrity and other issues that are so important to the Eastern neighbors?

Wilson:
Because of the interaction of all these problems, it will take great skill to combine a variety of approaches to solve them. To an extent, the EU has to cooperate with Russia in terms of practical politics, in terms of what can be negotiated through the EU's decision making.
And of course the [Eastern Partnership] region is totally unlike the accession states of the 1990s. Russia is a power in the region, like it or not. Russia uses that power for good and ill. The EU should concentrate on opposing the occasions when Russia's role is punitive or destructive.
There is also a problem with the Obama administration's current "reset" politics, that politicians in Eastern Europe think that there is a danger of policies being decided over their heads, via some kind of grand bargain between the West and Russia, or via this European security treaty process. That's why we recommended a listening tour of the region [when Sweden assumes the EU presidency in July].
I mean, that would have many virtues in terms of basic political intention, in terms of political theater, as it were. But it would also help feed the security concerns of the six Eastern neighborhood states into this debate about [Russian President Dmitry] Medvedev's so far very broad but potentially interesting security treaty proposals.
And after all, most of the thorny issues and potential stumbling blocks in the EU-Russia relationship are in Eastern Europe. So there can't be a good relationship unless those problems are solved, and they can only be solved via greater Eastern European participation in the process.