U.S. President Barack Obama has dismissed as "destructive" plans by a Florida Christian pastor to burn copies of the Koran on the anniversary of the September 11 terror attacks on the United States.
Speaking on a U.S. morning news program, Obama said the move would inflame tensions in countries like Pakistan and Afghanistan and could represent a "recruitment bonanza" for terrorist groups like Al-Qaeda, the group behind the September 11 attacks.
"This could increase the recruitment of individuals who'd be willing to blow themselves up in American cities, or European cities," he said.
"If [Pastor Terry Jones] is listening, I just hope he understands that what he is proposing to do is completely contrary to our values as Americans, that this country has been built on the notions of religious freedom and religious tolerance."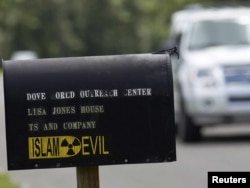 A car passes by the mailbox for the Dove World Outreach Center in Gainesville, Florida.
With his comments, Obama today added his voice to the mounting storm of criticism surrounding Terry Jones, the pastor of the tiny Dove World Outreach Center in the central Florida city of Gainesville.
But Jones has remained defiant. Speaking on September 8 in front of a banner emblazoned with the words "Burn a Koran Day," the Florida pastor said his church had not changed its plans to burn as many as 200 copies of the Muslim holy book on September 11.
"As you can imagine, we have received very, very much pressure in the direction of canceling the event," he said. "As of this time, we have no intention of canceling."
Jones says his protest action in Gainesville is meant to commemorate the ninth anniversary of the September 11 attacks, and represents what he calls a "new way" to confront terrorism.
But his plans to gather and set alight copies of the Koran have met with pleas from religious officials and stinging criticism from world leaders, who say the move could set off a wave of anti-American violence and cripple U.S. efforts in Afghanistan and elsewhere.
U.S. Secretary of State Hillary Clinton, speaking September 8 at the Council on Foreign Relations, dismissed the Florida protest as a reckless action that does not reflect mainstream thinking in the United States.
"It's regrettable that a pastor in Gainesville, Florida, with a church of no more than 50 people, can make this outrageous and distressful, disgraceful plan and get the world's attention," she said. "But that's the world we live in right now. It doesn't in any way represent America, or Americans, or American government, or American religious or political leadership."
Officials in countries with large Muslim populations like Indonesia, Malaysia, and India have all appealed to Obama to stop Jones from carrying out his planned action, which comes just after the start of Eid al-Fitr, the Muslim holiday that ends the holy month of Ramadan.
Lawmakers in Afghanistan today appealed to the U.S. Embassy in Kabul to help stop the controversial plan, warning a protest would be staged outside the embassy if it failed to act. At least one protest has already been reported in Afghanistan in response to the Florida initiative.
Pakistan today asked the Interpol international law enforcement agency to intervene in the case.
Former British Prime Minister Tony Blair has also weighed in, saying, "Rather than burn the Koran, I would encourage people to read it."
"They would be in cyberspace forever, they would be nonbiodegradable, and they would be used by those who wish us ill to incite violence and to inflame public opinion against us and against our mission here in Afghanistan as well as our missions, undoubtedly, around the world," Petraeus said.
Pressure To Change Plan
Jones says he has received many gestures of support for his protest. But he has also been inundated with messages and phone calls from concerned officials asking him to reconsider.
Local authorities and the mayor of Gainesville have appealed to the pastor to drop his plans. City officials have also refused to issue Jones permission for a bonfire, an edict Jones says he intends to ignore.
Former Republican vice-presidential candidate Sarah Palin, herself a devout Christian, also entered the debate. In a posting on Facebook, Palin said the proposed Koran-burning "will feed the fire of caustic rhetoric and appear as nothing more than mean-spirited religious intolerance."
Jones's plans have also raised alarm bells among religious leaders, including local Muslims.
Jones admits to not having read the Koran, but argues that the Muslim holy book incites violence in its believers and is "evil" because it espouses theories other than those in the Bible.
Muhammad Musri, an imam living in central Florida, visited Jones on September 8 in an attempt to convince him to cancel his plans for the book-burning. He told Reuters afterward he hoped to persuade Jones to learn more about Islam.
"I don't think he's a bigot or a racist. I think he's trying to express a point of view and bring attention to the tragedy of 9/11," Musri told Reuters after his meeting with Jones. "I think he might not know enough about Islam today to judge it. But we will keep talking to him in the future and hopefully one day we will have him express a different view about Islam."

Christian Calls For Tolerance
Many Christian authorities have also objected to Jones's plans, expressing fear that the act of an individual church has the potential to tarnish the reputation of Christianity worldwide.
On September 8, Vatican spokesman Federico Lombardi said committing an "outrage against the sacred book of an immense religious community" was not the appropriate way to mourn the events of September 11.
Geoff Tunnicliffe, the head of the World Evangelical Alliance, one of the world's largest Christian organizations, also made a telephone appeal to Jones on September 8, but said the pastor remained noncommittal.
Little is known about Jones's Dove World Outreach Center, which has no official affiliation with other religious organizations and has just 50 members. The church follows the Pentecostal tradition, whose followers believe in the direct experience of the presence of God, and see the Bible as the literal word of God.
Jones has presided over the church for just two years. Prior to that, he served as the pastor of an affiliated evangelical church he founded in the 1980s in Cologne, Germany.
He was ousted from his position in 2008 for what German evangelical authorities called "untenable theological statements and an addiction to personal recognition." Members of the Cologne church have described a "climate of fear and control" under Jones.
The Cologne church has sought to distance itself from Jones's Koran-burning. Its new pastor, Stephan Baar, has said, "We are as shocked as the rest of the world. This has nothing to do with us and nothing to do with our beliefs."


written by Daisy Sindelar, with agency reports