KYIV -- Fifteen years ago, Yulia Tymoshenko arrived here from her native Dnipropetrovsk region in Russian-speaking eastern Ukraine to take a seat in parliament.
The fiery brunette with a burning ambition had risen from an impoverished childhood, her family abandoned by her father, to make hundreds of millions of dollars in the country's shady natural gas business. Briefly arrested on charges of theft and bribery, she'd recast herself as a rising opposition voice in a country sliding toward authoritarianism.
Now she's running for president in an election on February 7 in which Ukrainians will pick their first new leader since the 2004 Orange Revolution. Many say there's little difference between Tymoshenko and her pro-Moscow rival Viktor Yanukovych. But others believe Tymoshenko is the only hope of guaranteeing the country's democratic gains.
Among those Tymoshenko relied on for advice in the 1990s was scholar Dmitry Vydrin, who gave her lessons on political science. "She didn't know anyone in Kyiv," Tymoshenko's former adviser says. So he nudged Ukrainian history. At a party at one of the city's newspapers, Vydrin introduced Tymoshenko to the chief of the Central Bank.
"When he emerged from the elevator, she went into a stupor," Vydrin says. "She was like a little girl staring at a demigod."
Viktor Yushchenko was tall, handsome, and had a regal manner long before he ran for president. Vydrin said Tymoshenko -- her fortunes already aided by attachments to powerful men -- set about forging a new alliance.
"She did everything to get his attention," he says. "She wanted to represent urban Ukraine, and for Yushchenko to symbolize its patriarchal, authentic side. She needed him to create the full image."
Rise and Fall
Ten years after their fateful first meeting, the iconic duo were leading the Orange Revolution, the mass protests sparked by the country's rigged 2004 presidential elections. Tymoshenko, who had mastered Ukrainian and adopted her now-familiar image -- dressing in glamorous white and wearing her hair in a golden braid crown -- helped rally crowds of hundreds of thousands.
Then-Prime Minister Yanukovych, who had won the election, was forced from office. Yushchenko became president in a new election, and Tymoshenko his prime minister.
Tymoshenko and Yushchenko during the Orange Revolution in 2004
But this winter's ice-covered sidewalks in freezing Kyiv are an apt metaphor for the treachery of the city's politics. Five years after the Orange Revolution, Yushchenko and Tymoshenko are bitter rivals. Their early partnership quickly dissolved into a protracted power struggle, with Yushchenko seeking to sideline his former ally, even temporarily bringing in Yanukovych, the villain of the Orange Revolution, as prime minister.
Corruption ballooned amid the years of infighting, as the Orange leaders failed to carry out promises of desperately needed reform. Yushchenko's approval ratings among an increasingly disillusioned population plunged into the low single digits. But Tymoshenko's climbed. Her party's improving results in parliamentary elections enabled her to force the unwilling president into a new coalition that kept the Orange agenda alive.
Tymoshenko came in second in the presidential election's first round last month, and now faces her old foe Yanukovych in the February 7 runoff. No one is ruling out her ability to unite the country's fractured Orange electorate and beat an opponent seen by critics as thuggish and inarticulate.
'Dangerous' Drive?

But Tymoshenko's drive to succeed has earned her many enemies. Vydrin, her onetime mentor, was ejected from her political bloc for breaking party discipline during a parliamentary vote. He's now an acid-tongued critic. Sitting in his quirky office, with cast iron steps leading to a loft, he said Tymoshenko's overriding goal is power.
Unlike Yanukovych, whose Party of Regions is controlled by some of the country's biggest industrial oligarchs, Vydrin says, Tymoshenko is firmly in charge of the powerful businessmen, such as steel magnates Serhiy Taruta and Vitaliy Haiduk, who form the backbone of her party.
Tymoshenko's powers of manipulation are so effective, Vydrin adds, "people
want
to be influenced by her." He was recently quoted as confirming rumors the populist prime minister believes she's the reincarnation of Argentina's Eva Peron. He now admits she may have been joking.
Tymoshenko brushes off accusations of megalomania, but her election-season performance reveals a ferocious drive. Exhausted and hoarse from weeks of campaigning ahead of the first round of voting January 17, she still projected the kind of decisiveness Ukrainians say they desperately want after five years of political chaos.
Dressed in her latest chic white outfit on election night, Tymoshenko answered concerns about her alleged authoritarian tendencies by promising to take major steps to fight corruption.
"We'll be able to open a new page in a new Ukraine," she said. "To start on a new path, on which we'll pass new legislation, step by step, to end the authorities' absolutism and immorality once and for all."
The Western Course
Despite the Orange camp's squandering of public trust in the years following the revolution, most Ukrainians agree it has guaranteed democracy and freedom of speech. That's an important achievement in a former Soviet republic whose neighbors have slid back toward authoritarianism since the collapse of communism. Tymoshenko now says her priority is for Ukraine to join the European Union. And many of her supporters argue that a Tymoshenko victory is the only hope for preserving the democratic gains of the past several years.
Speaking in a downtown restaurant shortly after the election's first round, Andriy Shevchenko, a lawmaker with the Tymoshenko bloc, said the country's Orange legacy is riding on the runoff. He rejected the common view that there's little separating Tymoshenko from Yanukovych.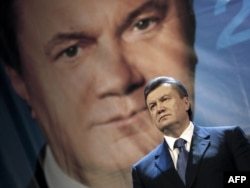 Viktor Yanukovych speaks to supporters during a campaign stop in Simferopol.
"They are so different, it's two different universes," said Shevchenko, a youthful-looking 33-year-old. "Yulia is viewed as a symbol of possible modernization, of the country going West. And Yanukovych is pretty much someone who appeals to Soviet nostalgia."
Shevchenko dismisses Vydrin's accusations about Tymoshenko, saying her "emotional, high-temperature" relationships are difficult for some to handle. A journalist covering parliament in 1996, Shevchenko remembers Tymoshenko's arrival as a shift away from politics as usual.
"There was a striking difference between her and all the other politicians," he said. "You would see grey, old folks, many of them former Communist bosses. And here comes Yulia, very different. She is a woman, young, energetic, extremely charismatic."
The Russia Factor
Hanging over the February 7 election is Ukraine's relationship with a Russia bent on reestablishing its influence over former Soviet territory. When Yanukovych ran for president in 2004, the Kremlin openly campaigned on his behalf. Some believe Moscow was behind the poisoning of Yushchenko that disfigured his face and nearly took his life.
But Tymoshenko -- once the subject of a Russian arrest warrant -- has since established a relationship with Prime Minister Vladimir Putin. Moscow, apparently hedging its bets this time, hasn't publicly backed any candidate.
Volodymyr Fesenko, of the Penta center for political studies, says although both candidates will seek to balance Western and Russian interests, Yanukovych will be far more "mentally and politically dependent" on Moscow.
"Tymoshenko is more interested in being a European princess than a Russian one," he says. "She's more interested in being in Brussels, sitting at a table with Berlusconi, Sarkozy, Merkel, and other European leaders. With [Russian Prime Minister Vladimir] Putin, she'll tackle only economic problems."
Tymoshenko's supporters say Yanukovych would bring back opaque, Russian-connected business networks and restore the atmosphere of impunity that last time around brought angry Ukrainians to rise up in the Orange Revolution. They say this weekend's election will come down to whether Tymoshenko is able to make that danger clear enough to Orange voters.
But whether a victorious Tymoshenko would finish what the Orange Revolution began is open to question.
"Would she really battle the oligarchs?" Fesenko asks. "Because if so, she'd have to go after her own oligarchs too."