JALAL-ABAD -- Kyrgyzstan's interim government says it wants a UN-led international commission to be set up to probe former President Kurmanbek Bakiev's responsibility for the bloody events last week that left more than 80 people dead.
Spokesman Edil Baisalov said the head of the interim government, Roza Otunbaeva, raised the question over the phone with the UN first deputy secretary-general among others.
Interfax news agency quoted Baisalov as saying, "If Bakiev does not plan to hide in the Tora Bora Mountains in Afghanistan, the international public will find him and hold him accountable."
And in a televised address, Otunbaeva said Bakiev must stand trial over the April 7 shooting of protesters by troops loyal to him.
"Retribution is inevitable," Otunbaeva said. "Justice will prevail. The former president will be held accountable by the Kyrgyz people in strict accordance with the law."
RFE/RL's Kyrgyz Service reports that the interim government is preparing a request for the extradition of three former officials who have also fled to Kazakhstan: former National Security Service (SNB) Deputy Chairman Marat Bakiev, who is one of the ousted president's sons; ex-SNB Chairman Murat Sutalinov; and former Prime Minister
Daniyar Usenov.
Bakiev flew to Kazakhstan on April 15 after an arrangement for his departure from Kyrgyzstan was reached with mediation by the OSCE, Russia, and the United States.
The interim government later said Bakiev had resigned from his post, apparently in a hand-written letter.
Speaking to reporters in Brasilia, visiting Russian President Dmitry Medvedev said that "various political forces from different countries had to get involved" in resolving the political crisis in Kyrgyzstan to "avoid bloodshed" in the country.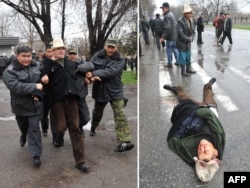 A combined photo shows a Kyrgyz opposition supporter being led away by police and what appears to be the same man lying dead on the ground hours later during an antigovernment protest in Bishkek on April 7.
"I held talks [about the situation in Kyrgyzstan] with the president of Kazakhstan, who was helping resolve this issue, and the three of us, including the U.S. president, discussed this issue during the [nuclear] summit in Washington, taking into account various interests that are intertwined in [Kyrgyzstan] and the whole region," Medvedev said.
Bakiev landed in the southern Kazakh city of Taraz, reportedly along with his second wife and their two children.
It remains unclear whether Bakiev will seek political asylum in Kazakhstan or leave for another country.
Kazakh President Nursultan Nazarbaev threw no further light on Bakiev's location during a press conference today.
Instead, Nazarbaev focused on Kazakhstan's role in Bakiev's departure, saying he had acted in the interests of calming the situation in Kyrgyzstan:
"Thanks to the talks I have been conducting day and night, in order to stop clashes between the sides [opposition and Bakiev], to prevent deaths, to make the Kyrgyz nation calm down, we took Bakiev on a Kazakh plane out of Kyrgyzstan," Nazarbaev said. "I think that it will stabilize the situation and give the [Kyrgyz] nation an opportunity to live and work peacefully."
Exile Welcomed
UN Secretary-General Ban Ki-moon welcomed Bakiev's departure as "an important step toward the peaceful, stable, prosperous and democratic development" of Kyrgyzstan.
U.S. State Department spokesman P.J. Crowley said the United States was "working with Kyrgyzstan to try to move it along on a path to democracy and economic prosperity."
"We want to see the...reemergence of democratic constitutional processes in Kyrgyzstan," Crowley said. "We want to see Kyrgyzstan have the opportunity to prosper economically. That has been our focus. We have not taken sides in this."
Interim government officials say none of Bakiev's siblings accompanied him on the Kazakhstan-bound plane.
Janysh Bakiev is a former deputy head of the Kyrgyz National Security Service
Criminal cases have been opened against two Bakiev family members. One is the ex-president's brother Janysh, who -- during Bakiev's presidency -- enjoyed influence over the law enforcement agencies.
Janysh Bakiev was the commander of the presidential guard until last week's uprising forced the president to flee the capital. He is accused by Kyrgyzstan's interim government of giving the order for security forces to open fire on thousands of antigovernment protesters in front of the presidential office and government building in Bishkek on April 7.
RFE/RL's Kyrgyz Service reports that supporters of Janysh Bakiev, some carrying weapons, are surrounding his family home in Teyit, where he and another brother, Akhmat, are believed to be staying.
The other wanted member of the family is the former president's son Maksim, whom Bakiev had put in charge of the Agency for Investment and Economic Development.
The interim government took control of two television channels owned by Maksim -- or, as Otunbaeva's deputy Omurbek Tekebaev put it, "once seized by Maksim Bakiev in a corporate raid."
Bakiev's Flight
RFE/RL's Kazakh Service reported that according to a senior Kyrgyz diplomat, Bakiev had initially attempted to flee to the country back on April 7.
The diplomat, who requested anonymity, told RFE/RL that on the night of April 7 -- as widespread unrest gripped Kyrgyzstan and Bakiev's opponents claimed power -- a plane carrying Bakiev attempted to land at Almaty airport but was denied permission.
He said Bakiev's plane was rerouted to a Kazakh military airport at Burundai, where the aircraft was allowed to land.
But the diplomat said Bakiev was not allowed to disembark by the authorities and he eventually flew off, bound for the southern Kyrgyz city of Jalal-Abad, where he remained until his internationally brokered departure on April 15.
There's been no confirmation from Bakiev or Kazakh authorities.
Meanwhile, RFE/RL correspondent Bruce Pannier, who is in southern Kyrgyzstan, says two demonstrations took place in Jalal-Abad today.
One rally was aimed at showing support for former Defense Minister Bakyt Kalyev, who has reportedly been detained by Kyrgyz authorities in Jalal-Abad after Bakiev's departure. Demonstrators asserted Kalyev's service to the country and demanded that he be released and not face trial, the correspondent said.
Pannier said the other demonstration condemned the new leaders' decision to allow Bakiev to leave the country without facing charges.
A similar rally took place in Bishkek, where at least 200 people picketed the building of the National Television and Radio Corporation (UTRK) to demand that they be given air time to express their anger that ousted Kyrgyz President Kurmanbek Bakiev has been allowed to leave the country, RFE/RL's Kyrgyz Service reports.
The demonstrators want Bakiev to be returned to Kyrgyzstan to face trial for his role in the deaths of dozens of protesters. UTRK General-Director Kubat Otorbaev came out of the building to speak with the protesters and promised that three or four would be allowed to go on air and state their views.
The demonstrators later marched to the Defense Ministry, where they demanded that acting Defense Minister Ismail Isakov explain why Bakiev was allowed to leave the country even though Isakov had pledged earlier this week that he would not be allowed to do so.
In another development, a prominent politician from the Social Democratic Party, Bakyt Beshimov, has been appointed the interim government's ambassador to the United States.
He will replace Ambassador Zamira Sydykova, who was dismissed by the interim government.
written in Prague by Farangis Najibullah based on reports from RFE/RL correspondent Bruce Pannier and from RFE/RL's Kyrgyz and Kazakh services