(RFE/RL) -- The case of jailed Iranian-American journalist Roxana Saberi is gaining prominence as Washington, the European Union, and Iranian President Mahmud Ahmadinejad are all expressing opinions about the case.
Saberi was sentenced on April 18 in Tehran to eight years in prison on charges of espionage.
U.S. Secretary of State Hillary Clinton urged Iran on April 20 to swiftly free Saberi, who is a citizen of both the United States and Iran.
"She has been subjected to a process that has been nontransparent, unpredictable, arbitrary," Clinton told reporters in Washington.
That repeated a call by U.S. President Barack Obama on April 19 for Saberi's release. Obama, who said he was concerned for Saberi's safety, said he was confident she was not involved in spying.
The EU also called for her release. The Czech EU Presidency said in a statement on April 20 that the bloc -- an important trading partner of Iran -- "considers that the judicial process with Miss Saberi did not meet the standards of a fair and transparent trial" and called for her to be freed.
A new twist emerged in the case when an acclaimed Iranian filmmaker, Bahman Ghobadi,
posted an open letter
in three languages claiming Saberi was his "fiancee and...companion" and that her misguided prosecution brought "shame" to him and "us." He also said she'd stayed in the country at his urging.
'Respect Rulings'
The calls from Western capitals have so far received only a brief public response from officials in Tehran.
"It is an international norm that one should respect rulings issued by the court and we expect all countries to respect rulings issued by the [Iranian] court," Iranian Foreign Ministry spokesman Hasan Qashqavi told reporters in Tehran on April 20.
This was a travesty of justice even by Iran's poor standards.
But in a sign that the Iranian government, too, is taking the highest-level interest in the case, Ahmadinejad urged Tehran's prosecutor-general on April 19 to ensure Saberi enjoys full legal rights to defend herself.
And judiciary chief Ayatollah Mahmud Hashemi Shahrudi said in a decree to Tehran's top court official on April 20 that the "different dimensions of this case…must be considered at the appeals stage in a careful, quick, and fair way."
The Iranian moves appeared intended to deflect the mounting international criticism over the way Saberi's case has been rushed through the legal system in recent weeks.
Raised The Stakes
The 31-year old freelance reporter has reported for U.S. public broadcaster National Public Radio and for the BBC. She has been living in Iran for the past six years. Saberi's father, Reza, said his daughter came to Iran "to do research on Iran's history, culture, literature, and the people, but she ended up in jail."
On January 30, she was reported to have been arrested for buying alcohol. She was later also accused of working without valid press credentials.
Then, on April 8, the deputy prosecutor of Iran's Revolutionary Court dramatically raised the stakes by announcing Saberi had used her journalistic activities as a cover for spying for the United States. However, the court did not provide Saberi's lawyer with a copy of the charges until just days before her trial on April 14.
Human Rights Watch said on April 20 that the court had followed a fast-track, closed-door proceeding that gave her lawyer no opportunity to prepare a defense or adequately represent her.
"This was a travesty of justice even by Iran's poor standards," said Joe Stork, deputy Middle East director at Human Rights Watch.
Saberi's lawyer appealed her case on April 21. Under Iranian law, he had 20 days to so from the date of her conviction.
"Saberi has appealed and I hope that the appeal court will change the verdict," the official IRNA news agency quotes judiciary spokesman Alireza Jamshidi as saying. "The appeal court will issue its verdict in an appropriate time."

'This Is A Right'
There were signs that Tehran is interested in seeing the case move quickly to the appeals court.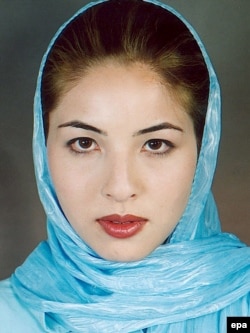 Roxana Saberi
"[I should emphasize that] Iran's judiciary system takes into consideration all legal issues, including the right of appeal for accused persons, and this is a right that is preserved for Roxana Saberi and her lawyer," Foreign Ministry spokesman Qashqavi said on April 20.
Meanwhile, the office of Iran's premier human rights lawyer, Nobel Laureate Shirin Ebadi, told RFE/RL's Radio Farda that she has agreed to represent Saberi in court.
But one of Ebadi's associates, lawyer Abdolfattah Soltani, said that so far the court has blocked their attempts to get the legal authority to do so.
"Around two or three days ago her father along with another relative and her lawyer came to me and requested the Center (of Human Rights Defenders in Iran) represent Roxana Saberi's case," Soltani said. "I, Mrs. [Shirin] Ebadi and Mrs. [Mahnaz] Parakand accepted to defend the case.
"The next day, I and Mrs. Parakand went to the 28th branch of the Revolutionary Court, but the head of that branch refused to let us meet with Roxana in order to sign the legal authority. Now we have decided to talk with higher authorities to see what their decision would be."
What might happen when the case gets to the appeals court is hard to predict.
In his decree, Shahrudi urged Tehran's top court official to be sure to compile full documentation of evidence in the case.
That could suggest he expects the appeals court to back off the espionage charges -- which would be hard to document -- while keeping lesser charges against Saberi. The lesser charge could be working with expired press credentials -- something Saberi has not denied.
Abdolsamad Khorramshahi, a lawyer for Saberi, said on April 20 that he is hopeful that her sentence will be diminished.
Delicate Moment
But the outcome of the case is complicated by the international politics which surround it.
The United States and Iran are at a delicate moment in their difficult relationship as Obama has signaled Washington is ready to speak directly with Iran about its nuclear program and other issues. That would be in addition to maintaining UN and U.S. sanctions upon Iran in a carrot-and-stick approach.
Tehran has signaled talks could be possible if they are respectful of Iran and its interests.
In this political context, the arrest of Saberi can be seen both as a message and as a test for Washington.
Both sides are carefully watching each other over this case -- and keeping an eye on many other nuances -- as they consider if and how to begin negotiations. Saberi's case is both affected by, and itself affects, the atmosphere surrounding the larger issue.