Amir Farshad Ebrahimi -- an Iranian journalist, former member of the Basij militia, and founding member of hard-line pressure group Ansar-e Hizbullah -- has claimed on his blog that Iranian scientist Shahram Amiri contacted him last year and asked for help in defecting to the West.
If true it would mean that Amiri, who is at the center of a spy scandal between the United States and Iran, contacted Ebrahimi just days after he claims he was kidnapped in a joint U.S.-Saudi operation while on hajj in Saudi Arabia.
Ebrahimi has posted on his blog images of Amiri's alleged e-mails to him: one is dated June 6, 2009, and the other June 26, 2009.
Ebrahimi -- who is said to have been involved in the reported 2006 defection of former Iranian Deputy Defense Minister Ali Reza Asgari, whom he says he
knew from Iran
-- tells RFE/RL correspondent Golnaz Esfandiari he believes Amiri did not have any classified and valuable information about Iran's nuclear activities.
Ebrahimi's claim is the latest unverifiable theory that has arisen as the mystery surrounding the case of 32-year-old Shahram Amiri unfolds.
RFE/RL: You write on your blog that you didn't know Shahram Amiri. Why, then, do you think he would try to contact you?

Amir Farshad Ebrahimi:
I didn't know him at all and I haven't had any contact with him, but he wrote in the first e-mail he sent to me -- which I didn't take seriously -- that he'd heard that I had helped Ali Reza Asgari [eds.: According to some reports, the former deputy defense minister who disappeared in Istanbul in 2006 defected to the West. Iranian officials have claimed he was kidnapped]. He wanted me to help him too.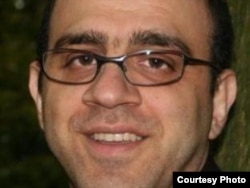 Amir Farshad Ebrahimi, journalist and human rights activist
At that time I was busy with events in Iran and didn't really take his e-mail seriously. I was in London and I told a few people about the e-mail [eds.: a London-based Iranian journalist has confirmed to RFE/RL that Ebrahimi informed him about receiving e-mails from Amiri]. There wasn't much talk about him then. I didn't know anything about him, so I ignored the mail.
Twenty days later he sent me another e-mail in which he renewed his call for help and said that he was still in Saudi Arabia. I checked his e-mails, ISP, and saw that they're both from Medina. Since I didn't know him I wasn't sure if he was really the Shahram Amiri who had gone missing.
We spoke on Skype and I heard his voice. I also asked him to use a webcam, which he did. He looked a bit different from the picture that had been published of him during those days, yet it removed my doubts to a certain extent and I thought he could be [Amiri].
RFE/RL: Where did he say he was staying since, according to what you say, it appears he spent a month in Saudi Arabia after he officially went missing? Also, what information did he tell you he had ?

Ebrahimi:
He told me he was in Medina staying at a friend's house. He said he had a laptop with him with a memory of 500, 600 [gigabytes] of information, and he claimed that the information he had was explosive. He didn't give me much detail. He just said that he had information about the nuclear issue.
I told him that he could either go to the U.S. and seek asylum, or go to the embassy of a country that is after information about Iran's nuclear program, either Israel or the United States. He kept saying that his life was in danger, that they were after him and that he was also facing financial problems. I contacted my colleagues on the Nejat Committee [eds.: Rescue Committee -- a group that Ebrahimi claims is overseen by the U.S. State Department and that helps Iranian officials defect abroad. Ebrahimi claims to be a member of this committee.] in the U.S., who said he can go to the U.S. Embassy.
I e-mailed Amiri and we talked on Skype -- I again asked him to use a webcam to make sure he was the same guy -- I told him that he can either go to the U.S. Embassy in Riyadh or to the U.S. Consulate in Medina and present yourself. He asked who he should contact. I again asked my colleagues on the Nejat Committee, who said that he should go the next day at 10 a.m. to the U.S. Consulate in Medina and contact a person whose name I gave to Amiri.
He sounded very happy and that was the last time we spoke and I have not had any contact with him since. I just heard later that he had been taken to a safe location.
U.S. Intelligence Contacts

RFE/RL: You wrote on your blog that, in January, a U.S. "intelligence official" spoke to you about Amiri. Tell us about that meeting.

Ebrahimi:
One of my friends told me that someone from the U.S. government wanted to talk to me. I think it was around the time when [Iranian nuclear scientist Massud Alimohammadi] was killed in a bomb explosion in Tehran, because I had given an interview to German television ZDF about him. I was then in Bangkok, and I was told to stay there and that that person would travel there to talk to me.
I went to the U.S. Embassy in Bangkok, where I met a man who introduced himself as a member of the U.S. intelligence services, and said he was involved in Amiri's case. He introduced himself only by his first name -- Tim or Rich, I don't remember. His first question was: 'How well do you know Shahram Amiri?' I said that I didn't know him at all. He then mentioned that I mentioned Amiri in my interview with ZDF; I said I only spoke about him in general terms. He asked a few questions about Malek-e Ashtar [eds.: Amiri is known to have worked at Iran's Malek-e Ashtar Industrial University, which is believed to be linked to the Islamic Revolutionary Guards Corps] and groups within the Revolutionary Guards that I think Amiri had probably referred to them.
He also asked me if I could find someone in Iran who would know Amiri closely. I said knew and added that such a move would be risky. I asked him if something had happened. He said Amiri's comments were very contradictory and they were trying to verify them.
RFE/RL: Can you give us some details about the "Rescue Committee" you mentioned? Who its members are, and its does, exactly? No one I spoke to seems to know anything about such a committee.

Ebrahimi:
The Nejat Committee is a committee that works under the oversight of the U.S. State Department. It was created during George W. Bush's second term. It sees its duty as helping those Iranians who are senior officials or middle managers in the Iranian establishment and who want [to defect].
The first trigger for the creation of the committee was when Asgari left Iran, and we helped him. A committee was created unintentionally. We organized it later and it is still active. I'm the only Iranian member of the committee. The others are from the U.S. government, the principle being that the committee says it exists, but it doesn't really talk about its work and activities.
No Nuclear Secrets

RFE/RL: You wrote that the members of the committee later told you that Shahram Amiri did not have any important information about Iran's nuclear activities.

Ebrahimi:
Yes, in a meeting of the Nejat Committee it was said that Shahram Amiri was not who he pretended he was, and he didn't have valuable information -- the information he had, the ministry or Malek-e Ashtar University would have access to. I even heard that Amiri wanted many privileges from the U.S. government, including a personal bodyguard and a huge villa. The U.S. had told Amiri that he could stay in the U.S. and study and that after some time he could bring his family to the U.S. Amiri apparently wanted more, but the U.S. had refused his demands.
RFE/RL: You claim that Amiri was someone after "fame and money," who wanted to find a home in a new country. Some believe that he might have been a double agent who came to the United States in coordination with Iran and that's why he left his family behind and finally went back.

Ebrahimi:
It is possible that he betrayed our confidence and pretended he was a dissident to make it to the U.S. But at the same time, if he really was an Iranian agent he could have stayed in the U.S. longer and provided the U.S. with false information.
But from what I know the information he had was not wrong, it was just very basic. It was the kind of information anyone can access. The intelligence official I met in Bangkok said that they used lie detectors on him and he made contradictory statements and lied. If he had been an Iranian agent he would have been better [prepared].
RFE/RL: Why did you decide to blog about this now that he's back in Tehran? Don't you think that claims you're making could endanger his life?

Ebrahimi:
Yes, it can happen but we see now that Iran's establishment is using the current murky situation for its own purposes. [Iranian Foreign Ministry spokesman Ramin Mehmanparast] described the Amiri case as a tough defeat for the U.S. The Islamic republic knows very well that Amiri was neither an intelligence agent nor a nuclear scientist, and that there was no kidnapping (as claimed by Iran and Amiri).
Even if I hadn't posted Amiri's e-mails [on my blog ] a bleak future is awaiting Shahram Amiri. The Islamic republic would have accessed this information anyway, and it has. But because it wants to cover up this project, which they described as a huge victory, they cannot say these things and they just make more room for Amiri's lies.