An Iranian nuclear scientist who disappeared more than a year ago amid allegations he had been kidnapped has arrived in Tehran, claiming U.S. intelligence agents had pressured him to lie about Iran's nuclear program.
Shahram Amiri told a news conference that he had been subjected to "the harshest mental and physical torture" and said he had been offered $50 million by the Central Intelligence Agency (CIA) to stay in the United States.
"During the first two months of my stay in the United States, I was subjected to heavy psychological and mental pressures by CIA interrogators," Amiri said.
But he insisted he had resisted all financial inducements to "betray" Iran. "With God's will I resisted," he said. "I think any other Iranian, too, who was in my place would not sacrifice their dignity for their financial wishes, and betray their country."
However, in a further twist, "The Washington Post," citing unnamed officials, reported that the CIA had paid Amiri more than $5 million for intelligence on Iran's uranium-enrichment program, which the United States and its allies suspect is a front for developing nuclear weapons. Iran insists it is for peaceful purposes.
U.S. officials told the daily that the money paid to Amiri reflected the
value of the information he had provided
and was intended to enable him to resettle in the United States. The payments are believed to be part of a CIA program known as "brain drain," designed to lure scientists with knowledge on Iran's nuclear program to defect.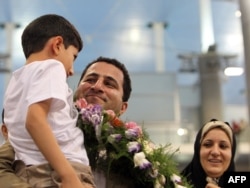 Amiri denied that his family had been threatened.
Analysts have suggested that Amiri confirmed the existence of a second Iranian uranium-enrichment plant near the holy city of Qom. The facility's disclosure gave fresh momentum to U.S. pressure for a fourth round of United Nations Security Council sanctions against Iran, which were passed last month.
'A Simple Researcher'
However, after arriving at Tehran's Imam Khomeini Airport, Amiri denied having any links to Iran's nuclear program and described himself as "simple researcher who was working in the university." He added: "I'm not involved in any confidential jobs. I had no classified information."
"I had nothing to do with Natanz and Fordow sites," he added, referring to Iran's two uranium-enrichment plants. "It was a tool the U.S. government brought up for political pressure. I have done no research on nuclear. I am a simple researcher who works in a university which is open to all and there is no secret work happening there."
Amiri, 32, is known to have worked at Iran Malek-e Ashtar Industrial University, which is believed to be linked to the Islamic Revolutionary Guards Corps.
U.S. officials have insisted that Amiri defected to the United States freely but he left on July 14 after going to the Iranian interests section of the Pakistani Embassy in Washington, saying he wanted to return home. U.S. officials have suggested Amiri may have undergone a change of heart after Iranian intelligence agents threatened his family.
However, on his arrival in Iran -- where he was met by his wife and 7-year-old son as well as by a host of officials, including Deputy Foreign Minister Hassan Qashqavi -- Amiri told a different story.
He said his family had come under no pressure and repeated claims that he was kidnapped in the Saudi Arabian city of Medina during a pilgrimage in May last year before being taken to the United States.
"I was abducted in Medina in front of my hotel by U.S. and Saudi intelligence agents," Amiri said. "They transferred me to an unknown location in Saudi Arabia. They injected me with anesthetics. Then, they transferred me from Saudi Arabia to the United States on a military plane."
He said his "kidnapping" had been part of the "psychological warfare against Iran [aimed at] proving those lies that the U.S. wanted to tell other countries about Iran." He also claimed Israeli agents had been present at his interrogations sessions and that they planned to take him to Israel.
"The main aim of this issue was a new political game they wanted to launch against the Islamic Republic of Iran," Amiri said. "And the game was this: they wanted me to announce to the U.S. media that I have sought asylum in the U.S. voluntarily, and that I have brought to their country a number of important documents along with a laptop carrying secret information about Iran's military nuclear program."
Before leaving the United States, Amiri gave an interview to Iran's English-language satellite news channel, Press TV, in which he challenged the assertion of U.S. Secretary of State Hillary Clinton that he had gone to the United States of his own free will.
"If I had sought asylum, why did I not take my family out [of Iran]? What was the reason for me to escape Iran and seek asylum without sending my family out first?" Amiri said.
'Unbelievable' Story
Several analysts have cast doubt on the version of events offered by Amiri, according to RFE/RL's Radio Farda.
Mahan Abedin, an Iran researcher at a New Delhi think tank, told Radio Farda today that Amiri's story about his treatment at the hands of U.S. agents is "unbelievable." He said Amiri's account does not square with his knowledge of how the CIA works.
Nima Rashedan, a Paris-based political analyst, told Radio Farda on July 14 that he believes the most likely scenario is that Amiri contacted U.S. agents and asked for protection in return for information he had about Iran's controversial nuclear program.
Rashedan said Amiri was probably given the option of staying in the United States, knowing the risks he would face returning to Iran. "He was either under some kind of suppression or he [independently] decided to return to Iran," Rashedan said.
Rashedan said another scenario is that Amiri's contact with U.S. agents was a "preplanned move."
Said Mahmoudi, an international law professor at Stockholm University, told Radio Farda today that it would be possible for Amiri to bring charges against the U.S. government for his alleged abduction, but he would have to do so in U.S. courts.

with agency reports