Interview With Mirjana Rakela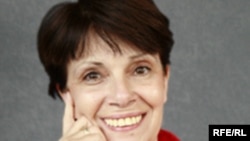 Mirjana Rakela, from RFE/RL's South Slavic and Albanian-Languages Service, on November 15 received the Lorenzo Natali Prize for her report on child soldiers in the Balkans and other regions of the world. The Lorenzo Natali Prize -- organized by the European Commission in partnership with Reporters Without Borders and the World Association of Newspaper -- rewards journalists committed to human rights and democracy. Mirjana Rakela spoke to RFE/RL's Claire Bigg.
Claire Bigg: Your report was first released in November 2007 to mark the UN Convention on the Rights of the Child. What prompted you to report specifically on child soldiers?

Mirjana Rakela: I am very fond of children and children's rights. There are a lot of problems with violence against children, political manipulation of children. I realized that there are a great number of children involved in wars around the world. Then I started researching the story in the Balkans. I was surprised and shocked. I knew I had to investigate this story, so I found boys in Croatia, in Bosnia, in Serbia.

Bigg: Did you have any difficulty finding people who had fought as children in the Balkan war in the 1990s?

Rakela: It wasn't easy, but I was lucky. It was hard work but when you do something like that you can feel that you have a story. From the first moment I spoke to Narcis Misanovic, the boy from Bosnia who was the youngest soldier in the army of Bosnia and Herzegovina, I could feel his emotions, his fears even today, although he's a grown man -- 28 years old.

Bigg: How willing were Narcis and other former child soldiers to tell their story?

Rakela: They were willing, because they feel that it's now much easier to talk about it. A man from Republika Srpska, which is part of Bosnia and Herzegovina, told me that he would do the same thing again, that he has no regrets for anything he did. Narcis told me: "I'm not sure I would do the same again, but I'm proud I defended my country, my family, my friends, my neighbors to build a multiethnic Bosnia and Herzegovina."

Bigg: What impression did they make on you? Did you have the feeling that the war left them with psychological scars, were they any different from other adults?

Rakela: Today they are grown men, but emotionally they are destroyed. When somebody gives you a rifle when you are 11, you can say: "Ok, I'm defending my country." But when you are 28, you realize that somebody wronged you. I think those who involved boys and girls in wars around the world should be treated as war criminals.

Every war leaves scars on the soul. You have to be very strong to live like a normal person. They missed a few years of school, so they went to school again, they started studying and working. And it's very, very hard. Society, officials, the government have forgotten these children, so they are trying to start life from scratch.