Iran has embarked on a series of ambitious projects to revive the historic Silk Road, moves aimed at expanding its regional influence and overcoming Western efforts to isolate it.
A network of road, railway, and tunnel schemes has been launched along with expensive port upgrades in what experts say is a concerted attempt to restore the country's traditional role as a trade hub.
The projects have gone ahead despite Iran's exclusion from Western-backed plans to restore the Silk Road, the 6,000-kilometer-long trading route between Europe and Asia that is thought to date back almost 3,000 years.
Iran has not signed up to Western-backed initiatives, such as the European Union-supported Transport Corridor of Europe, Caucasus, and Asia (TRACECA) project -- also known as the "new Silk Road" -- amid the ongoing international dispute over Tehran's suspect nuclear program, which has seen four rounds of United Nations sanctions passed against the Islamic republic.
Instead, it has been fostering improved transport links through a series of bilateral agreements with neighboring states.
Reaching Out In All Directions
Iranian officials are so upbeat about the results that they have announced plans to hold a festival celebrating the ancient route's reemergence.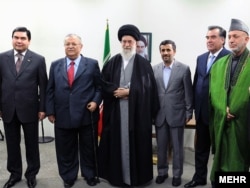 The presidents of Turkmenistan, Iraq, Afghanistan, and Tajikistan are welcomed by Supreme Leader Ayatollah Ali Khamenei in Tehran.
The latest plans include a road, designed to eventually provide a direct link to Russia, stretching from the Persian Gulf to Gilan Province on the Caspian Sea neighboring the Caucasus.
"We intend to establish a path from Hormozgan in the south of Iran to Ghazvin, Rasht, Astara, and then onto Russia and Europe," Iranian Vice President Mohammad Reza Rahimi said in July, announcing a new working group for Silk Road initiatives. "For the time being, we are working on the Ghazvin-Rasht section and the Roads Ministry has promised to complete this in one year."
The aim, Rahimi said, is to dramatically increase the capacity of Iran's roads to transport goods and reduce maximum transit times between Europe and China from two months by sea to 11 days by land.
The planned north-south road bolsters other projects aimed at improving links with Iran's neighbors to the east -- including a road-and-rail scheme connecting eastern Iran with Herat Province in western Afghanistan and a flagship tunnel project in Tajikistan linking the capital, Dushanbe, with Khujand in the north.
Efforts are also under way to upgrade the Caspian Sea ports of Bandar Enzali and Neka, the latter aided by Chinese investment. China has been investing heavily in Iranian pipeline infrastructure to improve its supplies of oil and natural gas from Iran.

Looking To Central Asia
Some of the links dovetail with separate U.S.-backed infrastructure work in Afghanistan, according to Svante Cornell, research director of the Central Asia-Caucasus Institute and Silk Road Studies Program. For instance, while Iran is focusing on building a road to Herat, the United States Agency for International Development (USAID) is the biggest donor -- the others are Saudi Arabia and Japan -- to a new highway linking the city with Kandahar in the south.
"You have various projects on the border between Tajikistan and Afghanistan where Iran has been involved," Cornell says. "Incidentally [these are] projects which very much parallel what the United States has been trying to do, although they have not been communicating at all with one another."
Turkmen President Gurbanguly Berdymukhammedov (left) and Iranian counterpart Ahmadinejad open a new gas pipeline link between the two countries.
One goal appears to be "connect Iran to Central Asia and Afghanistan and reintegrate the Persian-speaking area of Iran and northern Afghanistan and Tajikistan," Cornell argues.
"And then you also have the specific Iranian-Turkmen relationship, which is very pragmatic, not at all based on any ideological or other commonalities but simply pragmatic common interests, which you see for example in the Turkmen export of gas to northern Iran."
Iran has been keen to foster links with Turkmenistan, Kazakhstan, and Uzbekistan to facilitate oil-swap deals that have seen the three Central Asian states ship their crude to Neka on the Caspian Sea. Iran in turn delivers equivalent volumes of oil to their clients through its Kharq terminal in the Persian Gulf. Turkmenistan also ships its vital cotton exports through Iran.
Avoiding Isolation
Hooman Peimani, head of energy security and geopolitics at the National Energy Institute in Singapore, believes Iran's ambitions amount to putting itself at the heart of the trade route between Europe and Asia.
"The purpose of Iran in getting involved in such projects is to ensure that it is going to be used as a kind of transit route for international trade from and through Asia, mainly in the context of connecting Europe and Asia, mainly via Turkey and possibly via the Caucasus," Peimani says.
"Within this context, Iran has done a lot of work in terms of improving its roads. The infrastructure, particularly in the northern part of the country, has witnessed a major project to improve the roads, constructing new highways. Also Iran has spent a lot of money in order to expand its railway network."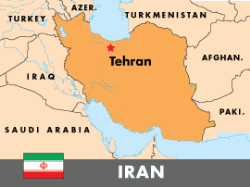 The scope of Iran's ambition clashes with the goal of the United States and its allies to squeeze it economically to force it to abandon its uranium-enrichment program, which Tehran says is peaceful but which the West suspects is aimed at producing a nuclear bomb. But, Peimani says, sanctions and enmity with the United States have not been obstacles to the Iranian determination to be at the heart of a modern Silk Road -- an aim abetted by Iran's geography and vast energy wealth.
Peimani says this is also due to the fact that "Central Asia is a landlocked region that doesn't have a lot of options." For international trade, the Central Asian states "mainly have to rely on Iran or Russia. Of course there is China, but it presents a very long route for international trade. Therefore, Iran is a necessity for Central Asia, particularly for Turkmenistan."
He notes that even China may use Iran as an export route. "China, despite all the problems Iran is facing with the United States, has actually increased trade with Iran, which is now equal to about $22 billion a year," Peimani says.
Sanctions Make For Bargains
Paradoxically, the West's desire to isolate Iran through embargos may even be aiding the country's aim of turning itself into a trade corridor. Niklas Swanstrom, program director at the Central Asia-Caucasus Institute and Silk Road Studies Program, believes Western sanctions are making Iran more attractive for Chinese, Russian, and Indian traders and investors.
And with China relying on Iran for 12-14 percent of its oil imports, Chinese investors have a direct incentive to invest in Iranian pipeline and other infrastructure that may have suffered under Western sanctions.
"For the Chinese, for the Russians, and arguably even for the Indians, it's a bargain now. Now is the time to move into Iran because it's easy to get concessions, it's relatively easy and relatively cheap to build pipelines and to build infrastructure that they can monopolize or control," Swanstrom says.
"So we're in a situation where we have an interest in international isolation and then we have another interest, which is energy -- and it simply doesn't match."