TEHRAN (Reuters) -- A security crackdown appears to have quelled street rallies against Iran's disputed poll, but the leadership faced a new challenge from calls by reformist clerics for national mourning for dead protesters.
While defiant cries of "Allahu Akbar" (God is greatest) were again heard from Tehran rooftops as darkness descended overnight, Iran's hard-line Islamist leadership, for now at least, seemed to have gained the upper hand.
Riot police and Basij militia appeared to have largely ended mass protests against the June 12 election, which reformists say was rigged to return President Mahmud Ahmadinejad to power and keep out moderate former Prime Minister Mir Hossein Musavi.
At least 10 protesters were killed in the worst violence on June 20, and about seven more early last week. Many of the deaths have been filmed by fellow demonstrators, posted on the Internet and viewed by thousands around the world.
U.S. President Barack Obama toughened his stance on June 23 and said he was "appalled and outraged" by Iran's crackdown.
Iran has accused the protesters of being backed by the West, the United States and Britain in particular, and have paraded arrested young demonstrators on state television confessing to being incited by foreign news broadcasts.
"Rioters confess: Western media duped us," the conservative Kayhan International newspaper said in a front-page headline.
Other hard-line newspapers carried articles blaming Mousavi for the violence. One of them, "Vatan-e Emruz," quoted what it said was the father of one of those killed.
"The one responsible for my child's blood is Mir Hossein Musavi and I will follow up this issue until I get my right," it quoted him as saying, giving the victim's surname as Ghanian.
Musavi has repeatedly said his supporters are not behind the postelection violence.
The Foreign Ministry accused UN Secretary-General Ban Ki-moon of interfering in Iran's affairs "under the influence of some powers," an apparent reference to Britain and the United States.
Ahmadinejad would be sworn in before parliament sometime between July 26 and August 19, the "Iran News" newspaper said.
Tehran's hard-line leadership is locked in a dispute with Western powers over its nuclear program, which it says is intended for generating electricity but which the West suspects could yield nuclear weapons that could destabilize the region.
Obama said the United States would not interfere in the protests, describing accusations it was instigating them as "patently false and absurd."
"This tired strategy of using old tensions to scapegoat other countries won't work any more in Iran," he said.
From House Arrest
Grand Ayatollah Hossein Ali Montazeri, a dissident but yet one of the most senior clerics in Iran, called for three days of national mourning from June 24 for those killed.
"Resisting the people's demand is religiously prohibited," Montazeri said in a statement on his website.
Montazeri was once named successor to Ayatollah Rohullah Khomeini, but fell out with the founder of the Islamic Republic shortly before his death in 1989. Montazeri has been under house arrest in the holy city of Qom for around a decade.
Reformist cleric Mehdi Karrubi, who came third in the election, also signaled opposition would continue, calling on Iranians to hold ceremonies on June 25 to mourn the dead.
Supreme Leader Ali Khamenei, who holds all the key levers of power in Iran, accepted a request from Iran's top legislative body to allow five more days for candidates to lodge complaints over the election.
The 12-man Guardians Council, though, has already rejected demands for a vote rerun from Musavi, who says he is the rightful victor.
One defeated candidate, conservative Mohsen Rezai, said he had
withdrawn his complaints
about the vote, citing Iran's sensitive political and security conditions, the official IRNA news agency reported.
Iran Election Special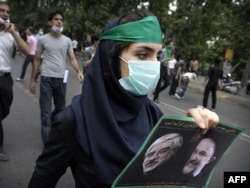 RFE/RL's Full Coverage
Following the disputed reelection of Iranian President Mahmud Ahmadinejad, supporters of Mir Hossein Musavi have taken to the streets to protest.
Click here
for news, blogs, and analysis of the presidential election and aftermath.