TEHRAN (Reuters) -- A defeated candidate in Iran's disputed election has said the Islamic system may face "collapse" unless it embraces change, in unusually blunt language from a prominent establishment figure.
Conservative Mohsen Rezai, a former Revolutionary Guards commander who finished third in the June 12 vote won by hardliner Mahmud Ahmadinejad, called for national unity in a statement posted on his website on the evening of July 12.
"Continuation of the current situation would lead us to collapse from inside," he wrote. "We need cooperation and brotherhood. We need to respect people and their rights."
The presidential election sparked days of street protests by supporters of moderate candidate Mir Hossein Musavi, who says the vote was rigged in Ahmadinejad's favour, and exposed deepening divisions within the Islamic Republic's leadership.
Musavi has said the next government of Ahmadinejad would be illegitimate. The authorities reject opposition charges of vote fraud and Supreme Leader Ayatollah Ali Khamenei has upheld Ahmadinejad's reelection for another four-year term.
In his statement, Rezai criticised the way the election was handled as well as "mismanagement in dealing with public demands and protests," in a clear reference to post-vote unrest, saying this had led to a crisis which the West could exploit.
The vote further strained ties between Iran and the West, which are also at odds over Tehran's disputed nuclear ambitions.
Western powers have criticised a postelection crackdown on demonstrations and Iran has accused the United States and Britain in particular of interfering in its internal affairs.
State media say at least 20 people were killed as protesters clashed with riot police and members of the Basij militia. The authorities and Musavi blame each other for the bloodshed. Hardliners have called for Musavi to be put on trial.
Rights activists have said 2,000 people detained during the vote's turbulent aftermath may still be held across Iran, including leading reformers, academics, journalists, and students.
Rezai, who initially filed formal complaints against the election but later withdrew them, stressed the need for unity within the Islamic state's establishment.
"There is no other way but to have unity on the continuation of the Islamic revolution, in which some reforms on the political scene are needed," Rezai said.
"We would move in a wrong track if we can not give our seat to the others or if we can not let the others to participate in handling the country's affairs," he said.
Rezai said Musavi, Ahmadinejad and other politicians and political activists had no choice but "sitting next to each other for preservation of national interests."
He added: "We need unity and people's support if the government wants to get success in its nuclear negotiations with the big powers in the next months or to defend the country against a possible strike by Israel."
The Battle For Iran's Future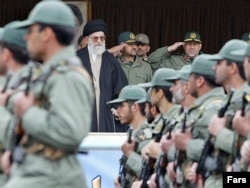 The Battle For Iran's Future
With much more than a disputed presidency at stake for Iranians, RFE/RL's Charles Recknagel and Mazyar Mokfi explore the power plays that could reshape Iran's political establishment.
Click here
for news, blogs, and analysis of the presidential election and aftermath.
Iran Election Special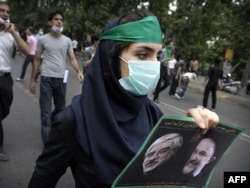 RFE/RL's Full Coverage
Following the disputed reelection of Iranian President Mahmud Ahmadinejad, supporters of Mir Hossein Musavi have taken to the streets to protest.
Click here
for news, blogs, and analysis of the presidential election and aftermath.