TEHRAN (Reuters) -- A group of hard-line Iranian members of parliament want the judiciary to prosecute defeated presidential candidate Mir Hossein Musavi over postelection unrest that rocked the Islamic republic last month.
"Those who hold illegal rallies and gatherings should be legally pursued," deputy Mohammad Taghi Rahbar was quoted as saying by the hard-line "Javan" newspaper on July 2.
It said Rahbar was among several lawmakers preparing to write to the judiciary complaining about Musavi's activities after the disputed June 12 election. It did not say how many lawmakers backed the petition.
In another sign of mounting hard-line pressure, state television said a student branch of the pro-government Basij militia, which helped police suppress pro-Musavi street protests, had urged the prosecutor-general to take him to court.
Basij students accused him of "inciting his supporters to take to the streets to stage protests" and "undermining national security," official English-language Press TV said on its website.
The authorities have blamed Musavi, a moderate former prime minister who says the poll was rigged in favor of hard-line President Mahmud Ahmadinejad, for violence in which at least 20 people were killed. Musavi says the authorities were responsible for the bloodshed.
Hard-line Iranian cleric Ahmad Khatami urged the judiciary on June 26 to charge the leading "rioters" as "mohareb," or people who wage war against God.
Musavi and another losing candidate, pro-reform cleric Mehdi Karrubi, again denounced the election result on July 1 and said Ahmadinejad's next cabinet would be illegitimate.
Although hard-liners have appeared to be in the driving seat since security forces overcame street protests that erupted in the days after the poll, Musavi and Karrubi have not yielded.
Despite their defiance, analysts say they have few practical options after Iran's top legislative body on June 29 certified results showing Ahmadinejad had won reelection by a landslide.
The clerical leadership is likely to ignore the reformers and keep backing Ahmadinejad, who enjoys the public support of Supreme Leader Ayatollah Ali Khamenei, Iran's top authority.
Iran has accused foreign powers, especially Britain and the United States, of inciting the antigovernment protests and of plotting to undermine the Islamic state with help of people inside the country. London and Washington reject the charges.
The semi-official Fars news agency said seven people linked to "antirevolutionary" groups had been arrested because they had been "actively involved in riots and unrest" in Tehran and the northwestern city of Qazvin.
Iran's police chief said on July 1 that 1,032 people had been detained during the protests in Tehran, but most had been freed.
The International Campaign for Human Rights in Iran said on June 30 that reports from within Iran indicated that as many as 2,000 people, including opposition leaders, professors, journalists, students, and protesters may be in detention across the country.
Musavi on July 1 called on the authorities to release detained "children of the revolution," a reference to scores of leading reformist political figures arrested since the poll.
Officials reject charges of election fraud, saying it was Iran's "healthiest" vote since the 1979 Islamic Revolution.
Iran Election Special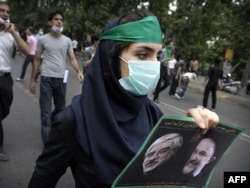 RFE/RL's Full Coverage
Following the disputed reelection of Iranian President Mahmud Ahmadinejad, supporters of Mir Hossein Musavi have taken to the streets to protest.
Click here
for news, blogs, and analysis of the presidential election and aftermath.
Iran Election Diary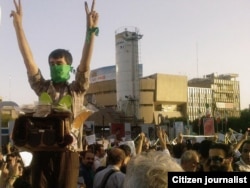 Disputed Presidential Vote
There have been protests and clashes with police on the streets of Tehran following the disputed reelection of Mahmud Ahmadinejad. RFE/RL collects videos, photos, and messages on social-networking sites coming out of Iran to attempt to get a picture of what is happening inside the country.
Click here