Can politicians really change? It's a question many Iran observers have been asking themselves since Mohammad Khatami finally confirmed his decision to "seriously" compete in Iran's presidential election in June.
During his eight years in power, between 1997 and 2005, Khatami was often criticized by fellow reformists and democracy activists for reneging on pledges to bring change to Iran. Despite two landslide victories, Khatami is considered by many critics on both ends of the political spectrum to be weak and overly cautious.
The resulting disillusionment among former supporters and a perceived lack of political daring present major obstacles to the candidacy of a man regarded by some as Iran's best hope for genuine reform in the short term.
In the early years of his presidency, the charismatic Khatami could expect a hero's welcome at student gatherings. Toward the end of his term, however, he was greeted with angry outbursts and shouts of "Shame on you!"
Khatami wrested the presidency in 1997 by offering Iranians greater freedom and democracy -- but few, if any, of his promises had been met by the end of his second term. More than 100 liberal publications were shut down by the judiciary during his reign. Scores of pro-reform activists, intellectuals, and students were jailed. And most of the reform proposals Khatami actually offered were blocked by hard-liners.
Early Defeats
In 2004, two of Khatami's key bills were rejected by the Guardians Council, an unelected oversight body with broad powers. The bills aimed to increase presidential powers and limit the power of the conservatives.
In the face of such opposition, Khatami withdrew the bills and conceded defeat.
The president repeatedly explained himself by saying he was powerless to stop hard-liners who strived so furiously to prevent him from giving Iranians greater political and personal freedom. He claimed he faced a crisis every nine days.
But critics say that while Khatami's supporters expected him to fight back, he often failed them by doing the opposite.
Hossein Bastani, a journalist based in France, cites the example of Khatami's retreat during the 2004 parliamentary elections, when the candidacies of some 2,000 pro-reform candidates -- including Khatami's brother -- were thrown out by the Guardians Council.
"Following a tough show of resistance -- which included the resignation of [a number of] cabinet members, some 28 provincial officials and governors, and threats that such [unfair] elections would not be held and so on -- suddenly, two days before the elections, he retreated," Bastani says, calling the move one of Khatami's biggest failures. "It resulted in deep disillusionment."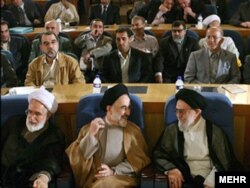 Khatami flanked by Mehdi Karrubi (left), who said he would renounce his candidacy if Khatami ran, and former lawmaker and reformist ally Ali-Akbar Musavi Khoeni in October 2008
Four years out of office, skeptics might argue that a sexagenarian former two-term president is unlikely to have reinvented himself as a fighter.
Moreover, Iran's political system has not changed noticeably since Khatami left office in 2005. The president has little genuine power, and all of the key institutions -- notably the Guardians Council and the judiciary -- are still controlled by conservatives who consider personalities like Khatami a threat to the system.
Why Run Again?
Leading reformists have reportedly urged Khatami to run because they think he remains the only reformist candidate with any realistic chance of thwarting incumbent President Mahmud Ahmadinejad's reelection bid.
Khatami's close aides and supporters say that Iran's "terrible" situation -- including high unemployment, spiraling inflation, and international isolation -- has left Khatami feeling that he has a responsibility to try to unseat his successor.
Jalal Jalalizadeh, a former reformist legislator, tells RFE/RL that Ahmadinejad's poor performance and failure to deliver on his 2005 campaign promises has created an opportunity for Khatami.
"People had figured that if one faction was in charge of the country -- since they would be all on one side -- they would be able at least to solve people's day-to-day issues and economic problems, but experience has shown that that expectation was wrong," Jalalizadeh says. "Even though Iran in recent years had its largest oil income and the [hard-liners] had all the possibilities, we saw people's social, economic, political, and cultural problems get worse with each passing day."
He calls the current environment "the best time for Khatami to reenter" the electoral arena.
Jalalizadeh, who describes Khatami's decision to run as self-sacrifice, suggests the former president could benefit from reduced expectations and his considerable experience dealing with Iran's hard-liners.
Turbulent Times
He speculates that many Iranians who might support Khatami's candidacy view it as an exercise in damage control and their best hope to "stop" Ahmadinejad.
"Many are probably thinking that Khatami is definitely not the best candidate, but maybe he is the only person who can beat Ahmadinejad," Bastani says. "Many look at the results of Ahmadinejad's presidency and come to the conclusion that if the current government were to remain in power for another term, Iran might face tougher and tougher sanctions, including a possible ban on oil exports similar to what happened in Iraq before the [U.S.-led invasion in 2003]."
Former Iranian Vice President Mohammad Ali Abtahi has said that people see U.S. President Barack Obama's presidency as an opportunity that Tehran should seize. "Whether we do or not, depends on [who is] president here," Abtahi has been quoted as saying.
In the end, a Khatami victory in the June elections could in fact depend on his ability to mobilize disillusioned Iranians who might otherwise simply stay away from the polls.
A February 10 report suggested that supporters had fought off an assault on Khatami by a hostile mob during celebrations to mark the 30th anniversary of Iran's Islamic Revolution. A website sympathetic to the former president, the Baran (Rain) Foundation, claimed that the alleged assailants wielded sticks and shouted "Death to Khatami!"
It is a reminder of the unpredictable -- and sometimes thuggish -- nature of Iranian political life. But for Khatami's supporters, it could also signal the lengths to which hard-liners might be willing to go to put down a "serious" challenge.
Iranian Presidential Politics

Iranian Presidential Politics
Radio Farda correspondent Mehrdad Mirdamadi talks about Mohammad Khatami's underdog status, despite Iranian grievances aimed at the mistakes of the past four years. Play
Iran's Revolution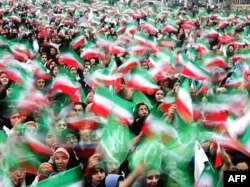 Iran's Revolution
As Iran celebrates the 30th anniversary of its Islamic Revolution, RFE/RL looks at the legacy of the revolution and its effect on Iran and the world. More