Iran's former two-term president, Mohammad Khatami,
recently announced
his plans to challenge incumbent President Mahmud Ahmadinejad in a presidential election slated for June. Khatami is regarded by some as
reformers' best hope
despite obstacles to a substantive challenge to the country's current hard-line administration. In the latest of RFE/RL's occasional briefings, Radio Farda correspondent Mehrdad Mirdamadi talks about Khatami's underdog status, despite Iranian grievances aimed at the mistakes of the past four years.
(with additional Reuters video and agency photos)
Iran's Revolution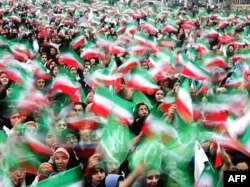 Iran's Revolution
As Iran celebrates the 30th anniversary of its Islamic Revolution, RFE/RL looks at the legacy of the revolution and its effect on Iran and the world. More