(RFE/RL) -- Declaring that the world is "unified around Iran's misbehavior," U.S. President Barack Obama has said a regime of international sanctions against Tehran is moving forward and should be
completed in the next few weeks
.
He told reporters in Washington that it is clear to him that Iran is pursuing "nuclear weaponization." Obama did not offer specifics on the sanctions, saying only that they would provide a "variety of ways" to apply pressure on Iran.
But U.S. officials have discussed sanctions targeted at Iran's Revolutionary Guard, which Western powers say is responsible for the country's nuclear program and is behind the crackdown on antigovernment protests there. The organization also owns a wide array of assets, including companies and banks.
Obama also said he was pleased by how Russia has been "forward-leaning" on the issue. "I think they clearly have seen that Iran hasn't been serious about solving what is a solvable dispute between Iran and the international community," Obama said.
On February 9, the head of Russia's Security Council said that Iran's announcement that it plans to enrich uranium to a level of 20 percent on its own territory raises "doubts" about its nuclear intentions.
The remarks by Security Council Secretary Nikolai Patrushev come after Iranian state television said Iran has begun making higher-grade nuclear fuel "in the presence of International Atomic Energy Agency inspectors."
State TV quoted Ali Akbar Salehi, the head of Iran's Atomic Energy Organization, as saying uranium is being enriched to the level of 20 percent at a nuclear-enrichment facility near the central Iranian city of Natanz.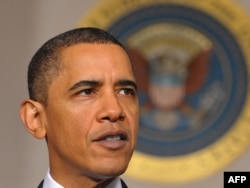 U.S. President Barack Obama: "Iran's misbehavior."
Salehi said that facility is separate from some 5,000 centrifuges at Natanz that now produce 3.5 percent-enriched uranium for nuclear energy. He said the separate facility has 164 centrifuges -- devices that rotate at supersonic speed -- that can produce 3 to 5 kilograms of the higher-enriched uranium each month.
Higher Enrichment
By enriching uranium to 20 percent, Tehran has raised Western concerns that it is trying to eventually create highly enriched uranium for nuclear weapons.
Tehran claims its nuclear program is only for peaceful civilian purposes. Nuclear weapons require uranium enriched to a level of about 90 percent.
Nuclear experts say the technology for enriching uranium is basically the same, whether it is being enriched to the 20 percent level for medical isotopes or 90 percent for use in nuclear weapons.
Under the UN compromise deal, all of Iran's uranium stockpiles would have been sent to Russia and France for further enrichment and packaging into nuclear fuel rods -- making it impossible for Tehran to further enrich that material to the weapons-grade level.
Salehi said Tehran will stop enriching uranium to the 20 percent level if the West provides fuel needed to produce medical isotopes at a research reactor in Tehran. (The United States on February 9
unveiled a new offer
to help Iran procure medical isotopes.)
Iran's ambassador to the International Atomic Energy Agency, Ali Asghar Soltanieh, said Iran was "forced" to carry out the higher enrichment process because the West had ignored Tehran's counteroffer to trade some of it low-grade stockpiles for fresh batches of 20 percent-enriched uranium.
Saying that Iran had been waiting for "months" for an answer to its proposal, Soltanieh said a "common element in both proposals" was that Iran was "ready to send the equivalent required material out and receive the fuel simultaneously."
"They should have appreciated this concession by Iran, and we didn't want, in fact, to produce it ourselves," he added, "otherwise we would have started eight months ago, because we [have mastered] enrichment technology."

Call For Sanctions
France and the United States say the latest Iranian move leaves no choice but to push harder for a fourth set of UN Security Council sanctions. French Defense Minister Herve Morin said Paris was "confident" that Iran was enriching uranium for military purposes rather than peaceful civilian uses.
Pentagon spokesman Geoff Morrell told reporters on February 9 that the United States wanted a new UN sanctions resolution in "a matter of weeks, not months."
The Pentagon said a UN resolution would lay the legal groundwork countries need to impose sanctions independently and pressure Iran to abandon its enrichment drive.
But UN sanctions cannot be passed without unanimous agreement from the Security Council's five permanent members -- China, Russia, the United States, Britain, and France.
China has been reluctant to impose new punitive measures on Iran, something Obama acknowledged in his remarks on February 9. "How China operates at the Security Council as we pursue sanctions is something we're going to have to see," he said.
Chinese Foreign Ministry spokesman Ma Zhaoxu called for more talks, saying all sides should push for progress through dialogue and negotiations.
The secretary of Russia's presidential Security Council, Nikolai Patrushev, criticized Iran in televised comments, saying that while it maintains it is not seeking nuclear weapons, "the actions it is taking...raise doubts in other countries and those doubts are quite valid."
Israeli Defense Minister Ehud Barak urged China and Russia to join the United States, France, and Britain in backing tougher sanctions.
Barak said that Iran's announcement that it would begin enriching uranium to a higher grade "once again proves that Iran is fooling the entire world, and the proper response is to undertake the staunch action of effective sanctions, with a time frame, against Iran. "I hope the international community will not avert its eyes from the significance of this most recent declaration," he said.
Later, Israeli Prime Minister Binyamin Netanyahu accused Tehran of "racing forward to produce nuclear weapons," according to Reuters, adding in an address to European diplomats, "I believe that what is required right now is tough action by the international community."
"I think what is required is a lot more than words," Netanyahu said. "Iran is racing forward to produce nuclear weapons in brazen defiance of the international community, and the international community must decide if it is serious about neutralising this threat to Israel, the region and the entire world."
Iran's Foreign Ministry spokesman Ramin Mehmanparast said on February 9 that it was "wrong" of France and the United States to seek a new UN resolution. He said Iran would "not back down even one step" as a result of sanctions.
with agency reports