Iran is marking the 31st anniversary of the late Ayatollah Ruhollah Khomeini's return from exile in Paris, an event that triggered the 1979 Islamic revolution.
Iranian President Mahmud Ahmadinejad, facing the worst political crisis in Iran since 1979, has ordered commemorative events during the next 10 days.
He used the commemoration to claim that Islamic Iran has become an "inspiration" for many countries around the world.
Ahmadinejad said Khomeini's return was the "start of a new era" that "opened new windows to humanity, broke all dead ends and put an end to world imperialism."
Official anniversary events are to culminate in pro-government rallies on February 11 -- the day marking the collapse, in 1979, of the U.S.-backed Pahlavi dynasty.
But Ahmadinejad is facing massive discontent in Iran over the disputed election results that gave him a second term as president in June.
Members of Iran's political opposition have called for antigovernment demonstrations to coincide with the official pro-government rallies on February 11.
Ahmadinejad denies that his administration is embroiled in political crisis.
State television quoted him as saying today that the Iranian system is stronger and more stable than it ever has been and that the people of Iran are more determined than ever to implement its goals.
"I am sure that the great nation of Iran will do something on the [February 11] anniversary of the revolution that will create disappointment and despair in the camp of the tyrants and enemies of humanity and will once again draw the bright horizon of tomorrow in front of humanity," Ahmadinejad said.
But Iranian authorities are continuing to crack down on opposition supporters in a bid to silence criticism and discourage attendance at mass demonstrations against the government.
During the weekend, 16 people detained in December were put on trial and charged with offenses connected with protests against the June election.
Five of those defendants were charged with "moharebeh" -- that is, "waging war against God." The remainder were accused of public disorder and offenses against national security.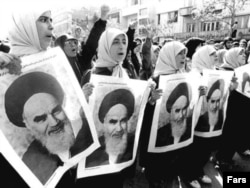 Ayatollah Khomeini was welcomed by millions in Tehran in 1979, including this group of Iranian students.
They were all arrested after clashes between opposition supporters and security forces left eight people dead on Ashura -- the holy Shi'ite day of ritual mourning that fell on December 27.
Iran's semiofficial Fars news agency says an additional 150 people have been detained in connection with the Ashura unrest. That increases the number of opposition protesters arrested since the December 27 protest to more than 450 people.
On January 28, Iran also hanged two men who were convicted on charges of "moharebeh." The two reportedly had been arrested before the June election but were charged when widespread protests against the official results posed a threat to Ahmadinejad's grip on power.
Iranian security forces also continue to try to deter government critics from attending demonstrations.
In a statement issued during the weekend, security forces announced that films and photographs have been confiscated that will help identify and arrest more people who have been at antigovernment rallies.
compiled from agency reports