Iran's Guardians Council has confirmed the results of the fiercely disputed presidential election following a partial recount, Iranian state broadcaster IRIB reported.
Earlier, the semi-official Fars news agency reported that the result remained unchanged from what was announced a day after the June 12 poll. Ahead of the announcement, witnesses reported an increased police presence in some Tehran squares.
The move follows more than two weeks of sometimes deadly street clashes as hundreds of thousands of Iranians protested against initial results that showed incumbent conservative Mahmud Ahmadinejad winning in a landslide.
Demonstrations have eased since Iranian security forces intensified their violent campaign to disperse rallies, arrest perceived opponents, and raid demonstrators' homes.
But reports suggested thousands of critics of the vote and supporters of reformist candidate Mir Hossein Musavi turned out for a demonstration outside a mosque in the north of the capital, Tehran, on June 28 that officials had said could go ahead.
Video has emerged that purportedly shows a Musavi supporter holding a mobile telephone to a loudspeaker to allow the candidate to talk to the crowd, although the speaker's identity is impossible to confirm and his words difficult to understand.
YouTube video from Iran, purportedly of a protest outside a Tehran mosque on June 28, although that date is unconfirmed. People are chanting, "Mir Hossein! Ya Hossein!" in support of reformist candidate Mir Hossein Musavi. There were more unconfirmed indications that Musavi was in attendance.
The recount has been dismissed by critics of the process as a mere gesture, since the Guardians Council has already ruled out any significant change in the result.
Final Announcement
Neither Musavi nor the other reformist candidate for president, Mehdi Karrubi, had nominated any representatives to the panel set up by the council to conduct the recount.
Musavi, whose green-clad supporters have been the most visible at protests, has repeatedly dismissed the June 12 election as a fraud.
In a statement on his website on June 30, his media office did not directly comment on the official confirmation of the vote result, but referred to his letter to the Guardians Council on June 27 in which he repeated his annulment demand.
U.S. Secretary of State Hillary Clinton said Iran's rulers were still likely to face internal opposition.
"They have a huge credibility gap with their own people as to the election process. And I don't think that's going to disappear by any finding of a limited review of a relatively small number of ballots," she said.
Asked if Washington would recognize Ahmadinejad as president of Iran, she said: "We're going to take this a day at a time."
Officials' expulsion of foreign journalists and clampdown on domestic media have made it difficult to follow events in Iran for much of the postelection period, but many people have circulated images, sounds, and text messages via mobile phone and the Internet in an effort to inform others of events in their country.
Al-Alam state television reported early in the day that the recount had begun in 22 Tehran districts, as well as in provinces.
The 12-member body had offered to conduct a new tally of a random 10 percent of the votes.
Influential Discontent?
Al-Alam state television reported early in the day that the recount had begun in 22 Tehran districts, as well as in provinces.
The Guardians Council had already described the poll as the healthiest since the country's 1979-80 revolution, echoing the praise of Supreme Leader Ayatollah Ali Khamenei, who anointed Ahmadinejad the winner within hours of polls closing.
The opposition has demanded a rerun of the election, claiming it was marred by widespread irregularities and fraud.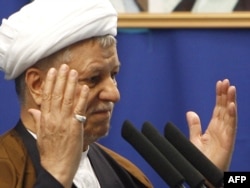 Influential ex-President Hashemi Rafsanjani broke his postelection silence.
While the protest numbers have fallen off considerably, the ranks of politicians and clerics criticizing the vote and subsequent crackdown have grown amid scenes of baton-wielding plainclothes security men stamping out public signs of discontent.
Ex-President Ali Akbar Hashemi Rafsanjani -- who chairs the powerful Expediency Council and the Assembly of Experts -- broke his postelection silence on June 28 to warn of apparent efforts to divide the Iranian public and undermine the system.
Rafsanjani, who supported Musavi in the election, welcomed the decision by Supreme Leader Khamenei to send the vote back to the Guardians Council for the partial recount. He said the decision is "valuable in order to gain the trust and conviction of the people in the electoral process."
Rafsanjani called on the members of the Guardians Council to "precisely observe fairness and justice and in cooperation with the candidates so that complaints can be addressed completely."
Basij 'Impostors'
Iran's English-language
Press TV reports
that police officials have arrested "armed impostors who posed as security forces during postelection violence in the country," according to the broadcaster.
Basij commander Hossein Taib is quoted as saying that the impostors infiltrated rallies to create havoc, and noting that eight Basij members have been killed and 300 wounded while trying to put down "antigovernment riots."
Taib repeated an insistence that the hard-line militia could not have been responsible for shooting deaths since "Basij forces are not authorized to carry weapons."
Tehran police chief Azizollah Rajabzadeh has said his department had no role in a shoot-out that made headlines in the West.
British Staffers Being 'Interrogated'
Iranian Foreign Ministry spokesman Hassan Qashqavi told a press conference that "five of nine" of the detained local staff members of the British Embassy in Tehran have been released.
The other four "are being interrogated," Qashqavi said.
British Embassy staffers were suspected of involvement in the street protests that rocked Iran after the election. London has denied the accusation.
compiled from agency reports
Iran Election Special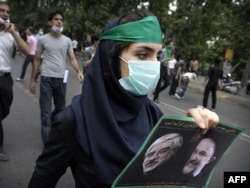 RFE/RL's Full Coverage
Following the disputed reelection of Iranian President Mahmud Ahmadinejad, supporters of Mir Hossein Musavi have taken to the streets to protest.
Click here
for news, blogs, and analysis of the presidential election and aftermath.
Iran Election Diary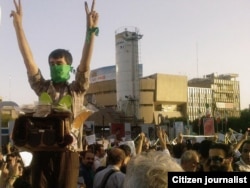 Disputed Presidential Vote
There have been protests and clashes with police on the streets of Tehran following the disputed reelection of Mahmud Ahmadinejad. RFE/RL collects videos, photos, and messages on social-networking sites coming out of Iran to attempt to get a picture of what is happening inside the country.
Click here