TEHRAN (Reuters) -- Iranian opposition politician Ebrahim Yazdi has been arrested while in hospital, an ally said on June 18, the latest in dozens of detentions of pro-reformers since last week's disputed presidential election.
The ally, a member of the Freedom Movement, said Yazdi was taken away by security agents on June 17 while he was in a Tehran hospital undergoing medical checks for stomach problems.
There was no immediate comment from the authorities.
Yazdi, who heads the banned Freedom Movement, was foreign minister in Iran's first government after the 1979 Islamic Revolution that overthrew the U.S.-backed shah, but was sidelined as religious hard-liners took control.
In an interview with Reuters on June 15, Yazdi said the June 12 election had revealed deepening establishment divisions and that the Islamic republic faced its biggest crisis since the revolution three decades ago.
He also said seven other Freedom Movement members had been detained after the June 12 vote and warned of worsening "political suppression" in Iran.
Yazdi is an important opposition voice in Iran but has no influence on state policy and limited popular support.
More Than 100 Reformers Detained
The announcement of official election results on June 13 showing hard-line incumbent Mahmud Ahmadinejad had won a landslide against moderate Mir Hossein Musavi sparked running street battles between Musavi supporters and riot police.
Musavi has accused the authorities of rigging the vote. The government has dismissed the charge.
Earlier this week, reformist sources said police had detained over 100 reformers, including a brother of former President Mohammad Khatami and leading reformist Mohammad Ali Abtahi. Police denied Khatami's brother had been arrested.
On June 17, a pro-reform activist and a newspaper editor were also arrested, a reformist source told Reuters.
Scores of protesters have been detained in various cities over the last week, according to Iranian media.
Iran's Intelligence Ministry said it has arrested a number of "main agents" behind postelection violence in Tehran, the English-language Press TV said on its website on June 18.
"The Intelligence Ministry has identified and arrested a number of the main agents and elements behind acts of vandalism in recent days in Tehran," it quoted Intelligence Minister Gholamhossein Mohseni Ejei as saying.
Iran Election Special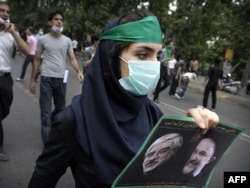 RFE/RL's Full Coverage
Following the disputed reelection of Iranian President Mahmud Ahmadinejad, supporters of Mir Hossein Musavi have taken to the streets to protest.
Click here
for news, blogs, and analysis of the presidential election and aftermath.
Iran Election Diary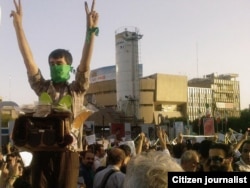 Disputed Presidential Vote
There have been protests and clashes with police on the streets of Tehran following the disputed reelection of Mahmud Ahmadinejad. RFE/RL collects videos, photos, and messages on social-networking sites coming out of Iran to attempt to get a picture of what is happening inside the country.
Click here