In defiance of an official ban, defeated Iranian presidential contender Mir Hossein Musavi has declared June 18 a day of mourning for those who have been killed in the protests.
Musavi has called on supporters to stage peaceful demonstrations or gather in mosques to express solidarity with the families of those killed. He has vowed to take part in the June 18 demonstration, which will be Iran's 6th day of protests since the disputed June 12 presidential election.
In a joint letter published on Musavi's website, Musavi and former President Mohammad Khatami have also called on the authorities to release people who have been detained in recent days.
Tens of thousands of supporters of former Prime Minister Musavi gathered in central Tehran for a fifth straight day of demonstrations on June 17 to protest the results of the election, which they believe was rigged.
Officials have cracked down hard to discourage demonstrations and prevent Iranians and audiences abroad from being informed of events at the heart of the unrest, as both sides appear to be digging in their heels in anticipation of a protracted battle of wills.
Independent news gathering has been hampered by severe restrictions on the movement of journalists,
arrests, and other harassment
, as well as official intransigence over foreign news organizations' requests to extend their correspondents' Iranian visas.
But scenes of recent days' violence and mayhem continue to trickle out through a variety of Internet and other outlets, feeding outrage at heavy-handed tactics to curb displays of public dissatisfaction at results that showed incumbent President Mahmud Ahmadinejad winning the election outright.
Iran's Fars News Agency quoted Interior Minister Sadeq Mahsuli as saying "no permission has been issued for a gathering or rally" at the site of the Tehran demonstration.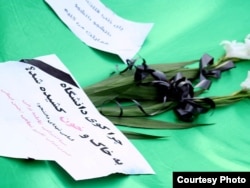 A message with flowers mourning five Tehran students who allegedly died at the hands of Iranian security forces
Many protesters in Tehran wore black to honor protesters killed since the unrest began, with wristbands and headbands in green, Musavi's campaign colors.
The demonstration included silent tributes to the dead, according to one man who told RFE/RL's Radio Farda from Vali Asr Square that "there are people as far as the eye can see."
"It's very crowded," the man said. "You can't see the end of it; people are everywhere. One lane of the street is full of people. There is total silence and people are not chanting any slogans."
On June 16, thousands of pro-Musavi protesters held a silent rally and marched in central Tehran.
Images and videos that Musavi's supporters managed to send out of the country showed thousands of people marching peacefully while holding banners that say "Where is my vote?" or "I wrote Musavi, it came out Ahmadinejad."
Some of the protesters spoke to RFE/RL's Radio Farda, including one woman who said, "All the people are now sitting on the ground in the street. They are carrying pieces of cardboard with slogans written on them, such as: 'We mourn the university students.' Now, they are staging a sit-in protest."
Banned From Reporting
Scenes of unrest, like these clashes between opposition supporters and security forces on June 15, continue to trickle out.
Foreign journalists in Iran had already been banned since the unrest began from leaving their offices to cover to report, film, or take pictures, and officials have forced some foreign journalists to leave by denying them extensions of visas granted ahead of last week's election.
Moderate Iranian media are being heavily censored.
However, a great deal of information is coming out from protesters and activists themselves.
Students and others are reporting that in the last several days, pro-Ahmadinejad Basij forces have attacked student dormitories in Tehran, Isfahan, and Mazandaran.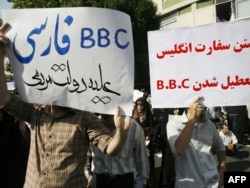 Supporters of President Mahmud Ahmadinejad hold up placards with slogans against the British media during a Tehran rally on June 16.
Earlier this week, a Tehran university dorm was brutally attacked, reportedly leaving up to five students dead and many injured. Seven protesters were killed in clashes with militiamen on the fringes of a massive opposition rally on June 15.
Reports say the Interior Ministry has ordered an investigation into the university attack, which the opposition says was carried out by Islamic militia and police.
Students have come under attack because many of them have been supporting Musavi and reformist presidential candidate Mehdi Karrubi.
The week has seen Iran's biggest protests since the 1979 Islamic revolution, following the announcement of Ahmadinejad's landslide victory in the June 12 vote.
The government has responded by increasing repressive measures, including the arrest of members of the reformist camp and critics who had questioned the results.
Musavi has described the vote as a charade.
Others, including Iran's largest reformist party, Mosharekat, and the country's largest pro-reform student group, Daftar Tahkim Vahdat, have even suggested that a veritable coup has taken place in Iran.
Niusha Boghrati of Radio Farda explains why Iran's reformist opposition, which was unable to form a mass movement after the 2005 election, has now banded together.
Supreme Leader Ayatolllah Ali Khamenei on June 16 was quoted by news agencies as calling on all sides to avoid actions that could create tension.
He also backed an offer by the hard-line Guardians Council to recount some of the disputed votes. The offer has been rejected by the pro-Musavi camp, which is calling for repeat elections, something the Guardians Council has ruled out.
Iranian Nobel Peace Prize-winner Shirin Ebadi also called for a new election in an
interview with RFE/RL
. A recount "under the current conditions won't solve anything," she said.
Ebadi also said all those arrested in recent days must be released without any conditions.
Reporters Without Borders
reported
that a business reporter and a newspaper publisher were arrested on June 17, the latest among many arrests since the election.
Iran Election Special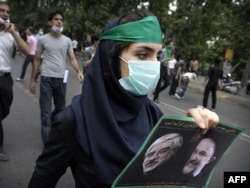 RFE/RL's Full Coverage
Following the disputed reelection of Iranian President Mahmud Ahmadinejad, supporters of Mir Hossein Musavi have taken to the streets to protest.
Click here
for news, blogs, and analysis of the presidential election and aftermath.
Iran Election Diary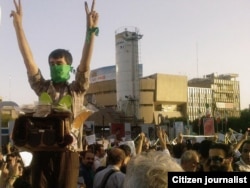 Disputed Presidential Vote
There have been protests and clashes with police on the streets of Tehran following the disputed reelection of Mahmud Ahmadinejad. RFE/RL collects videos, photos, and messages on social-networking sites coming out of Iran to attempt to get a picture of what is happening inside the country.
Click here