TEHRAN (Reuters) -- Iran's opposition urged senior clerics on July 25 to help secure the release of people arrested following June's disputed presidential election, after a protester died in prison.
A reformist website said the son of an adviser to defeated conservative candidate Mohsen Rezai had been killed in a Tehran prison after being detained in post-election unrest.
The authorities were not immediately available to confirm the death or the circumstances surrounding it.
Rights groups say hundreds of people, including senior pro-reform activists, journalists, academics and lawyers, have been arrested since Iran's disputed June 12 presidential vote.
In a flurry of announcements on websites, critics of the election condemned the tactics employed since the vote by the authorities, who have banned street protests by those who say the reelection of President Mahmud Ahmadinejad was rigged.
Iran's top authority Supreme Leader Ayatollah Ali Khamenei endorsed the president's election victory soon after the vote.
But the opposition continues to contest the result of the election, which has plunged the country into its biggest internal crisis since the 1979 Islamic revolution and exposed deepening divisions in Iran's ruling elite.
"The only way out of this situation is...to immediately release detainees," Ghalamnews quoted a joint statement issued by moderate defeated candidates and former President Mohammad Khatami as saying.
"We are very worried about their physical and mental health...this imposed state security should end.... It is wrong to link pro-reform detainees to foreign countries," it said.

Revolutionary Guards
Tehran has accused western powers of fuelling postelection unrest, charges they deny, adding to tensions over Iran's nuclear program which the West suspects is a cover for building atomic weapons. Iran says its program is peaceful.
Israel, believed to be the Middle East's only nuclear power, has repeatedly described Iran's nuclear program as a threat to its existence and the head of Iran's Revolutionary Guards said Iran would strike Israel's nuclear sites if targeted.
"If the Zionist Regime [Israel] attacks Iran, we will surely strike its nuclear facilities with our missile capabilities," Mohammad Ali Jafari, Guards commander-in-chief, told Iran's Arabic language Al-Alam television.
The security establishment has thrown its support behind Ahmadinejad over the election and has been criticized by the opposition for its role in quelling the mass protests.
Moderate defeated presidential candidate Mehdi Karoubi said in a letter to Intelligence Minister Gholamhossein Mohseni-Ejei that those detained since the election had been subjected to "mental torture" and treated harshly, his website reported.
"The head of the executive body is not elected by the people's vote. The new government is illegitimate," he said in his letter.
"The intelligence network has turned into the most unclear and terrifying tool to suppress people...detainees are being kept in illegal detention centers and are under mental torture. Physically they are threatened harshly," the letter added.
"Think of a way out of the current crisis, otherwise it will be difficult for you to manage Ramadan and other religious and national days," he added, referring to holidays when people gather and hold rallies.
Evin Prison
The reformist Mosharekat website said on Saturday that Mohsen Ruholamini, the son of a senior adviser to Rezai, had been killed in Tehran's Evin prison.
"His family was told that Mohsen would be released soon. But the authorities informed the family on Thursday night about his death," the website said.
Ruholamini had been arrested in postelection protests on July 9 and held in Evin, the website said. It did not say how he had been killed or when.
Leading moderates, including former presidents Khatami and Akbar Hashemi Rafsanjani, have called for the immediate release of post-election detainees.
The authorities say most of those held have been freed.
Iranian official media have said at least 20 people died in violence after the poll.
Moderate defeated candidate Mir Hossein Musavi and the authorities blame each other for the bloodshed. Riot police and religious Basij militia eventually suppressed June's protests, but leading moderates have remained defiant, calling the new government "illegitimate."
Musavi has said he will join a planned group of leading figures to preserve "people's votes," saying he would not allow his killed supporters' "blood to be trampled."
Iran Election Diary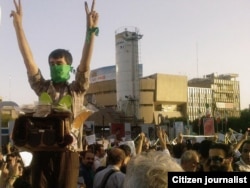 Disputed Presidential Vote
There have been protests and clashes with police on the streets of Tehran following the disputed reelection of Mahmud Ahmadinejad. RFE/RL collects videos, photos, and messages on social-networking sites coming out of Iran to attempt to get a picture of what is happening inside the country.
Click here
The Battle For Iran's Future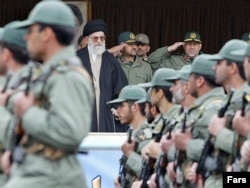 The Battle For Iran's Future
With much more than a disputed presidency at stake for Iranians, RFE/RL's Charles Recknagel and Mazyar Mokfi explore the power plays that could reshape Iran's political establishment.
Click here
for news, blogs, and analysis of the presidential election and aftermath.