Iran's hard-line president, Mahmud Ahmadinejad, has kicked off his official reelection campaign with a defiant speech against the West and Israel as well as reformists in his own country, accusing moderate rivals of seeking "detente" with Iran's enemies.
The speech, to supporters in the capital Tehran, came at the start of the official campaign season ahead of the June 12 presidential election.
Ahmadinejad, who is seeking a second four-year term, vowed to maintain his confrontational anti-Western stance.
Ahmadinejad said "the Iranian nation will not accept domination from oppressive powers."
He accused Iranian reformists -- two of whom are among the three candidates cleared this week by the country's election-vetting body -- of trying to weaken the Islamic state vis-a-vis its enemies.
The president's supporters had gathered at an indoor stadium to listen to his first official campaign speech on May 22, as campaigning formally began with just 20 days left to the polls.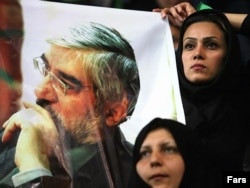 Musavi's supporters expect him to provide the strongest challenge to Ahmadinejad.
The three other candidates include two men from the reformist camp: former Prime Minister
Mir Hossein Musavi
, who was endorsed by ex-President Mohammad Khatami after the latter
bowed out
of presidential consideration in March; and former parliament speaker Mehdi Karrubi, who finished third in 2005 and
alleged that interference
by hard-liners helped get Ahmadinejad elected.
The fourth candidate is a former commander of Iran's powerfully connected Islamic Revolutionary Guards Corps, Mohsen Rezai.
One day after the formal start of campaigning, reports from an Iranian news agency and Internet users suggested a potentially powerful tool for Ahmadinejad's rivals, the social-networking website Facebook, was
being blocked
in the country.
'Attack And They Retreat'
Ahmadinejad criticized ex-President Khatami's government, saying its policies "de facto eradicated the goals of the nation and intended to accept a status which [the West] had planned to impose on us."
Ahmadinejad went on to compare Iran's enemies to "dogs," and said, "If you retreat, they attack; if you attack, they retreat."
More than
450 hopefuls
, including 42 women, had registered to challenge Ahmadinejad for the presidency, which is subservient to the Supreme Leader, a position that holds ultimate political and religious power under Iran's postrevolutionary constitution.
Ahmadinejad, who boasts strong revolutionary credentials in a country whose political elite remain reliant on the Islamic Revolution that deposed the Shah and ushered in a strict interpretation of Islamic law,
appears to have
the backing of Supreme Leader Ayatollah Ali Khamenei.
A number of influential conservative and clerical groups followed Khamenei's lead in April and vowed to support the incumbent, diminishing reformist hopes that divisions over foreign policy in particular could split the right-wing vote and thus cripple Ahmadinejad's chances.
All four candidates were approved by the Guardians Council, which has broad discretionary powers that include vetting candidates for national elections.
It's The Economy, Ahmaq!
Ahmadinejad's rivals see him as vulnerable over his handling of the economy.
But the president responded to criticism of his administration's economic policies in a speech broadcast live on state television on May 23, saying "there is negative growth everywhere you look...but in Iran the growth rate is positive and is over 5 percent and even 6 percent," according to Reuters.
"We deeply believe that the economic situation of Iran these days is a stable one," he said.
Forecasts of roughly 5 percent growth in Iran for this and next year came amid skyrocketing oil prices, which have since come down significantly, which could hurt Iran's hydrocarbon-fueled exports.
Ahmadinejad's most serious challenge is expected to come from Musavi, who has criticized Ahmadinejad's government for producing high inflation and widespread unemployment.
Former President Khatami was campaigning for Musavi on May 23, telling a crowd of thousands at Tehran's Azadi sports stadium to "come to the ballot boxes" and thus "fulfill your duty to the revolution and to Islam and also define your own fate."
One Tehran resident, Fatemeh Gholami, said he supports Musavi because of his handling of the economy during the Iran-Iraq war in 1980s.
"The best thing I know about him is that nobody died of hunger during the war," said Tehran resident and Musavi supporter Fatemeh Gholami, who was quoted by Reuters. Gholami cited Musavi's handling of the economy during the Iran-Iraq war in 1980s, saying, "The war that our enemy [waged] was supported by the whole world, but prices were not raised and even schools were not closed."
Another Musavi supporter in Tehran, Ibrahim Najiyan told the same agency that he hopes the former prime minister can improve living standards. "I am voting for Mr. Mir Hossein Musavi because of his good performance during the eight years of war," Najiyan said.
Election Math
Iranian reformists believe a high turnout would give them a better chance of winning the election.
If no candidate wins a majority in the first round of voting, a second-round runoff would pit the two top candidates against one another.
In the vote that brought Ahmadinejad to power in 2005, the former Tehran mayor defeated another ex-president, Ali Akbar Hashemi-Rafsanjani, in the first-ever presidential runoff under the constitution that emerged from Ayatollah Ruhollah Khomeini's consolidation of power after the 1979 revolution.
The 2005 process saw more than 1,000 people register to run for president before the Guardians Council whittled the field to seven men.
compiled in Prague from agency and RFE/RL reports
Iran Election Diary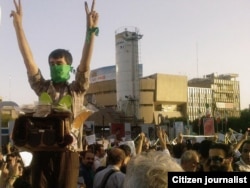 Disputed Presidential Vote
There have been protests and clashes with police on the streets of Tehran following the disputed reelection of Mahmud Ahmadinejad. RFE/RL collects videos, photos, and messages on social-networking sites coming out of Iran to attempt to get a picture of what is happening inside the country.
Click here