TEHRAN (Reuters) -- A protest rally against a disputed presidential election will go ahead, an aide of defeated candidate Mehdi Karrubi has said, a day after Iran's top authority demanded an end to such street protests.
"The demonstration plan has not been cancelled and accordingly it must be held this afternoon," said the Karrubi aide, who declined to be named.
Supreme Leader Ayatollah Ali Khamenei issued a strong warning on June 19 to leaders of street protests since the June 12 vote that they would be responsible for any bloodshed.
His words appeared to hint at a future crackdown by authorities on rallies after the election, which Khamenei said was fairly won by Mahmud Ahmadinejad and not rigged, as defeated candidate Mir Hossein Musavi alleges.
At a mass rally in Tehran on June 18, demonstrators held banners saying they would gather again two days later at around 4 p.m. (1130 GMT).
An ally of Musavi, Ahmadinejad's main challenger in the election, told Reuters on June 19 that the moderate politician had not called for people to take to the streets on June 20 or 21.
But his supporters may decide to show up anyway, as they did in their tens of thousands on June 16, despite a call by Musavi for them to stay home.
If they proceed in defiance of Khamenei's explicit warning, they risk a severe response from security forces, which have so far not tried to prevent Iran's most widespread street rallies since the 1979 Islamic Revolution.
Iran Election Special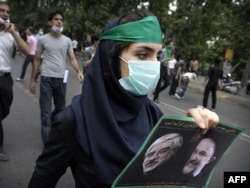 RFE/RL's Full Coverage
Following the disputed reelection of Iranian President Mahmud Ahmadinejad, supporters of Mir Hossein Musavi have taken to the streets to protest.
Click here
for news, blogs, and analysis of the presidential election and aftermath.