TEHRAN (Reuters) -- An Iranian prosecutor said a French teaching assistant charged with spying was freed on bail of about $300,000, media have reported.
French President Nicolas Sarkozy's office said in a statement on August 16 that Iran had released Clotilde Reiss on bail but it did not reveal the amount. She is staying in the French Embassy in Tehran pending a verdict.
Tehran prosecutor Said Mortazavi confirmed the news about the 24-year-old and said the investigation had been concluded.
"Clotilde Reiss was freed with the depositing of 300 million tomans [about $300,000] and the investigation about her has come to a conclusion," the semi-official Mehr news agency quoted him as saying, giving no further detail.
Fars news agency also carried his comments.
The statement by Sarkozy's office said Reiss was well and would stay in the French Embassy.
Reiss has been charged in a mass trial with aiding a Western plot against the government after Iran's disputed presidential election in June and has been held in prison since early July.
A French Embassy employee, Nazak Afshar, who faces the same charges, was conditionally released earlier this week by Iran and will also stay at the embassy ahead of the verdict.
Sarkozy thanked other countries, including Syria, for supporting France in the case, which has further strained already tense relations with Iran.
Earlier on August 16, French Foreign Minister Bernard Kouchner told state television that France had agreed to post bail for Reiss, saying the authorities had not sought an "enormous sum."
"The verdict might come in the next eight days. Perhaps a bit longer," he said.
Iran Election Special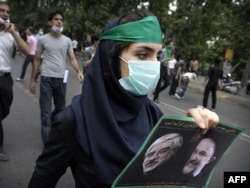 RFE/RL's Full Coverage
Following the disputed reelection of Iranian President Mahmud Ahmadinejad, supporters of Mir Hossein Musavi have taken to the streets to protest.
Click here
for news, blogs, and analysis of the presidential election and aftermath.