TEHRAN (Reuters) -- Two-thirds of people detained during last month's post-election unrest in Tehran have already been freed and another 100 will soon be released, Iran's police chief was quoted as saying on July 8.
"One hundred more will be released in the next two days," state broadcaster IRIB quoted Esmail Ahmadi-Moghaddam as saying in the northwestern city of Qazvin.
The same official last week said 1,032 people were detained in the capital following the June 12 disputed presidential election, but that most had since been released.
Official results of the vote showing hardline President Mahmud Ahmadinejad had won by a landslide triggered days of mass street protests by supporters of defeated candidate Mirhossein Mousavi, a moderate who says the election was rigged.
State media say at least 20 people were killed as protesters clashed with riot police and members of an Islamic militia. The authorities and Mousavi blame each other for the bloodshed.
Rights activists have said 2,000 detained during the vote's turbulent aftermath may still be held across Iran, including leading reformers, academics, journalists and students.
But a reformist member of parliament quoted Iran's general prosecutor as saying 2,000 out of 2,500 detained had been freed and that the remaining cases would be referred to the judiciary.
The MP, Mohammadreza Tadesh, was quoted by a reformist website as making the statement on Wednesday after a meeting with the prosecutor, Ghorbanali Dorri-Najafabadi.
Musavi has demanded the release of "children of the revolution", referring to many detained establishment figures.
They include a former vice president and other former officials who held their positions during the 1997-2005 presidency of Mohammad Khatami, who backed Musavi's campaign.
Iran's main moderate party, Islamic Iran's Participation Front, called on Wednesday for the immediate release of its detained members and other people arrested because of their activities in support of moderate candidates in the election.
In a statement on its website, it expressed deep concern about the health situation of some of those held.
"Whatever happens to them, those who in the name of law and sharia arrested them will be responsible," the party said, adding it would continue to fight for Iranian people's rights.
The authorities accuse the West, particularly the United States and Britain, of inciting unrest in the Islamic Republic following the election, which led to the most widespread street protests in Iran since the 1979 Islamic revolution.
They also reject accusations of vote rigging. Ahmadinejad on July 7 said it had been the world's "freest" election.
Ahmadi-Moghaddam, the police chief, said the force had received no requests for any gatherings on July 9 to mark the 10th anniversary of student unrest in 1999, when hardline vigilantes attacked a university dormitory, killing one person.
"Police will strongly confront any demonstration," the official IRNA news agency quoted him as saying.
The Battle For Iran's Future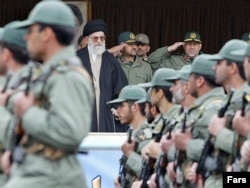 The Battle For Iran's Future
With much more than a disputed presidency at stake for Iranians, RFE/RL's Charles Recknagel and Mazyar Mokfi explore the power plays that could reshape Iran's political establishment.
Click here
for news, blogs, and analysis of the presidential election and aftermath.
Iran Election Special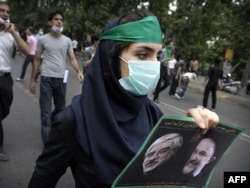 RFE/RL's Full Coverage
Following the disputed reelection of Iranian President Mahmud Ahmadinejad, supporters of Mir Hossein Musavi have taken to the streets to protest.
Click here
for news, blogs, and analysis of the presidential election and aftermath.