TEHRAN (Reuters) -- Iran has begun a fifth trial of people accused of fomenting street unrest after a disputed presidential election three months ago, official media reported.
The charges against student activist Abdollah Momeni, one of six people in the dock, included spreading propaganda against the Islamic republic and distributing false statements aimed at acting against national security.
Iran started four mass trials last month of more than 100 people, including senior reformers and former government officials, charged with orchestrating opposition protests after the vote in a bid to undermine the Islamic republic.
The opposition has denounced them as "show trials" and reformist former President Mohammad Khatami said last month trial confessions by moderates were made in "extraordinary conditions" and were invalid.
The official IRNA news agency said Momeni accepted the charges against him and that his actions could not be defended.
"I admit that I have made huge mistakes and my political activities and behavior caused mistrust and pessimism about the system among the youth, particularly among students," state broadcaster IRIB quoted him as saying, giving only his initials.
Prosecutor Ahmad-Ali Akbari told the court, "The accused has confessed that the election was an excuse for disruptive actions and attacks on the pillars of the system."
The election, which was followed by huge opposition protests, plunged Iran into political turmoil and exposed deepening divisions within its ruling elites.
Defeated presidential candidates Mir Hossein Musavi and Mehdi Karrubi say it was rigged to secure President Mahmud Ahmadinejad's reelection. The authorities deny it.

Rape Allegations Rejected
Rights groups say thousands of people were arrested after the poll, though most have been freed. Hard-liners have portrayed the protests as a foreign-backed bid to undermine the Islamic government system.
Among the others in the dock on September 14, identified only by their initials, was a computer company manager developing websites and a journalist charged with insulting the leadership.
An indictment read out at the trial appeared to focus on "false reports" spread via the Internet in a bid to stir unrest.
"The Islamic revolution of Iran has always been facing psychological warfare and destructive propaganda...by internal and external enemies," it said, suggesting U.S. financial support for such activity.
The opposition says more than 70 people were killed in the unrest. Officials estimate the death toll at up to 36 people including members of the Islamic Basij militia, which helped the elite Revolutionary Guards quell the protests.
Iran's top prosecutor has suggested Karrubi could face legal action over his "baseless" allegations that some detained protesters were raped in jail, in comments carried by IRNA in a separate report on September 14.
Prosecutor-General Gholamhossein Mohseni-Ejei is a member of a judicial committee that last week rejected Karrubi's accusations and called in a report for libel charges to be considered against anyone making the claims.
"This committee has offered to submit its report to a court to deal with all those who disturbed public opinion...by spreading lies and raising baseless allegations which hurt the prestige of the system," he said.
Karrubi, who finished fourth in the vote, said this month that he had handed over films and other material about abuse of three detainees to a parliamentary investigative committee.
Iran Election Special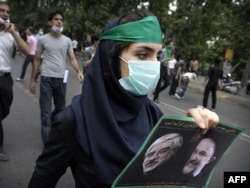 RFE/RL's Full Coverage
Following the disputed reelection of Iranian President Mahmud Ahmadinejad, supporters of Mir Hossein Musavi have taken to the streets to protest.
Click here
for news, blogs, and analysis of the presidential election and aftermath.