(RFE/RL) -- Iran's state television has said at least 10 people died and more than 100 were wounded in
clashes
between police and protesters on June 20.
Security forces used truncheons, water cannon, and tear gas to disperse several thousand protesters who had gathered in downtown Tehran in defiance of the country's leadership.
State media blamed "terrorists" armed with firearms and explosives. They said "rioters" set two petrol stations and a mosque on fire and attacked a military post.
Some witnesses were quoted as saying hundreds of demonstrators were injured and dozens killed in the violence.
Tehran police said that over 450 demonstrators were arrested in the rallies, all of them for inflicting damage on public property.
Rafsanjani Arrests
Meanwhile state-run Press TV reported that ex-President Hashemi Rafsanjani's eldest daughter, Faezeh Hashemi, and four other family members were arrested late on June 20. It did not identify the other four.
According to Press TV, Faezeh Hashemi, who had addressed opposition supporters last week, was still being held, but the others had been released.
Smaller-scale demonstrations took place today at a few sites in Tehran.
The crackdown followed a week of protests in several Iranian cities after the June 12 reelection of President Mahmud Ahmadinejad. State media reported at least seven people killed in clashes with security forces.
In an Internet statement, defeated presidential candidate Mir Hossein Musavi said the Islamic Republic must be purged of what he called lies and dishonesty.
In a letter to Iran's top vetting body, the Guardians Council, Musavi reiterated calls for the election to be annulled on the grounds it was rigged.
The council had expressed its readiness to randomly recount up to 10 percent of the ballot boxes from the presidential election.
Former President Mohammad Khatami today said that referring the dispute to the Guardians Council was "not a solution." The semi-official Mehr news agency quoted him as saying the council "has not been impartial regarding the vote."
Reuters also reported that Grand Ayatollah Hossein Ali Montazeri, a senior dissident cleric, called for three days of mourning for those killed and said that "resisting the people's demand is religiously prohibited."
Official results of the presidential poll gave President Ahmadinejad 63 percent of votes, compared with 34 percent for his nearest rival, Musavi.
Musavi and another reformist candidate, Mehdi Karubi, failed to attend an extraordinary session of the council on June 20. The two were expected, along with fellow challenger Mohsen Rezai, to discuss more than 600 objections they have filed about the poll.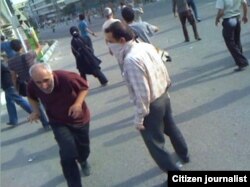 Tear gas was reportedly used against protesters
International Reaction
World leaders have voiced mounting alarm over Iran's most serious internal unrest since the 1979 Islamic Revolution.
Iran fired back today, with President Ahmadinejad at a meeting of clerics and scholars, calling on the United States and Britain to "stop interfering."
Meeting with diplomats, Foreign Minister Manuchehr Mottaki rebuked Britain, France, and Germany for raising questions about alleged voting irregularities. He accused London of plotting for the past two years to sabotage the election.
The Iranian Culture Ministry was quoted as warning the British media of "more stern action" if they continue to "interfere" in Iran's domestic affairs "by broadcasting fake and incorrect reports about Iran or ignoring international journalism ethics." Meanwhile, the BBC confirmed that Tehran has asked its correspondent in Tehran to leave the country.
And parliament speaker Ali Larijani called for a revision of diplomatic ties with the European trio for siding with the opposition.
In Berlin, German Chancellor Angela Merkel called for a vote recount and for the authorities to renounce violence against the demonstrators.
U.S. President Barack Obama earlier made his strongest statement in recent days on the Iranian political turmoil, warning Iran to stop all "violence and unjust action against its own people."
In Washington, U.S. President Barack Obama warned Iran to stop all "violence and unjust action against its own people."
In a statement from the White House, Obama urged Iran's leaders to "govern through consent, not coercion."
The U.S. president said: "The universal rights to assembly and free speech must be respected, and the United States stands with all who seek to exercise those rights.
It was Obama's strongest statement in recent days on the Iranian political turmoil. On Friday (June 19), he said that the "world is watching" events in Iran.

RFE/RL's Radio Farda contributed to this report
Iran Election Diary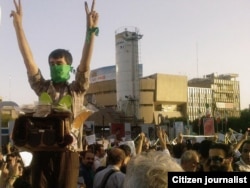 Disputed Presidential Vote
There have been protests and clashes with police on the streets of Tehran following the disputed reelection of Mahmud Ahmadinejad. RFE/RL collects videos, photos, and messages on social-networking sites coming out of Iran to attempt to get a picture of what is happening inside the country.
Click here
Iran Election Special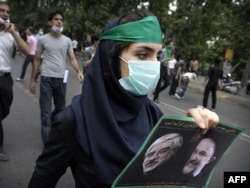 RFE/RL's Full Coverage
Following the disputed reelection of Iranian President Mahmud Ahmadinejad, supporters of Mir Hossein Musavi have taken to the streets to protest.
Click here
for news, blogs, and analysis of the presidential election and aftermath.