TEHRAN (Reuters) -- Iran has test-fired missiles to show it is prepared to head off any military threat, four days before the Islamic Republic is due to hold rare talks with world powers worried about its nuclear ambitions.
The missile maneuvers coincide with
escalating tension
in Iran's nuclear row with the West, after last week's disclosure by Tehran that it is building a
second uranium-enrichment plant
.
News of the nuclear facility south of Iran added a sense of urgency to a crucial meeting in Geneva on October 1 between Iranian officials and representatives of six major powers, including the United States.
An Iranian official warned "fabricated Western clamor" over the new plant would negatively affect the talks at which the six powers want Iran to agree to open its facilities to inspection to prove its program is for power and not nuclear weapons.
Ali Asghar Soltanieh, Iran's IAEA envoy, said, referring to the six powers' concern over the new plant: "This Western approach will have a negative impact on Iran's negotiations with the Five-Plus-One countries."
U.S. President Barack Obama said on September 26 that the discovery of the secret nuclear plant in Iran showed a "disturbing pattern" of evasion by Tehran that added urgency to its talks on October 1 with world powers.
Obama warned Iran on September 25 that it would face "sanctions that bite" if it did not come clean.
Earlier this month, Obama
dropped a Bush-era plan
to deploy missiles in Poland that had been proposed as a shield amid concerns Iran was trying to develop nuclear warheads it could mount on long-range missiles.
Iranian media said the Islamic Revolutionary Guards Corps launched at least two different types of short-range missiles on the exercise's first day on September 27 and tested a multiple missile launcher.
"For all those who...might harbor dreams about undertaking military invasion against our nation and country, a message of this maneuver is firmness, destructiveness, real and endless resistance," Iranian General Hossein Salami, head of the IRGC air force, told state television.
Iranian media said medium-range Shahab-1 and -2 missiles, which officials say have a range of 300 and 500 kilometers respectively, would be test-fired later on September 27.
State radio said the Guards on September 28 would test-fire the Shahab-3 missile, which Iranian officials say has a range of around 2,000 kilometers, potentially putting Israel and U.S. bases in the Persian Gulf within reach. It was last tested in mid-2008.
Iran conducts war games or tests weapons to show its determination to counter attack by foes such as Israel or the United States.
Vapor Trails
State television showed footage of missiles soaring into the sky in desert-like terrain, leaving vapor trails.
English-language Press TV said the weapons tested on September 27 included a ground-to-ground missile and a naval missile, naming them as Fateh (Victorious) and Tondar (Thunder).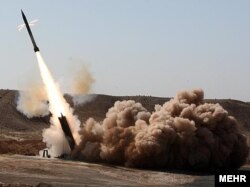 An image purporting to show Iran's IRGC test of a short-range missile on September 27
The IRGC said "the drill aims to maintain and boost the country's armed forces deterrent capabilities," Press TV said.
The United States, which suspects Iran is seeking to build nuclear bombs, has previously expressed concern about Tehran's missile program. Iran says its nuclear work is solely for peaceful power generation purposes.
Neither the United States nor its ally Israel have ruled out military action if diplomacy fails to resolve the nuclear row.
Iran has said it would respond to any attack by targeting U.S. interests in the region and Israel, as well as closing the Strait of Hormuz, a vital route for world oil supplies.
Iran acknowledged the existence of the enrichment plant near the holy city of Qom for the first time on September 21 to the International Atomic Energy Agency (IAEA), the UN nuclear watchdog.
U.S. officials said the disclosure was designed to preempt an announcement by Western governments, which were aware of the site, but Iranian President Mahmud Ahmadinejad said the plant was legal and open for inspection by the IAEA.
A senior U.S. administration official said the six powers were preparing "a set of transparency demands" focused on the uranium enrichment plant near Qom.
"Those demands include unfettered access for the IAEA to the Qom facility, the people working there, and timelines related to its development," the official said.
Turkish Prime Minister Tayyip Erdogan said on September 26 that he would discuss Iran's nuclear plans with Ahmadinejad in Tehran next month, but urged caution over new sanctions.
He said any attempt to impose sanctions on Tehran's gas industry -- Iran has the world's second largest natural gas reserves -- would be problematic for its neighbor Turkey.
He said Foreign Minister Ahmet Davutoglu was expected to visit Iran on October 1 -- the same day the Iranian delegation meets the five permanent UN Security Council members and Germany for talks in Geneva.