(RFE/RL) -- The deputy head of Iran's judiciary says nine more protesters are to be executed soon over the unrest that erupted following the controversial June presidential elections.
Iran's Fars news agency quoted Ebrahim Raisi as saying that the nine were linked to counterrevolutionary groups and planned to topple the Islamic regime.
The death sentences were issued on January 28, but the defendants' lawyers appealed the initial verdict. The same day, Iran hanged two opposition protesters, reportedly linked to monarchist groups.
Paris-based political analyst Ali Keshtgar tells RFE/RL's Radio Farda that those executions were aimed at testing the opposition ahead of protests planned to coincide with the anniversary of the 1979 Islamic Revolution on February 11.
Keshtgar says that the government will see then "to what extent the executions have been effective in weakening the national will for protesting."
Warning To Opposition
The two who were executed, 37-year-old Mohammad Reza Ali Zamani and 19-year-old Arash Rahmanipour, were among a group of 11 people sentenced to death on charges including "waging war against God" and being members of armed groups.
It was unclear, however, whether the nine protesters now facing execution were part of this same group of 11.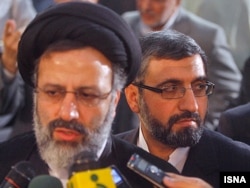 Ebrahim Raisi said the nine were linked to counterrevolutionary groups.
More than 100 detainees were put on trial following street protests that erupted in Iran following last year's reelection of President Mahmud Ahmadinejad, which the opposition says was rigged in favor of the incumbent.
The protests triggered Iran's worst civil unrest since the 1979 revolution that saw the overthrow of the U.S.-backed shah and the establishment of the Islamic republic.
Some hard-liners have urged the judiciary to execute more opposition supporters to end the demonstrations.
But on February 1, Iran's top judge, Sadeq Larijani, said such demands were "political in nature and are against the law and Shari'a."
Quoted on the judiciary's official website, "Dadsara," Larijani said, however, that he did not rule out further executions against those who violate the law.
'Roots Of Tyranny And Dictatorship'
Meanwhile, opposition leader Mir Hossein Musavi said such repression showed that the 1979 Islamic Revolution had failed to achieve its goals.
In an interview posted on his website, Musavi said that "the roots of tyranny and dictatorship" that marked the shah's era still existed in Iran.
He also said he would continue his fight for people's rights despite pressure by hard-liners to end antigovernment protests.
In his interview, Musavi condemned the violent methods used against protesters and said that "peaceful protests are Iranians' right."
Musavi's comments came as Iran marks the 31st anniversary of the 1979 revolution.
The 10 days of ceremonies and events are to culminate with pro-government rallies on February 11 -- the day marking the collapse of the regime of Iran's U.S.-backed shah.
Members of Iran's political opposition have also called for antigovernment demonstrations on that day.

RFE/RL's Radio Farda contributed to this report. With news agency reports