Iran To Open Office On Internet, SMS-Related Crimes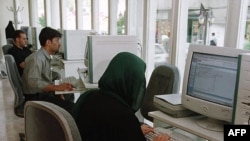 Tehran's Prosecutor-General Saaid Mortazawi says a special office will open this week to review Internet- and SMS-related crimes and violations, RFE/RL's Radio Farda reports.

Mortazawi said his office will review election campaign violations made in the sending of SMS messages.

He said the office will also investigate offensive statements made in SMS messages.

There is currently no law on SMS or Internet-related messaging in Iran.

Iranian communication authorities claim they keep a record of all SMS messages sent, though some estimates have more than 80 million SMSs being sent in Iran each day.

One expert told Radio Farda that Iranian authorities can, in fact, monitor and trace all SMS messages.

In recent years some student groups, workers unions, and other groups have used SMS to notify each other of meetings, demonstrations, or information about detained colleagues.
About This Blog
"Watchdog" is a blog with a singular mission -- to monitor the latest developments concerning human rights, civil society, and press freedom. We'll pay particular attention to reports concerning countries in RFE/RL's broadcast region.
Journalists In Trouble
RFE/RL journalists take risks, face threats, and make sacrifices every day in an effort to gather the news. Our "Journalists In Trouble" page recognizes their courage and conviction, and documents the high price that many have paid simply for doing their jobs. More