Iranian-American journalist Roxana Saberi has been freed from a Tehran prison.
The move follows a decision by an Iranian appeals court to reduce her original eight-year prison term on spying charges to a two-year suspended sentence.
The surprise twist in the journalist's saga came a day after an appeals court in Tehran held a hearing on her case.
The appeal, which was presided over by three judges, cleared the 32-year-old Saberi of the charge of working as a spy for an enemy country, the United States.
"The verdict says that due to the fact that there is no reason to prove that there is animosity between Iran and the U.S., the charge against [Saberi] that she worked with an enemy government is not applicable," one of Saberi's two lawyers, Saleh Nikbakht, tells RFE/RL.
"But because [Saberi] has conducted activities that can be defined as acting against Iran's national security, based on Article 505 of the Islamic punishment law, she is being sentenced to two-year suspended prison sentence," he adds.
Nikbakht says the court has banned Saberi from reporting in Iran for five years, but said she is now free to leave Iran.
International Outcry
Saberi's case and initial sentencing to eight years in prison was met with international outcry. While the appeals court's ruling did not completely clear Saberi's name, it came as a relief for the numerous individuals and groups who campaigned for her release.
"She is in good condition, and we are very happy that they gave us such a [breakthrough]," Saberi's father, Reza Saberi, said in reacting to the decision.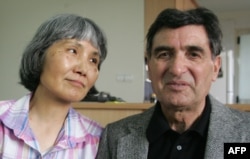 Reza Saberi and his wife, Akiko
Nikbakht expressed delight over the verdict.
"I think that in the court that was held [May 10], legal principles were very much respected, since yesterday we realized that the situation would change in the court," he says.
Speaking from Washington, U.S. Secretary of State Hillary Clinton said she was "heartened" by Saberi's release.
"Roxana Saberi has been released from prison. She is currently with her family and will be leaving Tehran to return to the United States in the coming days. Obviously, we continue to take issue with the charges against her and the verdict rendered, but we are very heartened that she has been released and wish her and her family all of the very best we can send their way," Clinton said.
French media watchdog Reporters Without Borders (RSF) also welcomed the decision. But as RSF spokesman Reza Moini tells RFE/RL, the case serves to epitomize the formidable obstacles faced by the media in Iran.
"[The case] puts into question the freedom of journalists for reporting," Moini says. "It was not the first time. A number of Iranian journalists have been sentenced to prison for the same charge, but fortunately all of them were later acquitted. We don't accept the court but we're happy about the sentence for Saberi and we hope that all the other jailed journalists in Iran will be released."
Moini said international and domestic criticism of the Saberi jailing aided her release.
Saberi, who holds dual Iranian and U.S. citizenship, had been working in Iran as a freelance journalist since 2003.
She was jailed in Iran in January. The original charges against her included buying alcohol, which is illegal in the Islamic republic, and reporting from Iran after her press accreditation had expired.
She was eventually charged with more serious charge of spying for the United States, and in April a revolutionary court sentenced her to prison.
Baseless Charges
The United States had described the charges as baseless and called for her release.
Iran, in turn, rejected outside interference in the case and said that she would be treated no differently than any other Iranian citizen.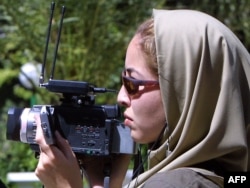 Saberi working in Tehran in 2003.
While Iranian officials had said that the case was not political, some observers described Saberi as a victim of the tense relations between Tehran and Washington.
Nikbakht says that Saberi's defense focused to a large extent on the nature of ties between Iran and the United States.
"We gave the court documents that stated that Iran and the U.S. are not enemies," he says. "We also presented a court decision made by Iran's Supreme Court in the past that showed that Iran and the U.S. have disagreements, but that they're not enemies based on international laws. The court made its decision and issued this positive sentence in such a short time based on the documents and also based on its own research."
Nikbakht added that there had been "other efforts" to push for Saberi's release, but declined to provide details of what those efforts entailed.
Many Iran observers had predicted that Saberi would be released, just as other Iranian-Americans detained in Iran on security charges had been in recent years. In some of those cases, the detained are believed to have been forced to make false statements, after which they were allowed to leave the country.