TEHRAN (Reuters) -- Iran's air force will start exercises on June 22 in the Gulf and the Sea of Oman in order to raise "its operational and support capabilitity," the official news agency IRNA said on June 20.
"In this maneuver there will be long-distance flights of around 3,600 kilometers along with aerial refuelling from tanker to fighter jet and from fighter jet to fighter jet.
"There will also be low altitude flights over the waters of the...Gulf and the Sea of Oman by Iranian fighter jets over distances of 700 kilometers," it said.
The plans for the military exercises were already announced some time ago. The IRNA report made no mention of protests in Iran over its disputed election.
Iran Election Diary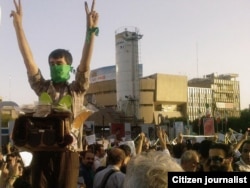 Disputed Presidential Vote
There have been protests and clashes with police on the streets of Tehran following the disputed reelection of Mahmud Ahmadinejad. RFE/RL collects videos, photos, and messages on social-networking sites coming out of Iran to attempt to get a picture of what is happening inside the country.
Click here
Iran Election Special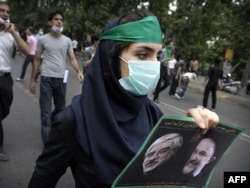 RFE/RL's Full Coverage
Following the disputed reelection of Iranian President Mahmud Ahmadinejad, supporters of Mir Hossein Musavi have taken to the streets to protest.
Click here
for news, blogs, and analysis of the presidential election and aftermath.