(RFE/RL) -- Iranian state television has said that 13 people were killed in fierce clashes between demonstrators and security forces in Iran's capital on June 20.
Police reportedly used water cannon and tear gas against thousands of people who gathered in downtown Tehran to protests against last week's presidential election won by President Mahmud Ahmadinejad. Gunshots were heard in some parts of the city.
Reports say thousands of riot police and Basij militia tried to isolate the groups of protesters and prevent them from getting to Enghelab (Revolution) Square, where those protesting against the results of the June 12 vote were planning to hold their rally (see
amateur video footage
).
"They surrounded people and started beating them with full force, I haven't seen such violence from special forces and plainclothes agents in recent years," one eyewitness told RFE/RL's Radio Farda.
"People sat on the ground but they came with their motorbikes. [Police officers] didn't care if it's a woman, child, or man, they were beating everyone violently."
Another eyewitness told Radio Farda of seeing security and military forces on the roads outside Tehran. The police presence is also reported to be heavy in other cities, and there are unconfirmed reports of clashes between protesters and police in the cities of Shiraz, Isfahan, and Mashhad.
Unconfirmed reports also say opposition presidential candidate Mir Hossein Musavi was seen close to the main Azadi Street, where he was talking to people and saying that he is ready for martyrdom. Musavi also called for a national strike if he was arrested.
In a statement, opposition leader Mir Hossein Musavi said the Islamic Republic must be purged of what he called lies and dishonesty.
In an earlier statement issued on his website, Musavi vowed to side with the people and said that his demand for the cancelation of the election was an undeniable right. He also called on Iran's leaders to let people protest peacefully and create a "free atmosphere" for people to express their demands and criticism.
"We are not against the Islamic system and its laws, but against lies and deviations and just want to reform it," Musavi's statement said.
Meanwhile, the semi-official news agencies Fars and Mehr reported that a bomb exploded in Tehran at the mausoleum of revolutionary leader Ayatollah Ruhollah Khomeini.
Protests in Tehran
Mehr quoted Iran's deputy police chief for operations, Hossein Sajedinia, as saying a suicide bomber blew himself up at the site, killing himself and wounding at least one other person. State television said two were killed.
The reports could not be independently verified.
Tensions High Ahead Of Planned Rally
Earlier on June 20, Iran's Security Council had warned Musavi he would "be responsible for the consequences" of any more protest rallies. The ISNA news agency quoted council head Abbas Mohtaj, who is also deputy interior minister, as sending the warning in a letter to Musavi.
And the semi-official Fars news agency quoted deputy police chief Ahmad Reza Radan as saying the police would deal with the protests "firmly and with determination."
In a nationwide address on June 19, Supreme Leader Ayatollah Ali Khamenei ordered an end to street protests, calling the country's disputed presidential election fair and free of fraud.
Speaking to RFE/RL's Radio Farda, Mohammad Ali Ayazi, a reformist cleric in the city of Qom, called for peaceful protests to be allowed to prevent dissatisfaction from becoming violent.
More scenes from Tehran
"If [the authorities] are after calm and want that the people's protests to be staged peacefully, the correct way to do this is to let people express their protest peacefully in order to prevent them from becoming violent," Ayazi said.
Vote-Count Complaints
Also, Iranian state television said the Guardians Council, the country's top vetting body, had expressed its readiness to randomly recount up to 10 percent of the ballot boxes from the presidential election.
The announcement came as press reports indicated Musavi and Karrubi failed to attend an extraordinary session of the council on June 20. The two reformist candidates were expected, along with fellow challenger Mohsen Rezai, to discuss more than 600 objections they have filed complaining about the poll.
Official results of the June 12 presidential poll gave President Mahmud Ahmadinejad 63 percent of the vote, compared to 34 percent for his nearest rival, Musavi.
Rights Complaints
Iran has seen massive rallies almost every day since the results were announced a week ago. The London-based human rights group Amnesty International says it believes about 10 people have been killed.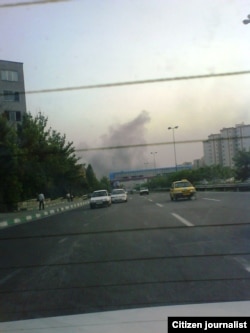 A haze over Tehran.
Over 100 reformists and government critics have been arrested in recent days. The Paris-based media watchdog Reporters Without Borders has released the names of 20 journalists and bloggers who have been arrested in the past week.
The group says Iran now ranks alongside China as the world's biggest prison for journalists.
On June 19 Amnesty International said that Khamenei's speech gave "the green light to security forces to violently handle protesters exercising their right to demonstrate and express their views." Ahmadinejad thanked Khamenei on June 20 for his "helpful comments."
Western Reaction
U.S. President Barack Obama has urged Tehran to "stop all violent and unjust actions against its own people."
"The Iranian government must understand that the world is watching. We mourn each and every innocent life that is lost," Obama said in a statement.
Meanwhile, on June 19 the U.S. Congress voted 405 to one to condemn the Iranian authorities' crackdown on demonstrators and government interference with Internet and mobile-phone communications.
And in a statement issued at a European Union summit in Brussels, European leaders said that "the authorities should refrain from the use of force against peaceful demonstrations."

RFE/RL's Radio Farda contributed to this report
Iran Election Special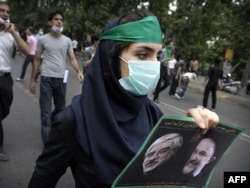 RFE/RL's Full Coverage
Following the disputed reelection of Iranian President Mahmud Ahmadinejad, supporters of Mir Hossein Musavi have taken to the streets to protest.
Click here
for news, blogs, and analysis of the presidential election and aftermath.
Iran Election Diary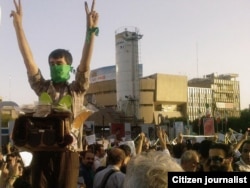 Disputed Presidential Vote
There have been protests and clashes with police on the streets of Tehran following the disputed reelection of Mahmud Ahmadinejad. RFE/RL collects videos, photos, and messages on social-networking sites coming out of Iran to attempt to get a picture of what is happening inside the country.
Click here