An Iranian blogger, Omidreza Mirsayafi, has died in Tehran's notorious Evin Prison.
His sister told RFE/RL's Radio Farda that the death of her 28-year-old brother came under suspicious circumstances.
The media watchdog group Reporters Without Borders (RSF) said it was
"deeply shocked"
by the news and called for an investigation into the details of the tragedy.
According to RSF, Mirsayafi's lawyer, Mohamed Ali Dadkhah, was told of his client's death by a doctor, Hesem Firozi, who is himself in prison.
Mirsayafi mostly blogged about traditional Persian music and culture, not politics.
He had been summoned to Tehran's Revolutionary Court for interrogation on February 7.
At the end of the questioning, he was placed in detention.
"The death of this young blogger is entirely due to a failure to provide assistance," Firozi said.
He said Mirsayafi had been despondent at the refusal of prison authorities to allow him to leave prison.
"I am worried," Mirsayafi told RSF in a recent e-mail. "The problem is not my sentence of two years in prison. But I am a sensitive person. I will not have the energy to live in prison. I want everything to be like it was before. I want to resume my normal life and continue my studies."
Mirsayafi was first arrested in April 2008. He was released after 41 days in custody on payment of bail of some 72,000 euros.
He was tried in November under articles of Iran's Criminal Code dealing with insults against the country's leaders.
"I am a cultural and not a political blogger," he told RSF after his conviction. "Of all the articles I have posted online, only two or three were satirical. I did not mean to insult anyone."
Journalists In Trouble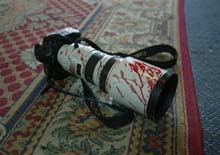 RFE/RL journalists take risks, face threats, and make sacrifices every day in an effort to gather the news. Our new "Journalists In Trouble" web page recognizes their courage and conviction, and documents the high price that many have paid simply for doing their jobs. More