TEHRAN (Reuters) -- A hard-line Iranian cleric has called for the arrest of leaders of postelection unrest in what appeared to be a reference to defeated moderate presidential candidates Mir Hossein Musavi and Mehdi Karrubi.
Ayatollah Ahmad Jannati, who heads the powerful Guardians Council, did not name either man. But other hard-liners have repeatedly accused them of fomenting postelection street protests in which at least 26 people were killed.
The June 12 vote has plunged the Islamic state into its biggest internal crisis since the 1979 Islamic Revolution and has exposed deepening divisions in its ruling elite.
"[Postelection] riots are our main issue today.... Some people were arrested and some were not. Why weren't the leaders behind the riots arrested? ... Their arrest should be the first thing that the judiciary must do," Jannati told Friday Prayer worshippers. The sermon was broadcast live on state radio.
The opposition says the June 12 poll was rigged to secure the reelection of President Mahmud Ahmadinejad -- a charge denied by Iran's authorities, including Supreme Leader Ayatollah Ali Khamenei, who endorsed the president shortly after the vote.
The authorities say it was the "healthiest" vote the country has had in the past 30 years.
Rights groups say hundreds of people, including senior pro- reform politicians, journalists, activists, and lawyers, have been detained in Iran since the election. Many of them are still in jail.
The losing candidates say 69 people were killed in unrest that erupted after the vote, and that some of those detained after the election were abused in prison.
Iran has begun three mass trials of postelection detainees, aimed at uprooting the opposition and putting an end to protests.
Ahmadinejad, sworn in on August 5, submitted the list of his new cabinet to parliament on August 19, but he is expected to face a tough battle to win parliament's approval after some lawmakers signaled they were likely to reject several nominees.
The opposition has called Ahmadinejad's new government "illegitimate."
The election and its turbulent aftermath have further strained relations with the West. U.S. President Barack Obama's offer of engagement with Iran if it "unclenched its fist" ran into trouble after Tehran accused the United States and other Western nations of inciting the opposition protests.
Iran Election Special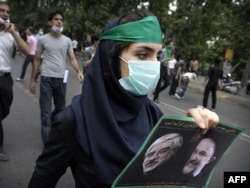 RFE/RL's Full Coverage
Following the disputed reelection of Iranian President Mahmud Ahmadinejad, supporters of Mir Hossein Musavi have taken to the streets to protest.
Click here
for news, blogs, and analysis of the presidential election and aftermath.