TEHRAN (Reuters) -- A senior hard-line Iranian cleric has demanded an end to protests over the reelection of Mahmud Ahmadinejad as president after Iran's top vetting body slammed shut the last door for a legal challenge.
As expected, the Guardians Council on June 29 dismissed complaints of irregularities in the June 12 vote raised by two defeated candidates, Mir Hossein Musavi and Mehdi Karrubi.
A statement on Musavi's website on June 30 did not comment directly on the 12-man body's ruling, but referred to the former prime minister's letter to the Guardians Council on June 27 in which he repeated his demand for the election to be annulled.
The presidential poll sparked Iran's most vigorous internal unrest since the 1979 Islamic Revolution.
The next formal step is for Supreme Leader Ayatollah Ali Khamenei to confirm Ahmadinejad as president. Parliament will swear him in a few weeks later.
It is not clear whether Musavi will pursue his demand for the vote to be cancelled -- and risk arrest -- or accept defeat at the hands of Ahmadinejad, who is backed by Khamenei, the elite Revolutionary Guard and his own well-placed loyalists.
"The Guardians Council is the only legal reference in the election and therefore it seems the issue of protests against the presidential election is over," said Ahmad Khatami, a cleric who called on Friday for leading "rioters" to be executed.
"All who believe in the Islamic system and are committed to its laws and regulations must accept the Guardians Council's opinion," he said, the semi-official Fars news agency reported.
"If some people still oppose the Guardians Council's decision it means opposing the law and it shows that these people do not want to move forward within legal channels and they would like to achieve their aims by force," Khatami said.
Hundreds of thousands of Iranians joined street protests after Ahmadinejad's victory was first declared, but riot police and religious militia have crushed protests since June 20.
State media say 20 people died in the violence, which the government and opposition blamed on each other.
The Guardians Council, which vets presidential candidates and oversees the election process, declared that a partial recount of 10 percent of the vote had uncovered no irregularities and said in its final verdict that the dossier had been closed.
Few Options For Opposition
The turbulent aftermath of the poll exposed splits in Iran's political and religious elite, but for now few options seem open for Ahmadinejad's reformist and conservative foes, who include powerful men such as former President Akbar Hashemi Rafsanjani.
Hamid Najafi, editor in chief of the conservative "Kayhan International" daily, said Musavi, a moderate ex-prime minister with solid revolutionary credentials, could take no further action.
"As far as the constitution is concerned...I don't think he can do anything," Najafi told Reuters. "It is over, finished."
Parliament's National Security and Foreign Policy Committee has been trying to heal rifts, holding meetings in the past week with Rafsanjani, Musavi, and Karrubi, as well as senior clerics and officials. It is also expected to meet with Ahmadinejad.
"We are seeking to strengthen national unity and solidarity," Hassan Ebrahimi, a member of the commission, was quoted as saying by the official IRNA news agency.
U.S. Secretary of State Hillary Clinton said Iran's rulers faced a "huge credibility gap" with their own people after the election and were still likely to face internal opposition.
Asked if Washington would recognize Ahmadinejad as president of the world's fifth-biggest oil exporter, she said:
"We're going to take this a day at a time."
Tehran, locked in a row with the West over its nuclear program, has blamed the postelection trouble on foreign powers.
Four Iranian staff of the British Embassy remain in custody, accused of stirring the unrest. Britain rejects the charge.
Najafi said he foresaw no change in Iran's attitude to the West during Ahmadinejad's second term. "I don't think there is going to be any change unless the other side takes some other steps. Currently they have turned more hostile towards Iran."
Iran Election Special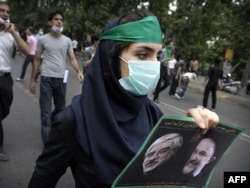 RFE/RL's Full Coverage
Following the disputed reelection of Iranian President Mahmud Ahmadinejad, supporters of Mir Hossein Musavi have taken to the streets to protest.
Click here
for news, blogs, and analysis of the presidential election and aftermath.
Iran Election Diary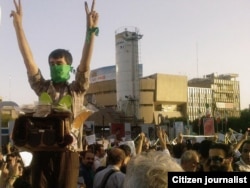 Disputed Presidential Vote
There have been protests and clashes with police on the streets of Tehran following the disputed reelection of Mahmud Ahmadinejad. RFE/RL collects videos, photos, and messages on social-networking sites coming out of Iran to attempt to get a picture of what is happening inside the country.
Click here