TEHRAN (Reuters) -- President Mahmud Ahmadinejad has called for a judicial probe into the "suspicious" death of a young Iranian woman who has become an icon of opposition protests against a disputed election which he officially won.
Ahmadinejad sent a letter to judiciary chief Ayatollah Mahmud Hashemi-Shahrudi requesting a serious investigation to help identify "the elements" behind this month's killing of Neda Agha-Soltan, the official IRNA news agency said.
He accused foreign media of using the case for propaganda purposes. He also suggested that the opposition and Iran's enemies abroad aimed to misuse it "for their own political aims and also to distort the pure and clean image of the Islamic republic in the world."
His letter added: "I request you to order the judicial system to seriously follow up the murder case...and identify elements behind the case and inform the people of the result."
Neda, a 26-year-old music student, was shot on June 20, when supporters of defeated election candidate Mir Hossein Musavi clashed with riot police and Basij militiamen in Tehran. Footage of her death has been watched by thousands on the Internet.
State media said at least 10 people died on that day, blaming the violence on "terrorists" and "vandals." Musavi says the vote was rigged in Ahmadinejad's favor and wants the election to be annulled. The authorities reject the charge.
Iranian state television has said Neda was not shot by a bullet used by Iranian security forces. It said filming of the scene, and its swift broadcast to foreign media, suggested the incident was planned.
In his letter to Shahrudi, Ahmadinejad termed Neda's death "suspicious," IRNA said.
Last week, Britain's "The Times" newspaper identified one person captured on Internet videos helping Neda as a doctor who has since fled Iran. It quoted the man, 38-year-old Dr. Arash Hejazi, as saying she was killed by a government militiaman.
State media have said 20 people were killed in violence since the June 12 election won by the hardline president, and authorities accuse Musavi of responsibility for the bloodshed. He says the government is to blame.
The commander of the pro-government Basij militia, which says eight of its members have been killed during the unrest, said a number of people had been arrested who had put on Basij or police uniforms to engage in sabotage, IRNA said.
"The police arrested various individuals in the course of the unrest who had put on police or Basij uniforms," said Hojjatoleslam Hussein Taeb, adding 300 Basij members had also been wounded during post-election violence.
Iran Election Diary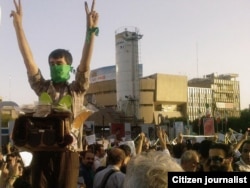 Disputed Presidential Vote
There have been protests and clashes with police on the streets of Tehran following the disputed reelection of Mahmud Ahmadinejad. RFE/RL collects videos, photos, and messages on social-networking sites coming out of Iran to attempt to get a picture of what is happening inside the country.
Click here
Iran Election Special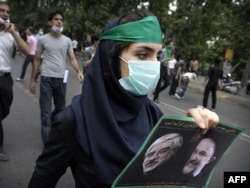 RFE/RL's Full Coverage
Following the disputed reelection of Iranian President Mahmud Ahmadinejad, supporters of Mir Hossein Musavi have taken to the streets to protest.
Click here
for news, blogs, and analysis of the presidential election and aftermath.