TEHRAN (Reuters) -- Iran said on June 29 five out of the nine detained local staff at the British Embassy in Tehran had been released, while the other four were being held for questioning, state television reported.
Iranian media said on June 28 several local British embassy staff had been held on accusations of involvement in the street protests that rocked Iran after a disputed June 12 presidential election.
"Out of nine people, five of them have been released and the rest are being interrogated," Foreign Ministry spokesman Hassan Qashqavi told a news conference in comments translated by Iran's English-language Press TV.
On June 28, British Foreign Secretary David Miliband demanded the release of all the staff held and said his European Union colleagues had agreed to a "strong, collective response" to any such "harassment and intimidation" against EU missions.
Qashqavi said Miliband and Iranian Foreign Minister Manouchehr Mottaki had spoken on the phone on the evening of June 28 when Miliband stressed Britain's intention was not to interfere in Iran's internal affairs.
"Mottaki said that if they really prove this in practice...this can be considered as a positive step," Qashqavi said.
Iran has stepped up accusations of Western powers -- Britain and the United States in particular -- interfering in its internal affairs and fomenting post-election unrest. London and Washington have denied the allegations.
In London, a Foreign Office spokesman said around nine embassy staff were detained and that "several have been released," without giving specific numbers.
Iran's Intelligence Minister Gholamhossein Mohseni-Ejei said on June 28 the British embassy had played a role in the unrest following this month's election, including sending people among protesters telling them what to do and what to chant.
Britain and Iran have already expelled two of each other's diplomats since the election, which stirred Iran's most striking display of internal dissent since the 1979 Islamic revolution.
Mottaki was last week quoted as saying Iran was reviewing whether to downgrade ties with Britain. But Qashqavi said closing down any foreign embassy or reducing diplomatic ties was not on Iran's agenda.
Qashqavi also said Iran expected Sweden to pay damages after about 200 protesters, some wearing masks and hurling stones, demonstrated outside the Iranian embassy in Stockholm on June 26.
He blamed an exiled Iranian opposition group as well as communists and monarchists for the incident, in which he said three of "our colleagues" were injured. Stockholm was known for being an "unsafe city for diplomats," Qashqavi added.
Iran Election Diary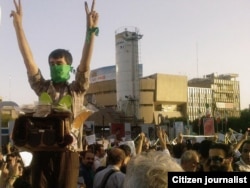 Disputed Presidential Vote
There have been protests and clashes with police on the streets of Tehran following the disputed reelection of Mahmud Ahmadinejad. RFE/RL collects videos, photos, and messages on social-networking sites coming out of Iran to attempt to get a picture of what is happening inside the country.
Click here
Iran Election Special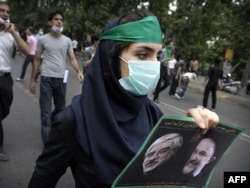 RFE/RL's Full Coverage
Following the disputed reelection of Iranian President Mahmud Ahmadinejad, supporters of Mir Hossein Musavi have taken to the streets to protest.
Click here
for news, blogs, and analysis of the presidential election and aftermath.