TEHRAN (Reuters) -- Iran's annual inflation rate fell to 15 percent in May, the Central Bank said, continuing a downward trend days before an election where reformists are challenging President Mahmud Ahmadinejad's economic record.
Ahmadinejad's rivals in the June 12 presidential vote have accused his government of stoking inflation with profligate spending of petrodollars since he came to power in 2005 pledging to share out Iran's oil wealth more fairly.
The conservative president has blamed high inflation on international energy and food price rises that peaked during 2008 and points to a falling trend since late last year.
"It is something he [Ahmadinejad] can trumpet. Whether it is the result of his policies or not is much more debatable," a Western diplomat said about the declining inflation rate.
The issue of rising consumer prices during Ahmadinejad's tenure has become a key battleground in the election campaign and hotly discussed during televised election debates, with candidates citing different figures to make their point.
Coupled with a lack of jobs, double-digit inflation is the loudest complaint among many Iranians ahead of the election.
Even though inflation has almost halved since a peak of nearly 30 percent in October, it remains above the level of some 11 percent when Ahmadinejad came to office four years ago.
The moderate politician seen as his main challenger in the election, former Prime Minister Mir Hossein Musavi, says he would control inflation through monetary policy and by boosting domestic production.
Monetary Tightening
Saeed Laylaz, editor of the business daily "Sarmayeh," said the lower inflation rate was partly the result of a slowing economy.
A drop of more than 50 percent in global oil prices since July 2008 has hit Iran's main source of revenue.
Laylaz estimated current economic growth in Iran, the world's fifth-largest crude exporter, at about 2 percent, less than half the level seen in recent years.
Ahmadinejad last month said Iran's economy continued to show growth of 5-6 percent, despite the oil price fall, and that it was doing much better than those of its Western foes.
"At the moment we are facing a very bad recession," said Laylaz, an outspoken critic of Ahmadinejad's economic policies.
Laylaz and other analysts also said monetary tightening introduced by former Central Bank Governor Tahmasb Mazaheri last year had helped to ease inflationary pressures. Mazaheri was replaced by Ahmadinejad last September.
"There is much less of this oil money being injected because it is not there anymore," the Tehran-based diplomat said.
But while housing prices had fallen sharply in some areas, providing relief for people who rent, food prices were not seeing a similar development, he said.
The Central Bank said consumer prices rose 1.2 percent in the Iranian month that ended on May 21, compared with the previous month.
The year-on-year rate was 15 percent, the bank said. It did not give a comparison but said it had continued to decline. In March, the year-on-year figure stood at 17.8 percent.
Iran is under international pressure over its disputed nuclear program. Analysts say U.S. and UN sanctions are pushing up the cost of doing business and deterring investors.
Iran Election Diary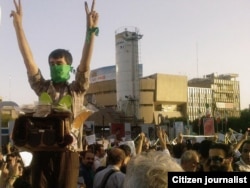 Disputed Presidential Vote
There have been protests and clashes with police on the streets of Tehran following the disputed reelection of Mahmud Ahmadinejad. RFE/RL collects videos, photos, and messages on social-networking sites coming out of Iran to attempt to get a picture of what is happening inside the country.
Click here